Posted on
Thu, Jan 28, 2010 : 6:04 a.m.
Acquest says its hotel proposal for Ann Arbor's Library Lot makes sense
By Ryan J. Stanton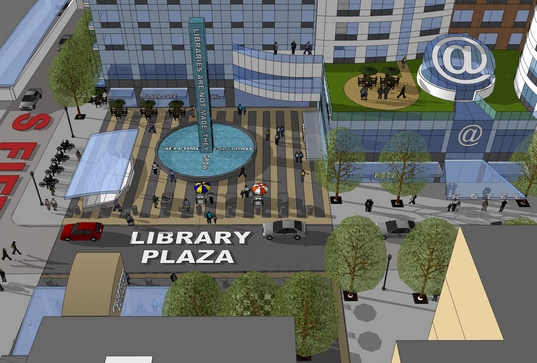 While a hotel and conference center plan by Valiant Partners LLC has attracted much attention lately, another developer's proposal is still in the running.
David Ong, president of Acquest Realty Advisors, acknowledges his firm is just now pulling together the financial numbers Valiant has had the last two years to work on. But he said he doesn't feel at a disadvantage in the city's RFP process.
"One of our projects in New Jersey took several years to put together, so in the long shot, we do not feel disadvantaged that they got a head start," Ong said. "We feel confident there's enough information on the table to select either team and, if we win, the trip is just beginning."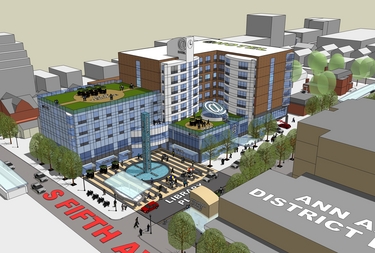 Ong spoke by phone with AnnArbor.com on Tuesday while attending a hotel investment conference in California. He said there was some optimism, but also a lot of "doom and gloom" about problems in the hotel industry as a result of a down economy.
Asked how that translates to developing a hotel on the Library Lot site in downtown Ann Arbor, Ong responded with optimism.
"When you look at time frames, there's so much work that would have to be done," he said. "We're talking many months before we'd actually be shopping in the capital markets, and the project is unique enough that we could be first in line when the dam breaks."
Acquest, of Bloomfield Hills, has laid out plans for a project called @ Hotel and Retail Center. It would include a 190-room hotel with meeting spaces, restaurants and retail shops. Acquest is asking the city to partner on the project by building a 40,000-square-foot conference center on the former YMCA site across the street.
That's different from Valiant's proposal, which asks the city to float bonds that the developer would use to build a $9 million conference center embedded with its hotel.
"Unlike the Valiant group, we're bifurcating the conference center from the hotel," Ong said. "Conference event centers don't generate the cash flow to pay for themselves, so in all instances that we're aware of, those are publicly owned."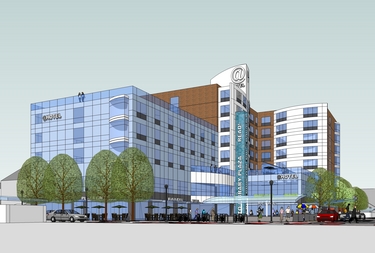 Ong said the conference center would be publicly owned - possibly by a city-county authority - and his firm has had positive talks with County Administrator Bob Guenzel about the concept. How much is spent on the conference center, Ong said, is up to the city and county.
"We're not suggesting that the city of Ann Arbor undertake that risk blindly or undertake by itself - it's going to take time," Ong added. "We've got a formidable team that's done this in many other locales and our thought is to master plan a kind of mini-area that would include the library, the hotel and the Y site, so that everybody is singing from the same hymnal plan-wise."
Ong said a feasibility study that looks at the financial impact to the community remains to be completed, but he's sure once it's done it will reaffirm what both developers are stating: That it can be done, that there is a market for a conference center in Ann Arbor.
Acquest is proposing that the debt on the conference center be paid, in part, by dedicating a slice of the local hotel tax, based on the theory that all hotels in the area would benefit from the conference center to some extent. Similar to Valiant's proposal, property taxes from the new hotel also would help pay off the project.
"A publicly owned facility ... is going to ultimately be paid for by public revenues," he acknowledged.
Ong said he believes the hotel can stand alone on its own merits on the Library Lot site, but the conference center makes it that much more economical. The developer is proposing that the value of the land or air rights be tied to whether or not the city builds a conference center across the street from the hotel.
Ong said the difference between the Acquest hotel proposal and Valiant's is "niche boutique" versus "luxury." Acquest's hotel would cost $25 million to $30 million.
"Our average daily rates are projected to be $120 to $125 - a whole lot less than Valiant," Ong said. "They're looking at more of a luxury product. We don't think it's a luxury market."
The faces behind Valiant and Acquest have some common ground. Bruce Elliott and Fritz Seyferth, who are representing Valiant Partners, both played football for the University of Michigan from 1969-1971. Ong played from 1960-62.
But now they're on different teams. And Ong says neither team is prepared to go to the next level without a whole lot more homework.
"There have been no market studies," Ong said. "All we can say is we've done this. This is our specialty, public-private partnerships. We've done this in five or six different markets, some of which are similar to Ann Arbor."
Ryan J. Stanton covers government for AnnArbor.com. Reach him at ryanstanton@annarbor.com or 734-623-2529.