Posted on
Wed, Jan 20, 2010 : 10 p.m.
Downtown Ann Arbor hotel and conference center ideas resonate with Library Lot committee
By Ryan J. Stanton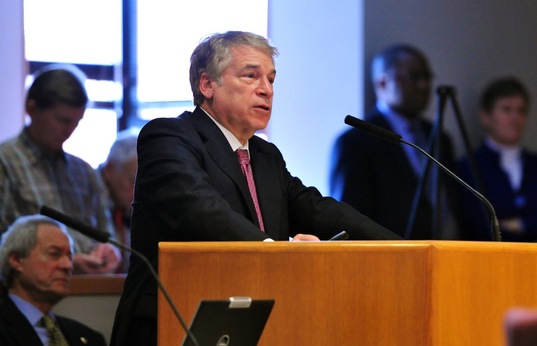 Ryan J. Stanton | AnnArbor.com
Ann Arbor officials have wrapped up two days of interviews with developers, leaving the city's Library Lot review committee to decide between five proposals - two that include visions for an urban park and three that call for a hotel.
A sixth proposal that included conceptual plans for a senior housing complex was withdrawn by the developer.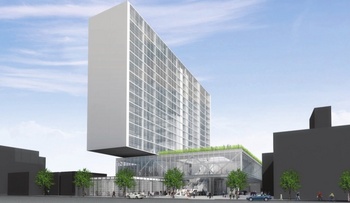 City Council Member Stephen Rapundalo, chairman of the review committee, said the interviews were productive, and city officials now have tough choices to make. He said the committee will meet Thursday to narrow the pool and discuss bringing in a consultant to evaluate any proposals left standing.
Committee members appeared most impressed Wednesday with the last two presentations - both of which propose hotel and conference center concepts for the 1.2-acre lot owned by the city on South Fifth Avenue between Liberty and William streets. Both of the projects call for a public-private partnership that would have the city financing a large conference center downtown.
Representatives from Acquest Realty Advisors Inc. of Bloomfield Hills laid out plans for a project called @ Hotel and Retail Center. It would include a 190-room hotel with meeting spaces, restaurants and retail aspects. Acquest is asking the city to partner on the project by building a 40,000-square-foot conference center on the former YMCA site across the street.
A group of New York investors called Valiant Partners LLC is proposing a project called Ann Arbor Town Plaza Hotel and Conference Center. It tentatively includes plans for a 150-room hotel, 32,000-square-foot conference center, condos, restaurants and retail shops - all on the Library Lot.
Some city officials remain unsure about the contemporary design of the towering 15-story building, though.
"I'll agree it's an imaginative design, but I'm not sure I'm crazy about it," said Eric Mahler, a city planning commissioner and RFP review committee member. He likened the project's appearance to a "big glass slab" and a "big white column" and said it wasted precious air space above the conference center.
"If you're not willing to make some changes to this ... tell us now so we can start planning for that," Mahler said.
Review committee members heavily critiqued each of the five proposals that came through the door over the two-day span - to the point that some residents shook their heads.
"Every other city in the state would give their right arm to have a project of this magnitude," said Edward Surovell, an Ann Arbor library board member and local Realtor.
Michael Bailkin, principal of Arete Development Group of New York, did most of the talking for Valiant Partners.
Bailkin said his team is asking the city to issue bonds for $8 million to be paid back over 20 years. At the end, the city will own the conference center debt-free. He said it would be the equivalent of tax-increment financing.
"Most other cities that have conference centers finance them directly and they own them," he said. "Our variation is that we want the city to use its credit powers, which is the only way you get financing in today's environment, to arrange for the funds to build this. But we would pay back the debt service on that so the city won't really be paying for the center - we will be paying for it out of the proceeds of the hotel."
Members of the Valiant team said they've been studying the idea of building a hotel and conference center in Ann Arbor for the last two years, and the location makes sense. Bailkin called the Library Lot "the most important site in the city" and said an "iconic project" like the one his group is proposing is its most prudent use.
"Conference centers are one of the strongest generators of new jobs and new activity because they bring in new people," he said. "We think that there is a very strong demand for the conference center - both in the business community, in the academic community. And there's also a strong demand for events, private events - particularly Michigan alumni who are coming back to get married or to have other events in relation to this community. I think it's the nature of the community that creates such a strong loyalty that will create the brand for this conference center."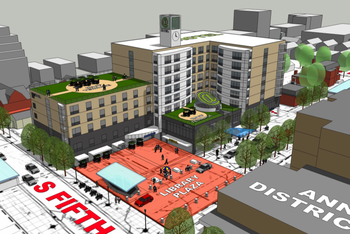 A project called the Fifth a2 by Metro Detroit design firm Jarratt Architecture received less fanfare than the other two hotel proposals. That project proposes an 84-room hotel with meeting rooms, 50 to 60 condo units, affordable housing, an outdoor market and retail and restaurant spaces.
The other two proposals on the table include urban park concepts by Dahlmann Apartments Ltd. and a citizen-led group called the Ann Arbor Committee for the Commons. Both presented their ideas Tuesday, but it seems clear the city is looking for more than just park space on the site.
Rapundalo noted both hotel and conference center proposals call for a balance of open space and vertical development, which he said has been the city's vision for the property all along.
"I certainly believe that we can bring several elements together - that it need not be just development, that it need not be just open space," he said.
Rapundalo also said the two hotel proposals included solid business plans.
"Those two certainly went pretty far and you had to be impressed. They seemed to understand better what we were driving at and what we were hoping for," he said.
While the Valiant Partners proposal has been the subject of discussions among city officials for more than a year, it's likely Acquest's proposal will generate some talk now, too.
Members of the Acquest team showed up Wednesday surrounded by representatives from the Christman Co. and Carl Walker Inc., two firms that have been involved in the Downtown Development Authority's underground parking structure project. The winning development proposal selected by the city will go on top of the DDA's parking garage, and having the endorsement of two firms already involved in the project could go a long way.
Acquest representatives claim it's been to Ann Arbor's detriment that no new hotels have been developed downtown in more than 50 years. They see a hotel project as a catalyst for the revitalization of downtown and its businesses.
Acquest's proposal includes the development of a new public plaza at the southwest corner of the site, lined with cafes and restaurants. David Ong, president of Acquest, acknowledged the hotel market isn't the best right now.
"This is 2010, folks," he said. "The hotel investors have been through hell and they're not back yet."
Acquest representatives had no definitive answer to a question Wednesday on how much public investment the project would require, but said "all the cards are on the table."Â 
They said the conference center would be publicly owned - possibly by a city-county authority - and they've been in talks with County Administrator Bob Guenzel about the concept.
Ryan J. Stanton covers government for AnnArbor.com. Reach him at ryanstanton@annarbor.com or 734-623-2529.