Posted on
Fri, Oct 28, 2011 : 5:58 a.m.
Big Bird's big move: Beloved icon of C.S. Mott Children's Hospital settles into new home
By Cindy Heflin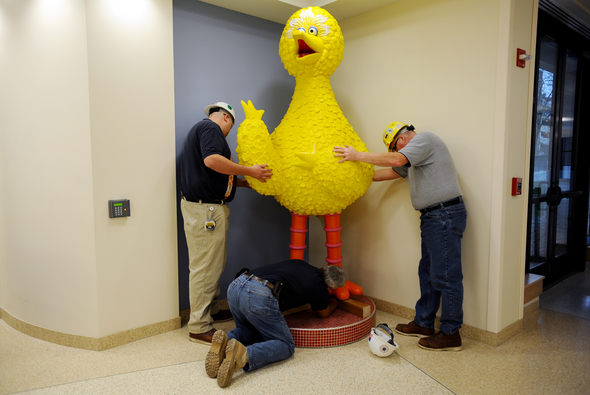 Melanie Maxwell | AnnArbor.com
You can still meet at Big Bird. You just have to meet in a slightly different location. The beloved bright yellow "Sesame Street" character, who's long served as icon and meeting place at the University of Michigan's children's hospital, is back in a place of honor.
At 9:30 Thursday morning, Big Bird took a ride through the halls of the new C.S. Mott Children's Hospital and Von Voigtlander Women's Hospital. He went lying on his back, the way many of his young admirers at the hospital might ride on their way to surgery.
Big Bird, sporting a brand-new coat of bright paint, rode on top of a box on a cart, his head and legs protruding, in a somewhat undignified manner, over either end. But once workers had righted him and set him on his newly designed red tile platform, his dignity was restored.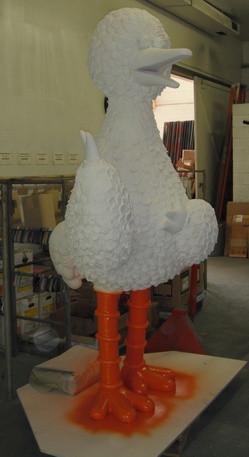 University of Michigan photo
"He looks great," exclaimed Pat Warner, executive director of the hospital. A burst of applause went up from a few onlookers.
Mott's beloved Big Bird statue, newly refurbished, now stands at the entrance to the new hospital from the Taubman Center, not far from his original location in the main lobby of the old hospital. His placement in his new home was part of U-M's preparation for the opening Dec. 4 of its new $754 million hospital.
Big Bird, long a favorite with youngsters being treated at the hospital, came to Mott via a donor. Years ago, a man called the hospital's child-life department to say that a store at Briarwood Mall was getting rid of a giant Big Bird statue and wondering if the hospital would be interested in acquiring it, Warner said. When hospital officials said they wanted it, he purchased it and donated it.
He stood in the lobby of the old hospital for many years, greeting families and visitors and eliciting smiles from sick children who didn't have much to smile about.
When U-M decided to build a new children's hospital several years ago, discussions about what to do with Big Bird soon arose.
There was never a doubt that he would have a place in it, Warner said.
"He is the icon for the hospital," she said. "Everybody likes Big Bird."
The spot he now occupies in the corridor connecting with the rest of the hospital system is fitting, given his longtime role as a gathering place, Warner said. "I'll meet you at Big Bird," people planning a visit to the University of Michigan Health System have long told each other.
Those who gather at the Sesame Street character's feet in the new hospital may not notice, but Big Bird is now looking quite a bit younger. He recently returned from a major refurbishment. He got a bath, a coat of primer and a new coat of paint. All his original colors and details were restored.
"We kept him clean," Warner said. "But after years he got dull and his face wasn't so bright."
Some children who witnessed him going away for the refurbishment were distressed, Warner said, crying "Don't' take Big Bird!"
But they needn't have worried. Big Bird is back, better than ever.
"Big Bird just has a place in many people's hearts," Warner said. "We're just glad he's back and rejuvenated."