Posted on
Mon, Dec 3, 2012 : 5:54 a.m.
Pediatric ER contributes to success of new C.S Mott Children's Hospital
By Amy Biolchini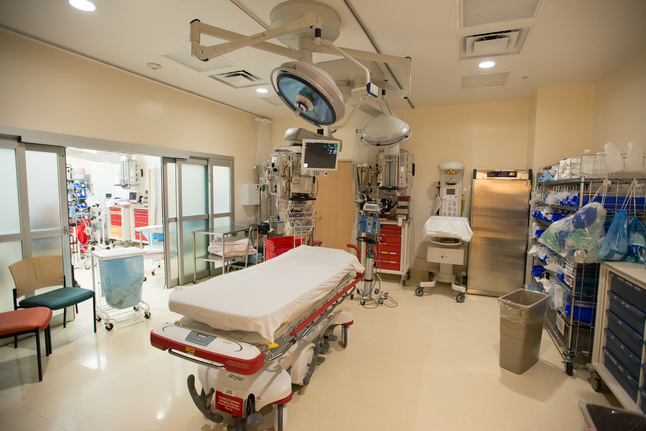 Courtney Sacco I AnnArbor.com
Related: One year and 12,593 inpatients later: U-M says care at new C.S. Mott Children's Hospital expanding quickly
One of the biggest changes — and biggest successes, officials say — for the University of Michigan Health System in the past year has been the opening of the new pediatric emergency department in the $754 million C.S. Mott Children's Hospital.
With its own space in the new hospital — the emergency department was previously located in U-M's University Hospital and handled both adult and pediatric patients — the pediatric ER is partly responsible for a better-than-expected financial bottom line for the health system.
Hospital administrators report that activity to date in the emergency room has contributed to a 12.9 percent increase in revenue per case after nearly a year in the new hospital, which opened Dec. 4, 2011, versus the previous year in the old hospital.
The new facility has been able to treat 10 percent more pediatric patients in 2012 than in 2011, for a projected total of about 26,000 visits in 2012.
Without the pediatric patients and staff in the University Hospital emergency department, the adult emergency room has been able to treat 9 percent more patients than the year before for a total of about 31,251 visits in 2012.
Courtesy U-M
"It's much more efficient and better in terms of the quality of services," said
Dr. Marie Lozon, director of pediatric emergency medicine at Mott.
"Everyone in the department all the time is focused on the specialty of taking care of a child."
A significant number of nurses had to be hired for the pediatric emergency department. From July 2011 to December 2011 before the new hospital opened, the nursing staff for the pediatric ER increased by 136 percent, Lozon said. That's the equivalent of 26.7 full time employees.
One additional doctor was hired for the emergency department.
As a whole, C.S. Mott Children's Hospital saw an expansion in its nursing staff of about 23 percent.
With the exception of a few specialized services and some ophthalmology staff, the new pediatric hospital has dedicated physicians, surgeons and nurses who are specifically trained to treat children.
Mott is one of two hospitals in the state with a program to train pediatric emergency room physicians.
The new pediatric ER is just a part of the expansion of specialty services in the new Mott hospital that allows staff to execute more highly specialized procedures.
"Some of the care we deliver, when you think about it — unfortunately we take it for granted — but nobody else does this stuff," said Dr. Chris Dickinson, interim director of Mott. "'Wow' happens all the time here. Because you tend to live here, you tend to take it for granted."
Team triage — a concept only attempted in the former emergency department — is now the mantra for staff. It means a physician or attending resident will visit and examine a patient at the same time a nurse is conducting an initial set of questions when they first arrive in the ER to speed up the treatment process.
"It's a concept that makes sure patients spend less time in the emergency room," Lozon said.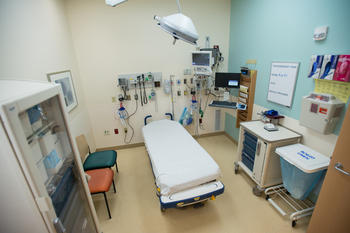 Courtney Sacco I AnnArbor.com
Triaging patients in the formerly combined emergency department in University Hospital often meant that many patients had to wait in the department's lobby. Some pediatric doctors would have to make the 10-minute trek from the old C.S. Mott Hospital to University Hospital to see patients.
"I could sprint it in five (minutes) at a brisk run if there was an emergency," Lozon said, describing the trip up an elevator and across several long hallways between the hospitals.
In the new C.S. Mott, specialist physicians are an elevator ride away from the emergency room.
The ambulance bay off of East Medical Center Drive for the new emergency department is about 10 steps from the emergency resuscitation room so staff can meet patients coming in almost instantaneously, Lozon said.
Patients are often in the lobby typically only wait for several minutes as their identification bracelets are processed, which results in a set of often empty, quiet chairs, Lozon said. With the construction of 33 private rooms, pediatric patients can go directly back to a room.
The former emergency department had about 11 rooms for pediatric patients in University Hospital, some of which were shared.
"Although we had a distinct area in the old emergency area, it was relatively small," Lozon said.
The new pediatric emergency department has also been able to expand on its Child Life Services program, which brings a specialist in child development to a room to help calm and distract a child while a procedure is being done.
Child Life Services workers aren't trained as nurses, but they can explain to children and their families what's happening during procedures in the emergency room, Lozon said. There's one worker per shift who circulates through the ER during the busy times from noon to midnight.
Amy Biolchini covers Washtenaw County, health and environmental issues for AnnArbor.com. Reach her at (734) 623-2552, amybiolchini@annarbor.com or on Twitter.