Posted on
Thu, Jun 21, 2012 : 5:41 p.m.
U-M Health System ends 2012 fiscal year with 0.5 percent operating loss
By Amy Biolchini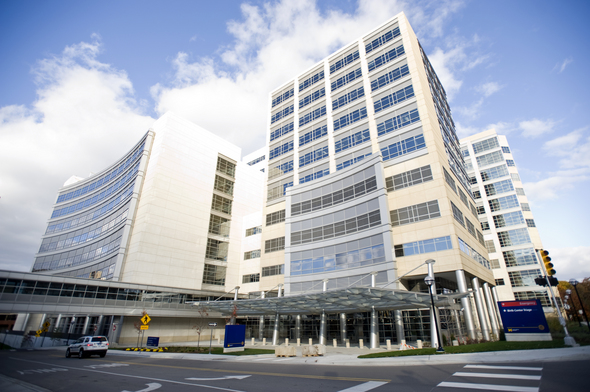 Joseph Tobianski | AnnArbor.com
Editor's note: Kara Gavin's title has been corrected.
After several hefty hospital construction projects in its 2012 fiscal year, the University of Michigan Hospital and Health Centers is posting an operating loss that officials said is better than expected.
The health system ended the year with $11.3 million more in expenditures than revenues - a loss of 0.5 percent, officials announced Thursday at the U-M Board of Regents meeting.
The 2012 budget had anticipated an operating loss of about 1.1 percent because of significant construction projects, including the new $754 million C.S. Mott Children's Hospital and Von Voigtlander Women's Hospital, a five-year project and the most expensive in the school's history. About 500 jobs were created as a result.
In 2012, UMHHC also expanded its adult emergency department and introduced a new comprehensive computer system for patient care and billing - both of which brought significant expense.
In fiscal year 2012, there were 4.5 percent more inpatient and observation cases than 2011, and 3.6 percent more clinic visits.
The emergency department also saw more traffic: An uptick from a 1.9 increase in visits in 2011 to an increase of 6.9 percent in visits in 2012, which CEO Doug Strong attributes to the expansion of the department and opening of the children's emergency department in the new Mott.
The trend is one hospital administrators were pleased to see.
"To see this kind of patient growth, and to beat our own expectations despite the Michigan economy, major investments and great change, is a testament to our entire team," said Strong.
In the last year, UMHS' outpatient revenue has equaled its inpatient revenue, which Strong said was unique for an academic institution.
The Board of Regents unanimously approved the UMHHC budget in an 8-0 vote for the 2013 fiscal year in its Thursday meeting, which includes $2.39 billion in anticipated revenue and $2.379 billion in anticipated expenses.
The budget includes an operating margin of $10.8 million, or 0.5 percent.
The health system will have to make up about $22.1 million in revenue to meet its 2013 goal, according to its budget plan.
Strong said he anticipates the gap will be funded by the additional patient capacity as 22 additional patient rooms within Mott children's hospital are made available.
The 2013 budget also allows for the advancement of plans for many projects, including the following:
The Northville Ambulatory expansion
Adult inpatient expansion project
A neuroscience-focused hospital
The university is also planning a new construction project would include the $163 million retrofitting of the old Mott children's hospital.
U-M officials announced at the Regents meeting Thursday that university staff would be eligible for a 2 percent raise and faculty would be eligible for a 3 percent raise.
Faculty physicians that work within the UMHS are paid through the university's Medical School budget, which was approved for an increase of 4.94 percent for the 2013 fiscal year. The increase in budget allocation does not directly translate into raises.
"The preponderance of the salary change will be through funding they get in their clinical practice," said Philip Hanlon, provost and executive vice president for academic affairs for U-M.
The 1,650 faculty physicians who treat patients also earn a share of the clinical revenues they bring in from billing insurance for the care they provide, said Kara Gavin, lead public relations representative for UMHS.
The Hospitals and Health Centers budget includes the pay of some physician leaders and the salaries of 1,100 medical residents, as well as Medical School trainees.
Amy Biolchini covers Washtenaw County, health and environmental issues for AnnArbor.com. Reach her at (734) 623-2552, amybiolchini@annarbor.com or on Twitter.