Posted on
Thu, Nov 8, 2012 : 5:58 a.m.
A quick glance at how Washtenaw County voters cast their ballots in Tuesday's election
By Ryan J. Stanton
The motto throughout the state of Michigan on Tuesday was "just say no." At least, that's how the vote went on six statewide ballot proposals, including five constitutional amendments.
But how did the votes fall in locally?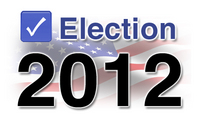 Washtenaw County voters
went along with the rest of state
in voting down every proposal except for
Proposal 3
, which, if it had passed, would have set a renewable energy standard of 25 percent by 2025 for all Michigan electric utilities.
About 51.7 percent of Washtenaw County voters were in favor of Proposal 3. In the city of Ann Arbor, about 63.5 percent of voters came out in favor of it.
Unofficial election results show 64.5 percent of the county's 280,548 registered voters cast ballots in Tuesday's election. More precisely, that means 181,032 people voted.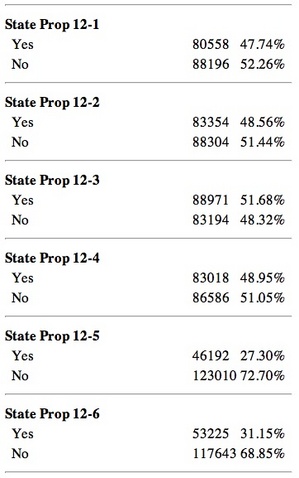 That's 57,360 more than the number of people who voted here in the 2010 gubernatorial election, but it's about 7,178 less than the number from in the 2008 presidential election.
Arguably that means there was less interest in this year's presidential race. People just weren't as excited as they were four years ago, and local election officials predicted that.
Democratic President Barack Obama took 67 percent of the countywide vote, with 31.3 percent going to Republican Mitt Romney and lesser amounts going to third-party candidates. In Ann Arbor, Obama took 79.2 percent.
A total of 81,684 people — representing nearly half of all ballots cast — voted straight-ticket. Of those, 69.2 percent went Democratic and 29 percent went Republican.
Only 652 people voted straight Libertarian, while 437 voted straight Green Party, 140 people voted straight U.S. Taxpayers and 109 people voted straight Natural Law.
U.S. Sen. Debbie Stabenow, D-Mich., won 69 percent of the countywide vote over Republican Pete Hoekstra as she cruised to victory in Michigan.
U.S. Rep. John Dingell, D-Dearborn, pulled 75 percent of the vote in the portions of Washtenaw County he represents, including Ann Arbor and Ypsilanti, and was re-elected.
About 63.5 percent of all votes cast countywide in the University of Michigan regents race, in which there were two seats open, went to the two Democrats: Mark Bernstein and Shauna Ryder Diggs.
About 52.3 percent of voters in Washtenaw County came out against Proposal 1, which would have kept Michigan's controversial emergency manager law if it passed. It was more soundly rejected in Ann Arbor, where about 57.5 percent of voters came out against it.
Proposals 2 and 4, both of which dealt with collective bargaining rights, failed in Washtenaw County with more than 51 percent of voters against them. Proposals 2 and 4 actually had support in Ann Arbor with 56.2 percent and 54.5 percent of the vote, respectively.
The last two proposals came nowhere near close to passing muster with Washtenaw County voters. Those are Proposals 5 and 6, which were constitutional amendments aimed at stopping future tax increases and blocking a new bridge from Detroit to Canada, respectively.
About 72.7 percent of Washtenaw County voters came out against Proposal 5 and 68.9 percent voted down Proposal 6. In Ann Arbor there was even stronger opposition — about 79.5 percent of voters said no to Proposal 5 and 76.7 percent rejected Proposal 6.
Ryan J. Stanton covers government and politics for AnnArbor.com. Reach him at ryanstanton@annarbor.com or 734-623-2529. You also can follow him on Twitter or subscribe to AnnArbor.com's email newsletters.