Posted on
Fri, Nov 2, 2012 : 5:59 a.m.
Thousands of voters in Ann Arbor and Washtenaw County cast ballots early
By Ryan J. Stanton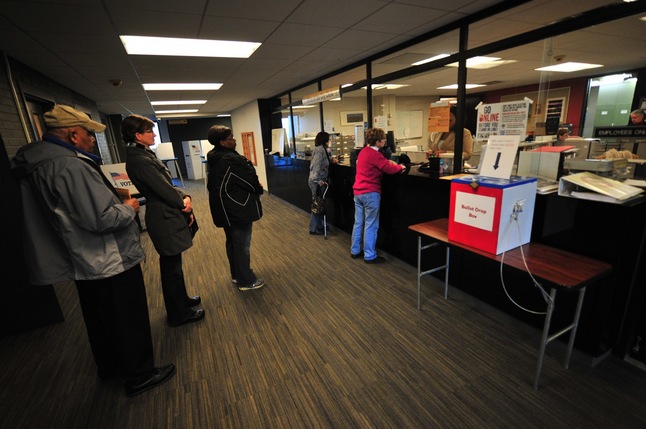 Ryan J. Stanton | AnnArbor.com
Related: ROUNDUP: Your guide to AnnArbor.com's coverage leading up to the Nov. 6 election
After casting his ballot Thursday inside Ann Arbor's city hall, University of Michigan student Jared Boot breathed a sigh of relief knowing he had done his civic duty.
"I'm pretty excited about this election," he said. "It's a chance to have a change of guard in the White House, so that enthuses me."
Boot voted absentee like thousands of other Ann Arbor residents have done in advance of Tuesday's election. He said he followed Gov. Rick Snyder's advice on all six statewide ballot proposals.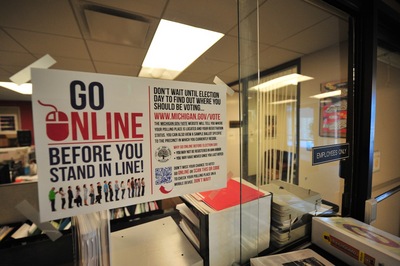 Ryan J. Stanton
And as chairman of U-M's chapter of
Students for Romney
, naturally he chose Republican
Mitt Romney
over Democrat
Barack Obama
for president.
Michigan doesn't have true early voting, but a steady stream of absentee voters have been making their way to city hall to cast ballots in recent days.
The Ann Arbor clerk's office has set up special absentee voting booths in the hallway outside its second-floor offices to accommodate the strong demand.
City Clerk Jackie Beaudry said her office issued 12,971 absentee ballots as of 5 p.m. Thursday and 8,423 (65 percent) had been returned with four days left to go.
She said she's issuing about 150 to 200 new absentee ballots every day, and many voters are choosing to fill them out and hand them back in right there on the spot. Others are taking them home to carefully go over the long list of proposals and races before filling them out.
Under Michigan law, voters can vote absentee — by mail or in person — if they meet any one of the following criteria: 60 years of age or older, expecting to be out of town on election day, physically unable to vote at the polls without assistance, unable to attend because of religious beliefs, appointed as a poll worker in a precinct other than their own or in jail awaiting trial or arraignment.
Boot said the reason he voted absentee was because he's planning to be in Minnesota on election day to campaign against a constitutional ban on gay marriage on the ballot there.
Though demand is strong, Beaudry noted the numbers actually are down slightly from the 15,053 absentee ballots issued in Ann Arbor during the 2008 presidential election, about 94 percent of which were returned. And that's one reason why she's predicting slightly lower turnout this year.
"We're not seeing those extreme numbers like we did in 2008," she said. "I don't want to suggest there's not interest. It's certainly still going to be a busy election and we're expecting a very high turnout, but there's some indication it's not what it was in 2008."
Ups and downs
Compared to 2008, voter registration is down in Ann Arbor but up throughout Washtenaw County as a whole. There were 105,571 registered voters in Ann Arbor for the 2008 presidential election and 62,864 ballots cast. That's about a 60 percent turnout.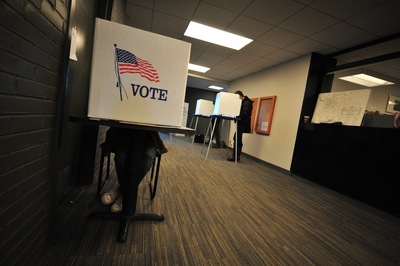 Ryan J. Stanton | AnnArbor.com
A total of 103,918 people in Ann Arbor registered by the Oct. 9 deadline to vote in Tuesday's election, a 1.6 percent drop from four years ago.
Throughout all of Washtenaw County, there were 280,454 people registered to vote as of the Oct. 9 deadline. In 2008, there were 273,670, nearly 69 percent of whom voted.
Pittsfield Township Deputy Clerk Lyn Badalamenti said her office has issued more than 3,700 absentee ballots and about 2,500 had been turned in as of Thursday afternoon. That's down from the 4,000-plus people who voted absentee in Pittsfield in 2008.
Badalamenti said it's still a lot to process.
"We're getting hit pretty hard right now," she said, adding many people seem to prefer voting absentee so they can take more time to look over the ballot and study all the proposals.
Badalamenti echoed the sentiments of other local clerks when she said she wished Michigan allowed true early voting or absentee voting for any reason. She said it would make it more convenient for people to vote, make election day less chaotic and increase voter turnout.
State Rep. Jeff Irwin, D-Ann Arbor, introduced legislation last year to allow absentee voting in Michigan for any reason but it never went anywhere in the state House.
County Clerk Larry Kestenbaum said he agrees anyone who wants to vote absentee should be allowed.
"People see early voting going on in other states and they want to do it, too," he said. "People like the feeling of getting voting over and done with so they don't have to think about it anymore."
Kestenbaum, a Democratic candidate seeking to retain his role as clerk, agreed with Beaudry's prediction there's going to be a slightly lower voter turnout locally this year compared to 2008. He predicted it'll be down a few percentage points.
"I'm definitely seeing less excitement than 2008," he said. "I think in 2008 basically there was no incumbent president in the race and it was like opening up a new era."
Kestenbaum said there doesn't seem to be a strong consensus that change is needed this year, and there seems to be less of an effort to get college students registered to vote.
"We're still going to get a hefty turnout," he said. "In a place like Washtenaw County with the highly educated folks we have here, a very large proportion of people vote in a presidential election."
Kestenbaum said if some of the "deadwood" was wiped from the voter registration rolls — including people who are registered but haven't voted in decades and people who have moved away — he thinks the real voter turnout in Ann Arbor would be closer to 80 or 85 percent.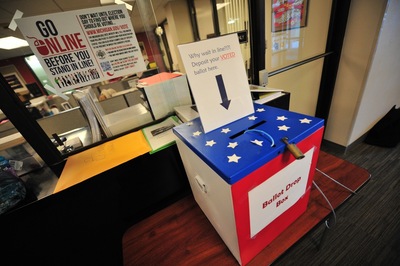 Ryan J. Stanton | AnnArbor.com
Beaudry agreed with Kestenbaum there's a lot of deadwood on the voter rolls, including many U-M students who have moved away but are still registered here.
The final push
Obama won 69.6 percent of the vote in Washtenaw County in 2008, while 28.8 percent went to John McCain. There were four third-party candidates who collectively pulled 1.37 percent.
A total of 58,710 people voted straight-Democrat, while 22,680 people voted straight-Republican.
The College Democrats at U-M are pushing hard in the final days before the election to get out the vote in hopes of improving Obama's chances of taking Michigan and helping other Dems get elected as well. The group gathered Thursday night inside the Michigan Union to go over the ballot and discuss strategy.
"These four days are the most important four days of our college career," Chair Alexandra Brill wrote in an email to the group's membership on Thursday. "They are the only thing standing between us and four more years of progress and meaningful change."
Boot said his group, Students for Romney, has been pushing hard to get out the vote on the U-M campus for Romney.
"We've been doing Diag days, trying to hand out lit, trying to show people there are students on campus who are involved in the campaign," he said. "And we've been having people come out and make calls with us, knock on doors, give them T-shirts, bumper stickers, all sorts of gear."
Except for emergency cases, Saturday is the last day to request an absentee ballot for Tuesday's election. But those ballots can be turned in any time up until 8 p.m. Tuesday.
Ed Golembiewski, elections director for Washtenaw County, said residents who still want to vote absentee must obtain a ballot from their city or township clerk.
Regular business hours for city and township offices vary, but most are open from 8:30 a.m. or 9 a.m. until 5 p.m. during weekdays. Golembiewski said all city and township clerks' offices will be open this Saturday until at least 2 p.m. to process some of the last absentee ballot requests.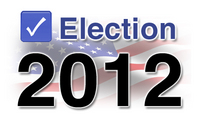 The Pittsfield clerk's office has expanded its hours and will be open 8 a.m. to 7 p.m. Friday, and then 9 a.m. to 4 p.m. Saturday.
The Ann Arbor clerk's office will be open from 8 a.m. to 5 p.m. Friday, and then 8 a.m. to 2 p.m. Saturday.
Ypsilanti City Clerk Frances McMullan said the Saturday hours at the clerk's office there will be from 8 a.m to 2 p.m.
Because of the limited time between now and the election, Kestenbaum advises anyone still planning to vote absentee to turn their ballot in by hand and not rely on mail.
Beaudry said she thinks many voters are waiting to turn in their absentee ballots because they're still making up their minds on some issues.
"There's just so much on the ballot," she said. "I think you'll see large volumes of absentee ballots coming in Saturday, Monday and Tuesday."
The Ann Arbor clerk's office is reminding voters to go online at Michigan.gov/vote before they stand in line on election day. The website allows voters to check their registration status, find out where to vote and view a sample ballot specific to the precinct in which they live.
ROUNDUP: Your guide to AnnArbor.com's coverage leading up to the Nov. 6 election
Ryan J. Stanton covers government and politics for AnnArbor.com. Reach him at ryanstanton@annarbor.com or 734-623-2529. You also can follow him on Twitter or subscribe to AnnArbor.com's email newsletters.