Posted on
Mon, Mar 18, 2013 : 11:25 a.m.
A2Y Chamber calls on Ann Arbor City Council to reject moratorium on downtown development
By Ryan J. Stanton
The Ann Arbor/Ypsilanti Regional Chamber is calling on the Ann Arbor City Council to reject a temporary moratorium on new downtown development.
The debated moratorium proposal, which is being co-sponsored by Council Members Stephen Kunselman and Sabra Briere, is back on the City Council's agenda Monday after twice being postponed amid legal threats from attorneys for the 413 E. Huron high-rise project.
Tonight's meeting also includes a public hearing on the controversial 14-story project, after which council will consider a resolution to approve the project's site plan.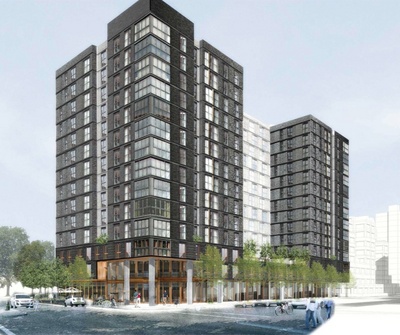 Humphreys & Partners Architects
The council has at least a few options: Go forward with a moratorium that includes 413 E. Huron, go forward with a moratorium that doesn't include 413 E. Huron, or drop the idea of a moratorium.
If the council does include the 413 E. Huron project in a moratorium, attorneys have threatened that could result in a lawsuit against the city.
The council meets at 7 p.m. inside city hall, 301 E. Huron St.
The chamber sent a letter to Mayor John Hieftje and other members of council, saying it doesn't believe there's a need for a six-month ban on new site plan approvals, even if the city chooses to go forward with another part of the proposal: a six-month review of the downtown zoning.
The chamber suggests such a moratorium could jeopardize "the certainty and predictability needed to foster beneficial downtown development."
The letter is signed by Chamber President Diane Keller and Doug McClure, chairman of the chamber's Public Policy Committee.
"Our current downtown development zoning is the product of a multi-year review by City Council, which culminated in comprehensive amendments to the zoning ordinance which created the D1 and D2 districts for downtown in 2009," the chamber's letter reads.
"The 2009 D1/D2 downtown zoning ordinance resulted in a workable framework and process, with relatively clear rules and procedure, which balances the various interests of the community."
The chamber acknowledges the D1/D2 zoning for downtown does not address all issues to everyone's satisfaction. But on matters such as aesthetics, appearance and design, the chamber encourages developers and community members to try to reach common ground.
"Such local engagement will help ensure that developments gain not only legal approval, but public acceptance, and this will engender lasting community support for our carefully designed D1/D2 downtown zoning structure," the chamber's letter reads.
Council members last week received a letter supporting the moratorium from Norman Hyman, a Bloomfield Hills-based attorney representing Sloan Plaza Condominiums at 505 E. Huron St. Sloan Plaza residents have been actively opposed to the controversial 413. E. Huron project.
Hyman argues in his letter it's undisputed that Michigan law allows a municipality to establish a moratorium of reasonable duration. He doesn't believe the owner of the 413 E. Huron property would be able to meet the burden of proving the moratorium was adopted in bad faith.
When the city adopted its new downtown zoning regulations in 2009, Hyman said, it was clear that it was "an experiment" with "doubt as to how they would work."
"And council promised the citizens that, after seeing how they worked in practice, it would take another look at these regulations," Hyman stated in his letter.
If the council fails to keep its promise to review the regulations and fails to adopt the proposed moratorium, Hyman argued, city residents would be able to claim bad faith.
"Experience has taught that the D1/D2 process is flawed, and we believe that you recognize that," he wrote to council members. "For example, there appears to be not enough sensitivity to the impact of proposed developments on neighboring historic properties."
Hyman concluded by saying 413 E. Huron is not at stake with the temporary moratorium. He believes the site still would be profitably and densely developed, almost certainly with apartments.
"What is at stake is the future character of downtown and of historic properties in and neighboring downtown," he said. "Is there a one-in-one-hundred chance that the 413 developer might be able to persuade a court to invalidate the moratorium and grant some award of damages for a temporary taking? We doubt it, but the likelihood of such a result is so remote that you should not allow your policy decision to be dictated by such a remote threat."
Ryan J. Stanton covers government and politics for AnnArbor.com. Reach him at ryanstanton@annarbor.com or 734-623-2529. You also can follow him on Twitter or subscribe to AnnArbor.com's email newsletters.