Posted on
Thu, Feb 28, 2013 : 1:40 p.m.
Experts in Ann Arbor say making communities livable for aging population benefits everyone
By Ryan J. Stanton
Ryan J. Stanton | AnnArbor.com
When the first baby boomers turned 65 on New Year's Day in 2011,
Karen Kafantaris
says it was the symbolic beginning of the greatest demographic shift in the nation's history.
"A shift that will see 1 in every 5 Americans age 65 or older by the year 2030," said Kafantaris, AARP Michigan's associate state director for livable communities.
"That sounds like a long time, but it's only 17 years away," she said.
Kafantaris was the opening speaker at AARP Michigan's Age-Friendly Communities Conference Thursday at the University of Michigan in Ann Arbor.
Close to 200 people attended the conference held at U-M's Palmer Commons, including city managers, planners, public health officials and others from across the state.
Ryan J. Stanton | AnnArbor.com
Kafantaris said the aging of the population will be one of the nation's greatest challenges in the 21st century, and it will profoundly affect all sectors of society.
"Everyone who is privileged to be in a position to make a difference will be tasked with an important role in dealing with it," she said. "And when historians look back 50, 80 or 100 years from now, they're going to look and they're going to say: What did we do to address this?"
Todd Zimmerman, a New Jersey-based expert on housing and sustainable communities, talked about what communities will need to look like in the future to retain or grow their populations with the convergence of the baby boomer and millennial generations.
Zimmerman said Michigan residents age 65 and older have a combined annual income of $37 billion, they spend most of it, and they tend to spend locally. Additionally, Michigan residents age 50 to 64 have a combined annual income of $80 billion.
"And here's the 20-year opportunity of these relatively affluent folks," Zimmerman said. "Remember, this is the first generation in American history to hit their peak earning years with two earners."
Zimmerman said Michigan has an older population than the rest of the nation. In the 85-plus category, he said, it's roughly double the national average.
"And not as many young people as you should have," he said. "This is the problem and the opportunity."
Michigan must accommodate its aging population, he said, yet it also must retain and attract younger people.
"This is the crux of creating places where people can age with dignity, where people can be young with freedom, and where people can have families," he said.
Zimmerman provided a breakdown of Michigan's household categories, showing 18 percent younger singles and couples, 29 percent families, and 53 percent empty-nesters and retirees.
That compares with a national breakdown of 24 percent younger singles and couples, 30 percent families and 46 percent empty-nesters and retirees.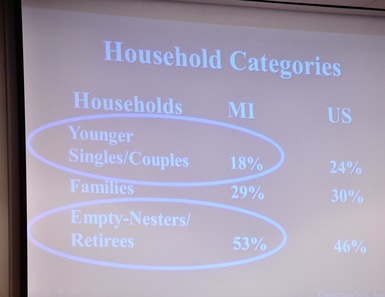 Ryan J. Stanton | AnnArbor.com
"You can see that younger singles and couples are way below the U.S. average, and empty-nesters and retirees are significantly above," Zimmerman said.
As the demographics continue to change, Zimmerman said, there's a mismatch building between the housing stock and the types of households in Michigan and across the nation, with perhaps too many four-bedroom houses with three bathrooms at the end of cul-de-sacs.
"If you were to match up the number of bedrooms in America and the number of people who sleep any given night in America, even including all the visitors, we've got a lot of empty bedrooms," he said. "If this continues, we have this threat of stagnant or declining tax base."
Single-family detached homes account for 61.5 percent of all dwellings in the U.S., and in Michigan it's 71.7 percent, Zimmerman said.
"I suspect that a higher percentage in Michigan are in those more advantageous locations, but most of the new stuff is out on the edge, and therein lies the problem," he said.
Considering 59.5 percent of all U.S. households have only one or two people living in them (in Michigan it's 61.8 percent), Zimmerman said that means the state and the nation have a housing stock built for families in a market of singles and couples.
"So where are seniors living?" he said. "A significant percentage are out in the exurbs, in the metropolitan suburbs … out on the edge."
Zimmerman said that's a national problem, and it's slightly worse in Michigan.
Connie Pulcipher, a systems planning staff member for the city of Ann Arbor, was among those in attendance on Thursday, along with members of the city's Planning Commission. She agreed communities, including Ann Arbor, have more work to do for an aging population.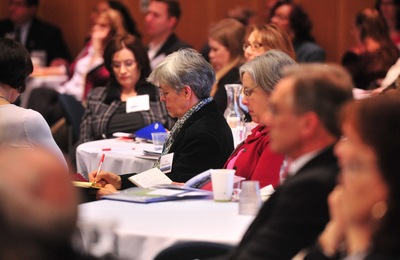 Ryan J. Stanton | AnnArbor.com
"We just need to create better walkable communities and neighborhoods and mixed-use so we don't have to walk so far to get to our daily needs and services," she said.
As far as there maybe being too many single-family houses, Pulcipher said, "I think just like any good community, we have to have a mix of housing types.
"We do have our suburbs in Michigan," she said. "But we also have some quality, close-in neighborhoods that are within a quarter-mile walking radius, and a lot of those are single detached houses, and they can work for people because of their proximity to downtown."
Kafantaris said AARP started working on the age-friendly concept last year when it partnered with Governing Magazine to conduct a series of roundtable events around the country, including some in Lansing, Philadelphia, Salt Lake City, Washington, D.C., and Des Moines, Iowa.
A key component in meeting the challenges of an aging population, she said, will be how the nation's communities successfully adapt and accommodate their aging residents by making changes in infrastructure and services that will benefit all age groups, not just the 65-plus crowd.
By 2030, when the last of the baby boomers turn 65, the 65-plus population is expected to roughly double to more than 70 million. In Michigan, it's expected to increase by about 40 percent.
"One reason I believe communities choose the 'wait-and-see' perspective is this string of myths," said Kafantaris. "The story of the retiree who packs up and heads to Arizona or Florida after they turn 65 and retire isn't as prevalent as you might actually think."
Since 1990, roughly 90 percent of older Americans have stayed right in the same county they've been living in, if not in the very same home, Kafantaris said.
AARP's research shows baby boomers also expect to do the same thing, and the No. 1 reason cited is a desire to stay close to family.
Ryan J. Stanton | AnnArbor.com
Kafantaris said making the changes to accommodate an older population shouldn't cause a generational clash.
"Livable communities are not just about serving older residents," she said. "Livable communities serve residents of all ages and we must consider all ages at every stage of the planning process — not just planning for older adults with younger residents as an afterthought."
She said residents of all ages benefit from safer, barrier-free buildings and streets, as well as better access to local businesses and more green spaces.
"Curb cuts designed for a wheel chair also benefit the parent pushing a baby stroller," she said. "A crosswalk safe for a senior citizen is crosswalk that's safe for a child. A community that is friendly for an 80-year-old is a community that is friendly for an 8-year-old and every age in between."
Another important part of the bigger picture, Kafantaris said, is that not everybody is hanging up the lunch pail at 65.
"There's a new word for retirement and it's called work," she said. "From 1990 to 2010, the labor force participation rate of people age 65 and older increased by 33 percent."
Older people also are rapidly adopting technology, Kafantaris said, citing a statistic that there are 47 million Facebook users in the United States over the age of 50.
Too many of communities are simply not preparing for their aging populations, Kafantaris said. She cited a survey conducted last year by AARP and Governing Magazine that found 16 percent of leaders surveyed said they were prepared for the changes in the next 25 years, yet 56 percent said it was extremely important and another 25 percent said it was very important that they do so.
Kafantaris said it will require creative solutions and unique coalitions involving nonprofits, government, foundations, businesses and engaged citizens.
"We just can't look to the federal government anymore," she said.
Ryan J. Stanton covers government and politics for AnnArbor.com. Reach him at ryanstanton@annarbor.com or 734-623-2529. You also can follow him on Twitter or subscribe to AnnArbor.com's email newsletters.