Posted on
Wed, Nov 23, 2011 : 5:58 a.m.
AATA says increased Route 4 service between Ann Arbor and Ypsilanti to begin in January
By Ryan J. Stanton
Bus service along Washtenaw Avenue between Ann Arbor and Ypsilanti will significantly increase starting Jan. 30, officials say.
The Ann Arbor Transportation Authority's governing board approved the proposed plan last week.
AATA officials said public feedback has been enthusiastic about the plan to double the number of weekday trips that operate on Route 4, primarily along Washtenaw Avenue, between the Blake Transit Center in downtown Ann Arbor and the Ypsilanti Transit Center.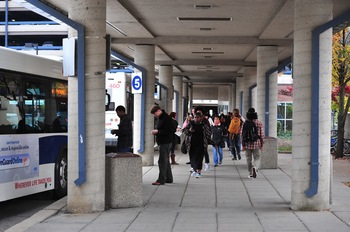 Ryan J. Stanton | AnnArbor.com
Chris White
, AATA's service development manager, said the proposed service improvement is part of long-range plans for more frequent service east of US-23, where most of the current demand originates, more reliable service and reduced overcrowding on trips.
It also helps with the goal of more direct and faster service to and from the University of Michigan's Central Campus and the Blake Transit Center.
Current service on Route 4 operates between the two cities every 30 minutes mid-day and every 15 minutes during morning and afternoon peak service hours.
Additional peak trips also operate between the University of Michigan Medical Center and the Ann Arbor city limits at US-23. Route 4 has the highest ridership among all of AATA's routes. More than 800,000 trips are taken each year and more than 3,000 trips are taken on an average weekday. "Increased frequency will benefit current riders and encourage new riders," White said in a statement. "It is a critical element in the effort to 'Reimagine Washtenaw Avenue,' which is a cooperative effort of every governmental unit along the corridor." The service plan includes:
Mid-day — four trips per hour in each direction (service every 10-20 minutes)
Peak hours — eight trips per hour in each direction (service every 5-10 minutes)
Peak hours — discontinue service on trips that operate only between the U-M Medical Center and US-23
Mid-day and peak hours - every other trip to provide service to the U-M Medical Center. Remaining trips to provide service directly to the Central Campus Transit Center
In addition to the increase in service on Route 4, AATA also is continuing with plans to launch bus service to the Detroit Metropolitan Airport, expand its vanpool program and increase the service area of its Night Ride late-night taxi service in the near future.
It also was announced this week that AATA will receive another $2.1 million federal grant to help offset the costs of new hybrid-electric buses.
The agency also plans to launch a redesigned website in early 2012 to provide the community with improved functionality, design and real-time tracking tools. AATA officials are asking for public feedback on the redesign through an interactive online survey.
Ryan J. Stanton covers government and politics for AnnArbor.com. Reach him at ryanstanton@annarbor.com or 734-623-2529. You also can follow him on Twitter or subscribe to AnnArbor.com's e-mail newsletters.