Posted on
Mon, Oct 10, 2011 : 5:58 a.m.
AATA to increase trips along Route 4 between Ypsilanti and Ann Arbor in early 2012
By Tom Perkins
The Ann Arbor Transit Authority will double the frequency of trips on its route four line, which runs along Washtenaw Avenue between downtown Ypsilanti and Ann Arbor.
The increase in service is scheduled to start at the end of January and will mean eight buses will run during peak hours and four during midday hours, which is up from four and two buses, respectively.
The number of trips during evening hours - twice an hour April through August and once an hour the rest of the year - will remain the same, as will the weekend schedule.
Riders along the route, which takes approximately 45 minutes from the Blake Transit Center to the Ypsilanti Transit Center, will have to wait five or ten minutes for a bus during peak hours. That's down from 15 minutes. During midday hours, riders will have to wait 10 or 20 minutes, which is down from a half hour.
The route will be altered slightly during peak and midday hours. Instead of traveling from Blake through the medical campus, the buses will travel through central campus. With the exception of those stops, all stops along the route will remain the same.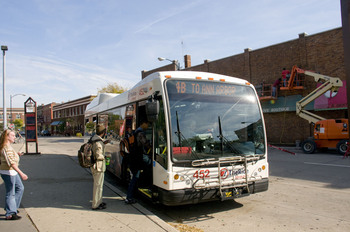 Tom Perkins | For AnnArbor.com
Chris White, manager of service development for the AATA, said route four has always been the AATA's busiest. It sees more than 800,000 trips annually, White said, and more than 3,000 trips on an average weekday.
During peak hours from 6:10-9 a.m. and 3:15-6:15 p.m., the route averages 1,563 riders. It averages 1,089 riders in between those periods, and 393 after 6:15 p.m.
According to data from a 2009 AATA rider survey, 40 percent of route four's riders use the line to get to school or college; 30 percent use it to get to work; 23 percent use it for shopping and 2 percent use it for other purposes, such as medical or social reasons. The AATA is preparing to undertake another reader survey starting later this week.
"A lot of the ridership is from that stretch of Washtenaw Avenue east of US-23, and it is usually going to and from Ann Arbor," White said. "The buses tend to be quite crowded, and the number of stops we are making to pick up and drop off riders makes it take longer. If we are able to reduce some of that crowding, then we reduce the number of stops and we can improve on time service."
White said the AATA has wanted to increase the route's frequency for years but has been unable to because of budget constraints. But the increase, which will cost an additional $448,000, was made possible in part because Ypsilanti voters approved an amendment to its city charter that will provide a dedicated source of funding for public transportation.
The .9879 millage is expected to generate $281,000 in 2011.
White said 30 percent of the additional cost is covered by Sate operating assistance, around 15 percent will be covered in money generated from additional passenger fares and a small portion will be covered by Washtenaw County and Ann Arbor Downtown Development Authority grants.
The AATA is hoping to secure more grant funding, White said, and the remainder of the additional costs will be covered by local governments, though he wasn't yet sure how much municipalities would be asked to contribute or what percentage of costs they would be asked to cover.