Posted on
Thu, Jan 21, 2010 : 6 a.m.
AATA approves plan to create long-term strategy for mass transit
By Art Aisner
The Ann Arbor Transportation Authority took a big step Wednesday night toward becoming the engine that drives the future of public transit in Washtenaw County.
And officials learned the organization will have to work harder to reach its goal with more public tax dollars.
The AATA Board of Directors unanimously approved a resolution advancing a plan to shape the future of public transportation countywide by the end of this year. 
The measure is the AATA's first attempt to create a comprehensive, long-term strategy for mass transit that incorporates several plans proposed by various agencies that now provide transit infrastructure within the county.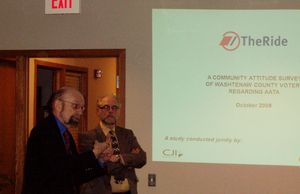 Art Aisner | For AnnArbor.com
The resolution came after a 40-minute presentation by consultants who concluded from a recent phone survey that despite broad support from AATA riders and non-riders alike, there is not strong enough community support to pass a 1-mill county transportation levy.
The survey, which polled 1,100 registered voters countywide between Oct. 5 and Oct. 15, found that nearly 72 percent of respondents believe public transit services are either extremely or very important in Washtenaw County, while 26 percent do not.
"This is a really critical number because we've done surveys around the country and you don't find this," said Hugh Clark, a representative from the Ohio-based CJI Research, which conducted the study. "The voting public here has an affinity for providing public transit service."
But when initially asked about a future transportation millage, barely 51 percent of voters said they would probably or definitely support it, while 41 percent said they'd reject it. Officials estimated the owner of a $200,000 home would pay about $8 more a month in taxes if such a millage passed.
After hearing that figure and other arguments for and against a millage, support swelled to 58 percent, while opposition fell to 37 percent.
The strongest reasons for opposing a millage were inability to pay more taxes (51 percent) and overall economic uncertainty (47 percent), Clark said.
The survey was designed in conjunction with Triad Research, another Ohio-based firm that studies transit issues nationally, and has a margin of error of 3 percent.
Triad spokesman Bob Dykes said the survey showed many residents have positive attitudes toward the AATA, but not enough people know the scope of work it does.
Emphasizing the services provided to seniors and those in the community with disabilities should be key components of any public campaign, he said.
"Currently, if the board felt really adventurous, it would not have enough of a base of support to pass a budget issue," Dykes said. "You'll need to go beyond service enhancements to make the case. It's not just what you'll do, but why what you're looking to do is important."
The survey also showed:
83 percent gave the AATA a positive job rating, compared to just 1 percent who said it was doing poorly.
Barely 40 percent of respondents said a household member rode the buses in the past year.
16 percent of respondents were consistently negative about the AATA.
AATA Board Member Jesse Bernstein said the data reinforced the importance of educating the public and stakeholders through the initial phase of their future plan.
The initiative has three phases - operating under what he coined a "ready, aim, fire!" approach - that will provide a blueprint for the next 25 to 30 years.
Over the next six months, the organization will be meeting with and educating government officials and community groups about the AATA's service delivery. Staff will also be tasked with gathering information about transit system options and how the options would each impact the community.
By summer, a preliminary service plan is expected to be drafted for feedback from stakeholders - including governments, universities and large employers.
But the paramount issues of governance and funding still must be determined.
Bernstein said by this time next year, a formal governing body and structure should be in place. He envisioned those decision-makers developing multiple three- to five-year strategic plans, all leading to the ultimate goal of being the lead provider of transit services countywide.
"We have to take a long-term vision so that we can say to the government entities, 'What are your plans? What are you thinking? Where are you now and where do want to be? And what can we implement as a transit service?'" he said.
• Read the executive summary of the survey results (pdf file)
Art Aisner is a freelance writer for AnnArbor.com. Reach the news desk at news@annarbor.com or 734-623-2530.