Posted on
Wed, Dec 16, 2009 : 9:15 p.m.
AATA board to move ahead with replacing Blake Transit Center in downtown Ann Arbor
By Ryan J. Stanton
The Ann Arbor Transportation Authority unveiled conceptual plans tonight for a brand-new, two-story Blake Transit Center downtown.
A bubble diagram provided by architectural and engineering firm DLZ shows a first floor with a ticket office and a sizable lobby area. Upstairs includes a board room with accommodations for 100 guests and a comfortable lounge area for bus drivers.
Click here to view the proposed site layout in PDF format.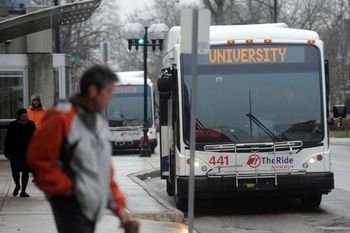 Those plans aren't yet set in stone, but they form a conceptual vision upon which the agency will build in the coming months. AATA's Board of Directors tonight approved a resolution to move forward with the process of selecting a firm to design and build a more modern facility to replace the 1987-era bus station.
"The BTC is essential to public transportation in Ann Arbor and its location in the downtown area is the most efficient as the center of our pulsing radial route system," CEO Michael Ford said in a written statement. "AATA wants to maintain a strong presence downtown to provide our passengers with the most modern, comfortable, safe and convenient facilities possible."
Chris White, AATA's manager of service development, gave a report to the board on funding for the project. He said the agency received approval for grants to renovate or rebuild the downtown transit center four years ago. That included $1.6 million in federal funds and $402,000 in state funds, which now are being put toward the project, estimated at $2.7 million to $3.7 million.
White said another $735,000 in federal earmarks may be coming for which the state has reserved a $183,750 match for a total of $918,750. He also said the agency must move quickly on the project design because after it's done, an environmental review still needs to be completed to qualify for those funds.
White also noted the $402,000 state grant money received in 2005 expires Sept. 30 if it isn't spent.
Board members agreed after some discussion tonight it was best to move forward on the design, even if they have some hang-ups about the current drawings.
Board member Jesse Bernstein said he didn't think it seemed prudent to build a board room when there are other places the agency's board can meet downtown, including city hall and the library.
Board chairman Paul Ajegba said he preferred the agency have its own board room equipped to meet its needs.
"If we can design something within this footprint, and expend all of the money available to build this, I frankly don't see why not," Ajegba said.
More than 5,000 passengers a day use the Blake Transit Center to either get to downtown destinations or transfer between buses. AATA officials say ridership has almost doubled in the 22 years since the original construction of the facility.
The Blake Transit Center serves as an Ann Arbor Police Department mini-station for the southwest quadrant of downtown and also allows about 75 bus drivers to take their breaks and eat their lunches each day.
DLZ was hired to evaluate the facility and make recommendations for either rehabilitation or reconstruction. In analyzing the structure, DLZ found that many critical repairs would be needed and AATA officials determined the current building does not allow for expansion to meet the agency's growing needs.
Ford said while AATA moves forward to update its downtown facility, it also will continue to develop other transfer facilities around its service area. For instance, he said, AATA is working cooperatively with the University of Michigan on a new Central Campus facility scheduled for completion next year that will provide space for waiting passengers and will help coordinate transfers between the two systems.
Planning work also continues on a future intermodal transit facility on Fuller Road where transfers would be made for north Ann Arbor and potentially between AATA and Amtrak trains. Plans also under way to develop an off-street transfer facility on Washtenaw Avenue near US-23, AATA officials said tonight.
Ryan J. Stanton covers government for AnnArbor.com. Reach him at ryanstanton@annarbor.com or 734-623-2529.