Posted on
Tue, Dec 15, 2009 : 6:02 a.m.
AATA looks to rebuild Blake Transit Center in downtown Ann Arbor
By Ryan J. Stanton
The Blake Transit Center in downtown Ann Arbor will be demolished and rebuilt under a plan by the Ann Arbor Transportation Authority.
AATA's board of directors is expected to vote on a resolution Wednesday night to tear down the 1987-era bus station and build a more modern facility in its place. Officials say funding for the project is available, and the deteriorating conditions of the current facility call for a new transit center.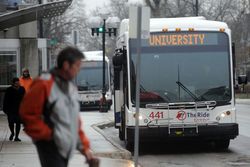 Melanie Maxwell | AnnArbor.com
The board meets at 6:30 p.m. at AATA's headquarters, 2700 S. Industrial Highway.
AATA officials say the agency intends to maintain a dynamic presence in downtown Ann Arbor, and the Blake Transit Center is an important asset.
AATA spokeswoman Mary Stasiak said about 5,000 bus riders come through the station on a daily basis - more than half of whom are getting off with a downtown Ann Arbor destination.
"It really is the second largest destination in our community outside of Central Campus," she said.
In 2005, AATA received approval for grants to renovate or rebuild the downtown transit center. That included $1.6 million in federal funds and $402,000 in state funds. Those funds now are being put toward the project, which is estimated at $2.7 million to $3.7 million in total.
While efforts are under way between the city and the University of Michigan to build a new transit center along Fuller Road, Stasiak said there is a need for both bus stations, and the grants AATA received could only be used downtown. AATA's Planning and Development Committee recommended going forward with the Blake Transit Center project at its last meeting, and construction could begin by June if approved by the full board, Stasiak said.
CEO Michael Ford recommended in a report to board members that the agency issue a request for proposals and select a firm to design and build the new facility. Architectural and engineering firm DLZ already conducted an assessment that looked at options ranging from rehabilitation to rebuilding the transit center.
Stasiak said so many critical repairs were needed that it made sense to completely rebuild the facility.
"First of all, it is not compliant with ADA," she said. "The heating ventilation and air conditioning equipment is well beyond its life expectancy. There is deterioration of the concrete pavement, the sinking storm sewer catch basin, and overall deterioration of the building."
While the resolution cites increasing ridership as another reason for a new transit center, a new report shows overall use of the agency's fixed-route bus service has dropped by about 9 percent since last year. Average weekday ridership so far this year is 23,170, which is 2,221 fewer than this time last year.
Stasiak said the dip in ridership is something many transit agencies across the country are experiencing due to the economy and fewer people going to jobs.
The existing transit center includes waiting, boarding, transferring, information, customer service, security and employee break areas. The resolution to be voted on says the new facilities will take maximum advantage of the site - all features currently provided would be included, as well as additional space for new uses.
Stasiak said the new uses would include a public board room that could accommodate 60 to 75 guests, new offices for staff meetings, additional storage space, and an improved public lobby with information kiosks and possibly a concession stand. It also would double the capacity of the drivers' restrooms.
AATA officials say they'll attempt to relocate services to avoid disruptions during the project.
Also on Wednesday's AATA board agenda is an item on the agency's next steps in determining an extended service plan. The meeting packet also includes a report from Treasurer Ted Annis, who is calling for improved transparency.
Annis is recommending the AATA update its Web site and be more transparent with financial information. That includes adding a complete check register, salaries of all employees, the amount of overtime paid in the past two years, as well as various other financial documents and contracts.
Annis also is asking that all future board meetings be televised - something he says isn't possible in the current cramped quarters in which the agency meets. He's recommending a move to a bigger board room, even if that means meeting in city hall or the downtown library for now.
Ryan J. Stanton covers government for AnnArbor.com. Reach him at ryanstanton@annarbor.com or 734-623-2529.