Posted on
Mon, Oct 22, 2012 : 1:24 p.m.
AATA bus ridership hits record high with more than 6.3M riders this past year
By Sven Gustafson
Bus ridership with the Ann Arbor Transportation Authority climbed 7 percent to a record level for the 2011-12 fiscal year, continuing strong gains as the agency looks to build support for a 2013 tax proposal to take bus service countywide.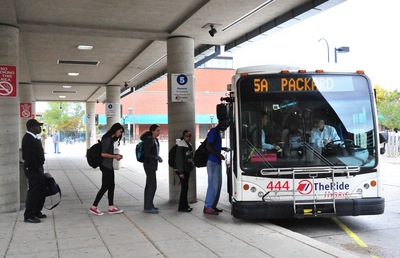 Ryan J. Stanton | AnnArbor.com
AATA
officials said the more than 6.3 million rides recorded during the fiscal year that ended Sept. 30 represented the highest annual ridership since the agency introduced local fixed-route service in 1979.
The figure is more than 200,000 rides higher than the previous record of 6.1 million rides set in 2009.
Officials attribute the growth in ridership to fluctuating gas prices, the improving economy, a mild winter and improvements in on-time performance. The agency in January also doubled the frequency of weekday service on the No. 4 Washtenaw route between Ann Arbor and Ypsilanti, resulting in a 28 percent increase in ridership.
"AATA and leaders throughout Washtenaw County are responding to this record demand for transit by developing comprehensive plans to introduce countywide transportation service in 2013," AATA CEO Michael Ford said in a release. "It is critical to Washtenaw County's quality of life and future development that we put together the talent and resources to deliver a countywide transit system our entire community can be proud of."
The agency's governing board earlier this month voted to incorporate a new countywide transit authority called the Washtenaw Ride as part of a five-year plan to expand service. Officials plan to seek a vote on a countywide transit tax to support the new entity, which would replace the AATA, in 2013.
The 0.584-mill levy could potentially raise about $7.7 million in the first year if all jurisdictions participated. It would be added atop a 2-mill tax already levied on Ann Arbor taxpayers and a 1-mill tax on property owners in Ypsilanti to fund AATA.
The agency's five-year plan envisions expanded service hours in Ann Arbor and Ypsilanti, more service for Chelsea, Dexter, Milan, Saline and other communities being asked to pay, and extended weekend and late-night service, among other changes.
Nine routes posted record ridership in fiscal year 2011-12, led by the No. 4 Washtenaw route, which increased 21.8 percent; No. 10 Ypsilanti Northeast, which rose 20.9 percent; and No. 18 Miller-University, which climbed 20.2 percent.
Also seeing record numbers of passengers were specialty services including the ExpressRide routes between Ann Arbor and Chelsea and between Ann Arbor and Canton, and NightRide and special event routes.
Nationwide, public transportation ridership in 2011 reached its second-highest annual figure since 1957, according to the American Public Transportation Association.
Annual AATA ridership has risen by more than 50 percent since 2004, the agency said.
Contact freelancer Sven Gustafson at sventg123(at)gmail(dot)com, or follow him on Twitter.