Posted on
Thu, Apr 22, 2010 : 6:10 a.m.
AATA hires international consultant to help develop transit master plan for Washtenaw County
By Ryan J. Stanton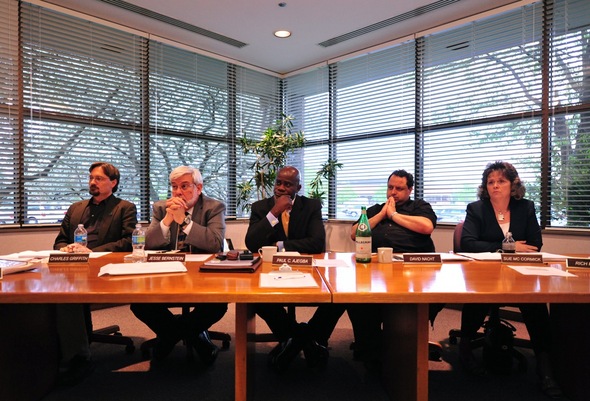 Ryan J. Stanton | AnnArbor.com
Ann Arbor transportation officials moved forward Wednesday night on efforts to create a new countywide transit master plan, calling upon the aid of an international consulting firm.
The Ann Arbor Transportation Authority's governing board voted 6-1 to enter into a $399,805 contract with Steer Davies Gleave to develop the plan. The firm has 15 offices worldwide — the three closest being in Boston, New York and Vancouver.
The plan is expected to provide a roadmap for the AATA as it continues to make its push to expand and become the transit provider for all of Washtenaw County.
"I'm excited because we're going to be spending the rest of the year developing this vision," said board member Jesse Bernstein, former president of the Ann Arbor Area Chamber of Commerce. "The first step is to listen and talk to everybody we can."
AATA staff recently developed and advertised a request for proposals and identified Steer Davies Gleave as meeting all of the job requirements for the best value.
By the same 6-1 split on Wednesday, the board approved a contract for marketing and public relations services in support of developing the transit master plan. AATA CEO Michael Ford is authorized to spend up to $350,000 for the services of The Rossman Group, Ilium Associates and re:group over a three-year period.
Ryan J. Stanton | AnnArbor.com
The three firms will be used at different times to help with public relations, education and marketing projects.
AATA officials said the need for professional marketing and public relations services has greatly increased due to so many efforts under way. That includes the transit master plan, park-and-ride expansions, WALLY, east-west commuter rail talks, Fuller Road Station, Blake Transit Center, Central Campus transit center improvements, Washtenaw Avenue transit hub and others.
"Everybody has different projects happening, but we need to make sense of it and we need the community to be a part of that conversation, and I think the transit master plan is what will make that happen," said Mary Stasiak, community relations manager for AATA.
AATA's board adopted a resolution in November that laid out a new vision statement for the organization, signifying a push to expand countywide.
"The Ann Arbor Transportation Authority shall be the public transportation provider for Washtenaw County," the statement reads. "Our customers shall see AATA's expanded services as the preferred option for traveling to destinations within the county, as well as to and from the county. AATA will offer appropriate modes of transportation with the most efficient use of resources. These services shall enhance the quality of life for Washtenaw County stakeholders while promoting the economy, safeguarding the environment, and strengthening communities."
It's likely the AATA will proceed with a countywide millage campaign to fund whatever services the community identifies as priorities in the master plan process. Stasiak said the steps taken Wednesday night will play an important part in achieving the AATA's long-term mission.
"It's really important that the board has made these decisions because creating a vision for the county for public transportation really has never occurred, and we need to get the input from all the residents of the county," she said. "And by hiring this consultant to do that, we believe that they're going to be bringing to the table all kinds of ways to connect with the community."
Stasiak said the transit master plan would look at the community's transportation wants and needs for the next 30 years.
"Having a transit master plan going out 30 years is important to preserve the unique character of the communities who want to maintain their rural nature," she said. "It helps to prevent urban sprawl. If you don't have a plan for transportation and for transit, what happens is density starts to crawl and it starts to move into the areas that people are trying to preserve."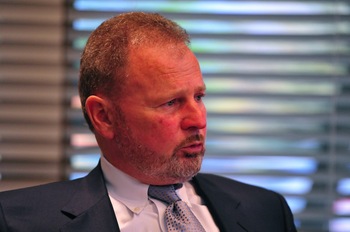 Ryan J. Stanton | AnnArbor.com
Board member Ted Annis, the agency's treasurer, dissented in each of the 6-1 votes Wednesday night, calling the measures "premature." He noted the AATA still is working on a north-south connector study to determine whether the Plymouth Road and State Street corridors should be enhanced.
"I'd like to see the connector study be completed, and I'd like to see a little more substance before we start talking it up in the community because we don't know what we're doing yet," he said. "I'm a little bit concerned about getting the public all excited and talking about things and then have it go the way of the SEMCOG situation. I would not advertise it until we know more."
Stasiak said the connector study will provide valuable input for the master plan.
"What the connector study is doing is really focusing on one particular corridor and what types of transit would operate along that particular corridor," she said. "And so it actually will inform types of transit that would happen along a particular corridor, so it actually works in combination."
At the start of Wednesday's meeting, Eli Cooper, transportation program manager for the city of Ann Arbor, gave a presentation on the Fuller Road Station — a joint project between the city and the University of Michigan currently in the planning stages.
Cooper's presentation mostly revisted information already shared at previous City Council meetings. He acknowledged he failed to point out in his last presentation that one of the seven major elements of the project is parking for 1,000 vehicles — a net increase of about 750 spaces on the site.
AATA board secretary Charles Griffith asked Cooper what the status was on discussions with Amtrak about co-locating at the new site. Cooper said Amtrak is excited to move its existing station, and he expects that transition will occur fairly easily when the timing is right. But it won't be part of the first phase of the project, estimated to cost $43 million.
The city is planning a modest first phase with accommodations for bicycles and buses. Cooper said the train station most likely would be built down the road as part of a second phase of work costing another $30 million to $40 million. U-M is paying for 78 percent of the total project costs.
Board member David Nacht said he doesn't have any faith that there will be regular train service between Ann Arbor and Detroit due to failures by the Southeast Michigan Council of Governments to secure funding. He asked: Why build a station if trains won't come?
Cooper said he's confident the failure to grant funding recently is only a temporary setback. Making a case for the need for rail service to Ann Arbor, he pointed out that 25,000 to 30,000 Wayne County residents commute to work in Washtenaw County. He also said 1,200 people have indicated they would take advantage of a north-south train from Howell to Ann Arbor.
Ryan J. Stanton covers government for AnnArbor.com. Reach him at ryanstanton@annarbor.com or 734-623-2529.