Posted on
Thu, Apr 1, 2010 : 4:09 p.m.
Washtenaw County officials question worth of investment in SEMCOG
By Ryan J. Stanton
Washtenaw County commissioners are questioning the worth of the county's $125,000 annual investment in SEMCOG after running into delays with the Ann Arbor-to-Detroit commuter train project.
At an administrative briefing Wednesday, commissioners questioned whether the county should continue paying the annual membership fee to the Southeast Michigan Council of Governments.
Ryan J. Stanton | AnnArbor.com
"Their failure to bring the demonstration project to fruition is sort of a punctuation mark on a number of frustrations that people have had locally about SEMCOG," said Jeff Irwin, D-11th District, calling the organization's failure to deliver the project on time a "colossal failure."
"Their failure to follow through on those promises certainly leave me scratching my head again," he said. "What is it that we gain from being part of this regional conversation and sending our dollars to promote that organization and their regional planning efforts if the planning that they're doing doesn't serve the interests of our citizens or the broader region in general?"
SEMCOG is a member organization made up of local governments in seven counties surrounding Metro Detroit. It acts as the unified voice for the region on issues related to transportation, the environment, community and economic development, and education.
The agency's leaders have been saying for months a daily commuter rail service linking Ann Arbor and Detroit would start later this year, but now it's been indefinitely delayed due to a shortage of funding. Agency leaders acknowledge they are tens of millions of dollars short of where they had hoped to be, mostly because federal funding didn't come through.
"We are as frustrated as anybody," said Paul Tait, SEMCOG's executive director. "We've been working with the Michigan Department of Transportation to make this a go and we've been inching closer, and when the feds did release some awards for high-speed rail, Michigan wasn't on the list. They were funding rail improvements to get around Chicago and rail down the middle of Florida and California and places like that."
SEMCOG still plans to do a demonstration project later this year, though it won't be the daily service that many expected. Trains between Ann Arbor and Detroit will run only for special events, such as the Thanksgiving Day parade in Detroit or University of Michigan football games in Ann Arbor.
Tait said project officials continue to work on getting train cars ready and making station improvements. He hopes to have one of the refurbished train cars on display at the Ypsilanti Heritage Festival in August.
"We're not abandoning this project at all," he said. "I think folks have taken the fact that we're not implementing when we promised as 'the project's dead,' and nothing's further from the truth."
Conan Smith, D-10th District, said he doesn't buy the excuse that federal money didn't come through. He said SEMCOG promised it could deliver on the project before there was a federal money to go after.
"This raises the question of 'What use is SEMCOG?' once again," he said at Wednesday's meeting. "Somebody's lying basically to keep our money."
Irwin said the county's frustrations with SEMCOG are deep-rooted and trace back several years.
"It really started with the realization that their demographic projections are geared toward pushing infrastructure investments away from established cities and toward urban sprawl," he said. "The way that they estimate growth in the seven-county region essentially starves our cities and causes really inefficient use of transportation resources."
Irwin said county officials have been holding out hope for years that SEMCOG could address that problem with a greater focus on transit.
Smith said one of the problems with SEMCOG is its governance model.
"There are a heck of a lot more townships, for example, than there are cities (in SEMCOG), so the inclination around infrastructure investments is to support that outward migration of resources, and that's not in the long-term sustainability interests of the region as a whole," he said.
"There is just a status-quo kind of approach to problem solving when it comes to transportation and infrastructure," he added. "I would say SEMCOG's actually pretty good when it comes to water quality work, and their work on community and economic development has been very strong. But their primary mission through the federal government is transportation, and we see the vast majority of their data and their investment decision-making heading toward a sprawl model as opposed to reinforcement of sustainable urban development."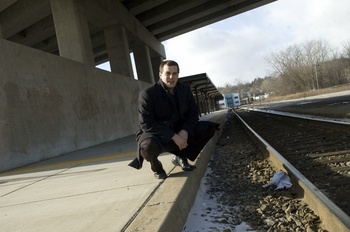 Tait called it a myth that SEMCOG promotes urban sprawl.
"Certainly we're not proposing or approving funding for roads that are out in the middle of nowhere that further support urban sprawl," he said. "That's never been true. It's a myth and frankly, it's not an accurate one. Despite the disappointment with us not being able to close the deal as fast as we want on Ann Arbor to Detroit, our policies are pretty consistent with where Washtenaw County and our communities in Washtenaw County want to go."
Commissioner Kristin Judge, D-7th District, said she began questioning the worth of SEMCOG in last year's county budget process.
"I said, 'Do we get $125,000 worth out of this?'" she said, adding county officials still are asking that question.
Smith said it may take a change of leadership at SEMCOG. He noted Saline Mayor Gretchen Driskell, vice chairwoman of SEMCOG's executive committee, is in line to become chairwoman in two years, which would be a positive step for Washtenaw County.
Commissioners said at Wednesday's meeting the problem with pulling out of SEMCOG is that they want to support regionalism. And despite frustrations with SEMCOG, it does have its benefits — such as funding it helps bring to the region and data it provides regarding its communities, they said.
"But the vision that I think our communities share is not being shared by SEMCOG," Irwin said. "We have to decide: Do we continue to engage, continue to invest our citizens' scarce resources in this organization in hopes that the regional conversation can eventually be the rising tide that lifts all boats? Or do we sort of pull back those resources and invest them in a local solution to implement the good ideas that our communities share?
"Regionalism is good, but if it's a completely broken organization, is it really serving that interest?" he added.
Smith agreed that regional planning is important.
"But when the prioritization is the automobile and the widening of roads, and a signature project in the SEMCOG region ends up being expanding M-59 by another two or three lanes, which is already eight lanes wide with a half-mile setback, that over regional rail? The priorities are messed up," he said.
Tait, a resident of Ypsilanti, joined SEMCOG in 1972 and has been executive director since 1998. He said it would be a mistake for the county — his county — not to be a part of the regional dialogue around important issues.
"I think it would be very unfortunate because there are so many issues that we deal with," he said. "Beyond the frustrations of transit, all federal road money and transit money in the region has to be approved by elected officials working through SEMCOG and that includes the projects that (the Washtenaw Area Transportation Study) and the road commissions are putting forward.
"We are working on an economic development strategy for the region that does tie Washtenaw County in with the rest of the region," he added. "All of the data and information shows that Washtenaw County is increasingly connected with the rest of the region needs to be at the table."
Ryan J. Stanton covers government for AnnArbor.com. Reach him at ryanstanton@annarbor.com or 734-623-2529.