Posted on
Fri, Jan 6, 2012 : 4:19 p.m.
AATA wants your feedback about the new Blake Transit Center next week
By Danny Shaw
Area residents itching to have a say about Ann Arbor Transportation Authority's new Blake Transit Center project will get two chances next week.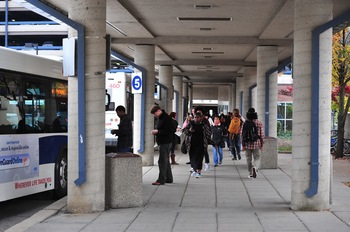 Ryan J. Stanton | AnnArbor.com
Plans for the
new transit center
will be unveiled for public comment at two feedback sessions scheduled at the current Blake Transit Center building.
According to a press release from AATA, three displays showing the floor plan, signs and Internet technology plan and other ideas will be set up inside on Wednesday from 3 p.m. to 6 p.m., and Thursday from 7 a.m. to 10 a.m. Visitors will be able to fill out surveys at each display to provide feedback about the project.
"We're looking for input from the community to make the new transit center a dynamic transportation hub and a welcoming destination in the downtown area," Terry Black, manager of maintenance and BTC project manager, said in the release.
"We'll use the survey results to help us finalize the plan so that we can move on to construction of the center this year."
The current center waiting area and office will remain open as long as possible during the construction. Once construction begins, buses will pick up and drop off passengers along the adjacent streets.
The project, approved in 2009, will triple the center's size, from 2,000 to 6,000 square feet, and add 10 additional hybrid buses to AATA's lineup. In September, AATA officials said the project would cost $5.5 million, $4.2 million of which will be paid by federal grants. Construction is currently set for this spring.
"This funding will play a critical role in expanding and enhancing transportation options for Ann Arbor to help us retain, create and attract jobs to Washtenaw County," U.S. Rep. John Dingell, D-Dearborn, said in a statement in September. "I am very happy to help Mayor John Hieftje and AATA's CEO Michael Ford continue their outstanding work."