Posted on
Wed, Oct 19, 2011 : 11:57 a.m.
After the interview: U-M social media director applicant pleased with spread of campaign
By Kellie Woodhouse
Twenty-two-year-old Lindsay Blackwell has received several informal job offers over the past ten days— but none from her dream employer and alma mater, the University of Michigan.
The Ann Arbor-area resident launched a sweeping online campaign —using outlets such as Twitter, Facebook and a self-created website— for her dream job: becoming U-M's first-ever social media director.
The school announced the newly created position —which pays between $90,000 and $110,000 annually— earlier this month.
Blackwell's website, dearlisarudgers.com, targets U-M Director of Global Communications Lisa Rudgers, her potential boss.
Since the launch, Blackwell has interviewed with Rudgers, been the subject of four (now five) media pieces and even been asked out on a date. Her website has received more than 7,000 hits from more than 50 countries, Blackwell says.
"Most of the people I've been hearing from in the past few days have been total strangers," Blackwell said. "The way that this has spread on blogs and various publications ... it's really incredible."
And while it's created a lot of buzz in the world of social media, it's unclear yet whether Blackwell's tactics will land her the U-M position.
Blackwell declined to discuss the contents or length of her interview with Rudgers, but offered this: "I am happy with the presentation I gave and I know I've got a long way to go."
And while Blackwell has received some criticism online for being too open and candid with the information she shares on her Twitter and Facebook, she says she wouldn't do anything differently.
"This campaign has really gone in the direction I wanted it to," Blackwell said. "I don't have a lot of salaried experience in this industry and I needed a way to demonstrate to Lisa and to the University of Michigan that I am capable."
So what about those other job offers?
If you look at her Twitter "you'll see that, yes, I have received other offers," Blackwell says, adding that "people have contacted me privately."
Is she interested?
No comment.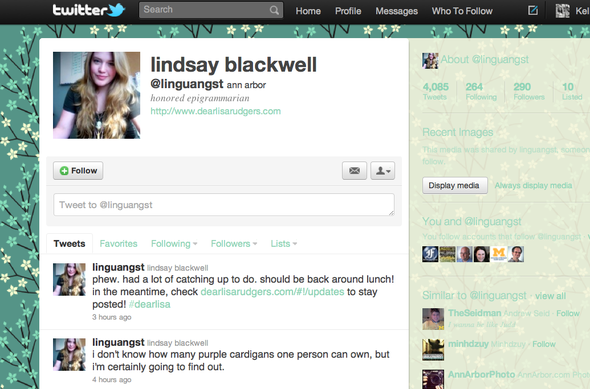 Kellie Woodhouse covers higher education for AnnArbor.com. Reach her at kelliewoodhouse@annarbor.com or 734-623-4602 and follow her on twitter.