Posted on
Fri, Apr 5, 2013 : 5:56 a.m.
All about politics? Ann Arbor council member's motivations called into question
By Ryan J. Stanton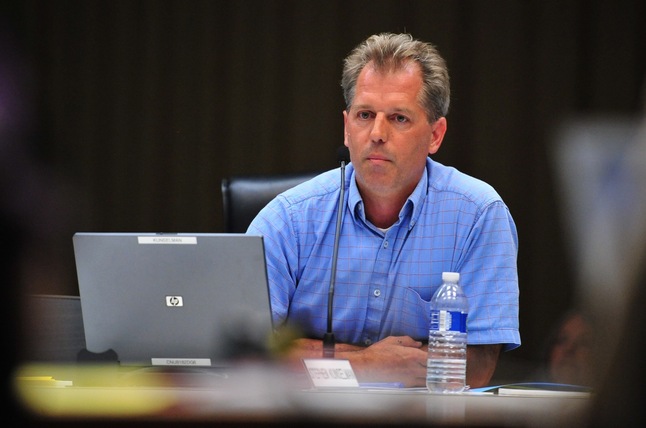 Ryan J. Stanton | AnnArbor.com file photo
Ann Arbor City Council
Member
Stephen Kunselman
doesn't deny a bit of politics is involved in the ongoing
debate about the Downtown Development Authority.
"It's all politics," he said this week after the City Council voted 7-3 to give initial approval to changes he's proposing to put new limits on the DDA and slow its revenue growth.
"We're politicians," added Kunselman, D-3rd Ward.
But he said it's a distraction from the real issue to say that's the motivation behind his proposal. He said it's about holding the DDA accountable and implementing sensible reforms, like term limits for DDA board members and clarifying how the DDA can capture and spend local tax dollars.
Council Member Sabra Briere, D-1st Ward, painted a different picture of Kunselman's agenda in a Feb. 10 email to DDA Director Susan Pollay, suggesting he has it in for the DDA.
"He thinks the DDA and AATA are 'soft' targets because they handle significant dollars but have unelected boards," Briere wrote. "He believes that coming out against the DDA and AATA makes him appear unafraid, able to speak truth to power, and not part of the mayor's coterie."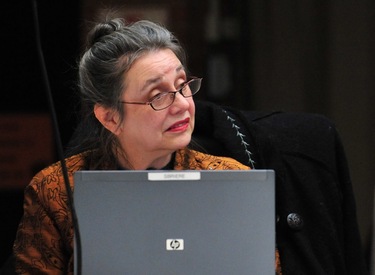 Ryan J. Stanton | AnnArbor.com file photo
Briere went on to claim: "He's still trying to get back at DDA members for
supporting his opponents
in previous elections."
AnnArbor.com obtained 50 pages of emails traded between Pollay and council members, including some from Briere, in response to a recent Freedom of Information Act request.
Since the emails were released to AnnArbor.com, Briere has expressed some regret about the situation, but she hasn't taken back anything she said.
She recently gave a courtesy heads up to both Kunselman and Sumi Kailasapathy, who has joined Kunselman in co-sponsoring the DDA ordinance changes, to let them know the emails were going public.
"It honestly doesn't make me happy," Briere said of the emails going public. "I'm not a gossipy person and it sounds gossipy."
In her email describing Kunselman's agenda to Pollay, Briere alluded to the fact that Kunselman is considering running against Mayor John Hieftje next year.
"He thinks he's the best person to challenge the mayor, because he's passionate about 'sticking it to him.' In other words, making the mayor ultimately responsible for each and every problem," Briere wrote, concluding the email by saying: "I don't know what can be done to change any of this, but he loses ammunition when things are very transparent."
Kunselman said he got a chance to read Briere's email about him and she seems to be "throwing stones" with her tone.
"I think what it does is it creates a doubt or distrust of the sincerity of the person who wrote it," he said. "It's not a very flattering way to work with your colleagues, for sure."
Kunselman said Briere hasn't formally apologized to him. In an interview with AnnArbor.com, Briere stood by her remarks about Kunselman and his motivations.
"Ms. Pollay asked me what's his intent, then I went through the stuff I've heard him say to me — many times at council meetings, as well as in conversations," she said. "He told me more than three years ago that every problem, every issue he can bring up, he will make an issue for the mayor."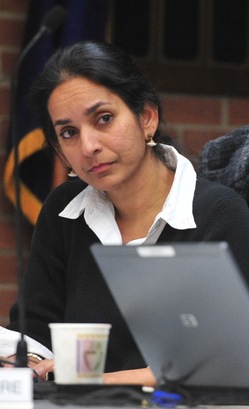 Ryan J. Stanton | AnnArbor.com file photo
Briere said she still likes and respects Kunselman, but she was just calling it like she sees it — and being "as honest as I can be."
"When he has criticized the money that goes to the DDA, he has pointed out that money could have been better spent in his neighborhood," she said. "When he has criticized the types of development that go on downtown, he has pointed out that no development is occurring in his neighborhood.
"He's also pointed out in more than one public venue that members of the DDA have failed to support him and have supported people who ran against him for council," she added.
Observers of Monday's council meeting noticed at least a couple of tense moments between Briere and Kailasapathy, who also isn't happy about what Briere wrote.
"It just seemed to have totally missed the economic implications and the accountability we're trying to bring to the DDA," Kailasapathy said. "It kind of made me sad. If you just see it politically, you're obviously not seeing the rest of the big picture."
Briere said she felt "called out" by Kailasapathy, who accused Briere of trying to paint a "disaster scenario" about what cuts to the DDA could mean.
Briere ultimately voted in favor of the proposal at Monday's first reading. It now goes to second reading and final approval on April 15.
Kailasapathy maintains the DDA has a "spending problem," and she has no problem limiting its ability to capture more revenue from new downtown developments.
"For me, it's really problematic when you spend 87 percent of your TIF money on bond servicing," she said, referring to the nearly $4 million a year in tax-increment financing dollars the DDA collects from downtown properties. "It has broader goals than just making debt payments on parking garages."
Briere has been a rumored potential future candidate for mayor. Kunselman said he doesn't think there's any jockeying going on between the two of them, at least not on his part.
"No, my only aspiration was to run against Hieftje," he said. "I don't want to run for mayor. But if Hieftje runs again, I think he needs a credible opponent."
At Monday's meeting, Hieftje accused Kunselman of launching a politically motivated attack on the DDA that could hurt both the city and the DDA. Hieftje said the DDA has been an excellent partner, and if there were any concerns, Kunselman should have consulted the DDA first.
Kunselman said those kinds of comments about collaboration are "a bunch of smoke," because "what we hear is the nastiness of politics."
"The DDA board was never collaborative until the mayor lost his majority on council and we saw that tonight," he said after the initial vote on his proposal.
Kunselman said he thinks the DDA has become an extension of the mayor, who serves on the DDA board and appoints all of its board members.
"He is the DDA," Kunselman said.
Before he considers running for mayor, Kunselman is seeking re-election to council this year. He's up against Julie Grand, chairwoman of the city's Park Advisory Commission.
Grand, a Democrat, said she's already met with DDA board member Joan Lowenstein and has her support, and she wouldn't be surprised if other DDA board members support her as well.
She said Kunselman makes it hard for others to objectively evaluate his ideas about the DDA because of the assumed political motivations behind them.
"He's been very open about his efforts to dismantle the organization," she said. "I think they should exist and not be vilified, but it doesn't mean we can't make improvements to the organization."
Kunselman said he believes the changes he's proposing will be good for the DDA in the long run. He said it's all about restoring public trust and confidence in the organization.
Ryan J. Stanton covers government and politics for AnnArbor.com. Reach him at ryanstanton@annarbor.com or 734-623-2529. You also can follow him on Twitter or subscribe to AnnArbor.com's email newsletters.