Posted on
Wed, Aug 8, 2012 : 5:58 a.m.
Mayor John Hieftje and allies lose majority control on Ann Arbor City Council
By Ryan J. Stanton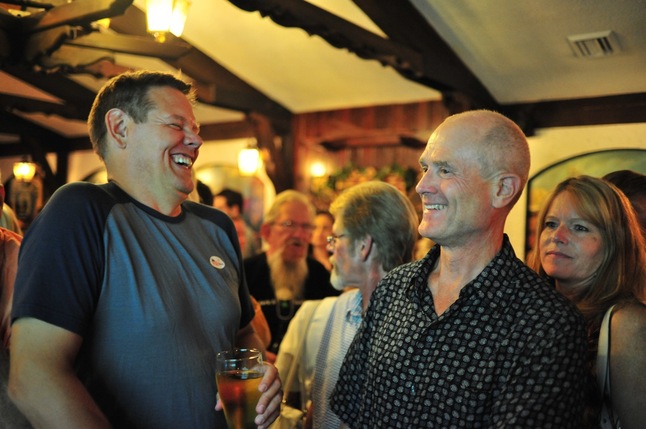 Ryan J. Stanton | AnnArbor.com
Three new faces will join the Ann Arbor City Council in November after Tuesday's primary turned out wins for Sumi Kailasapathy, Sally Hart Petersen and Chuck Warpehoski.
By way of background, that adds a certified public accountant, a former marketing professional and a nonprofit organization director to the council's ranks.
They'll replace Sandi Smith, Tony Derezinski and Carsten Hohnke — three of Mayor John Hieftje's trusted allies on council.
And that means Hieftje and his ruling coalition have three more months before they lose their 7-4 majority, an outcome Derezinski lamented as he watched the results roll in Tuesday night.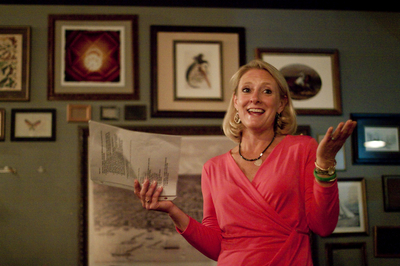 Jeffrey Smith | AnnArbor.com
Derezinski said he fears the addition of Petersen and Kailasapathy to the 11-member council — reducing the current majority's ranks from seven to five — could have a detrimental effect on moving forward projects like a proposed train station and a countywide expansion of public transit services.
"I think that's a real shame," he said. "Because that's what they ran on — stopping various things — and I think that's the wrong direction to go."
Derezinski, who earlier this year suggested he might run for mayor after Hieftje steps down, said his only regret after losing is that voters in the 2nd Ward didn't embrace his vision for the future.
"I was really pushing for managed change," he said. "We really had a progressive agenda that I was in favor of — along with the mayor and a number of council members. Obviously in the 2nd Ward, that didn't play as well as I had hoped, and I think the resistance to change is really at the core of the issue."
It played well in the 5th Ward, though, where Warpehoski and Vivienne Armentrout competed for the open seat being vacated by Hohnke.
Warpehoski, who supports both visions for a new train station and countywide transit, ran with support from Hieftje and Hohnke and pulled off a nearly 400-vote win over Armentrout, a staunch council critic and former county commissioner. Warpehoski is director of the Interfaith Council for Peace and Justice.
In the 1st Ward race to replace Smith, Kailasapathy, another staunch council critic who has opposed the countywide transit and train station plans, beat newcomer Eric Sturgis with 57.7 percent of the vote.
In the 2nd Ward, Petersen pulled off what many characterized as a surprise upset with 55.2 percent of the vote against Derezinski.
In the only other contested race, incumbent Margie Teall, another of Hieftje's allies, barely squeaked past challenger Jack Eaton by a mere 18 votes.
Incumbent Christopher Taylor was unopposed in the 3rd Ward, and Hieftje ran unopposed for mayor, though he faces Independent challenger Albert Howard in November.
The only other candidate facing opposition in November at this point is Warpehoski, who is expected to easily beat Republican Stuart Berry since the 5th Ward is not GOP-friendly turf.
Two out of four
If anyone is keeping score, Tuesday's primary brought two wins for what Armentrout dubbed the old "council party" and two wins for what Kailasapathy dubbed the new "council independents."
"If you look at this election as a referendum on the mayor and his overall agenda, he only got two out of four, so that's not too great," Armentrout said after leaving her campaign's gathering at Knight's Steakhouse.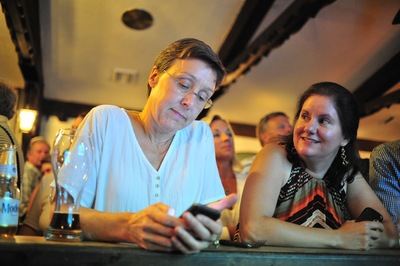 Ryan J. Stanton | AnnArbor.com
"But if you look at what artillery that was aimed at me, with all of the endorsements, the outcome is not surprising," she added. "And to give Chuck credit, he ran a vigorous campaign."
By Armentrout's measure, Hieftje and the so-called council party are left with just five votes on the 11-member council starting in November.
But one of those votes, Warpehoski, already is making it clear he's not going to be a rubber stamp for the mayor. While in line with Hieftje on most issues, he vows to act independently.
"My goal right now is to build positive working relationships with everybody on council so that when we do disagree, it's not personal, it's not factional," Warpehoski said.
That's not entirely rare — even council members in Hieftje's camp still switch and vote against him on some issues, and other council members in the minority still support Hieftje sometimes.
But it's clear the dynamics on council are changing, and it started last November when Jane Lumm ousted incumbent Stephen Rapundalo, another Hieftje ally, in the 2nd Ward.
Lumm has been pushing for a public vote before the city could proceed with building a new train station on city parkland along Fuller Road.
All three incoming council members agree the envisioned Fuller Road Station project should go to a vote of the people. With their three votes, the current minority members on council theoretically would have enough support to push a public vote on the project sometime in the next year.
Hieftje said that wouldn't bother him.
"Fuller Road is a very popular project," he said. "You're going to have groups out there to support it like the Michigan League of Conservation Voters and the Chamber of Commerce. I've never had any fear of it going to voters. I think if it does go to the polls, it'll be successful."
Even if Ann Arbor voters give their blessing to move forward with the project, Derezinski fears Lumm and others, including Kailasapathy and Petersen, still would work to defeat the project.
"I think when you look at it honestly, their intent is to not have Fuller Road go ahead," he said. "This was a ploy to stop it, no doubt about it. They'll do everything to stop it and I think that's a huge mistake because the railroad is coming, commuter trains are coming, and high-speed rail is coming."
Another unknown after Tuesday's primary is whether there will be enough support on council for the countywide expansion of the Ann Arbor Transportation Authority. The City Council voted 7-4 in March in favor of a four-party agreement that lays the framework for creation of a new countywide authority.
Once the articles of incorporation are filed, possibly later this year, the city will have an option to opt out and essentially halt the expansion. And if Petersen and Kailasapathy, who have expressed doubts about the plan, join the four who previously voted against the four-party agreement, that's a 6-5 majority in opposition.
Hieftje said he's not worried about council becoming divided on issues, though. Even in spite of the outcome of Tuesday's primary, he was in good spirits as he mingled with supporters, including a number of Downtown Development Authority board members, at a Democratic gathering at Heidelberg.
"I've never really believed that there were two distinct camps on council," he said. "I think that was overblown and I think it breaks down on the issues. I'm looking forward to working with all three of the new council members and I think we'll have a good discussion of the issues and things will work out."
Hieftje said he doesn't see the outcome of Tuesday's primary as a blow to his agenda, and that includes plans to continue pushing ahead with a new train station for Ann Arbor.
"I think the wisdom of something like a new train station, that'll come through," he said. "I don't think Ann Arbor is anything like Troy, Mich., where they turned down the federal money. I think the people of Ann Arbor will say this a great idea, particularly when they see the improvements coming online for Amtrak."
Getting along on council
Others shared Hieftje's optimism that the new council — despite some differences among individual members on certain issues — will be able to work together.
"They're all good people and I think they'll find a way to work to do what's best for the city," Sturgis said after his defeat, adding he'll be supporting Kailasapathy now. "I think it'll be some growing pains and different opinions, but I think everybody is going to try to work and there's going to be a lot of compromise."
Warpehoski said that's his goal.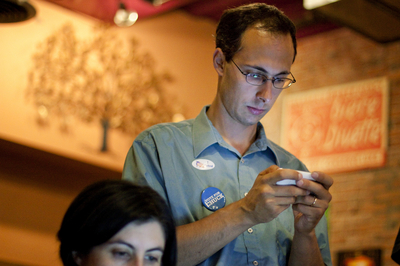 Jeffrey Smith | AnnArbor.com
"What I've campaigned on is a collaborative approach to things," he said. "What really strikes me is there have been issues that have been really controversial. The pedestrian ordinance is an example. Whatever your take is on whether that was the right way to do it or the wrong way to do it, we're all on the side of safety. We're all trying to make things safe for motorists and pedestrians."
But with three seats turning over, Warpehoski acknowledged, there undoubtedly will be a changing dynamic on council.
"One of the things I want to do between now and the general election is I want to start meeting with the people who are likely to be my colleagues and figure out what are projects we can work on together," he said. "For example, with Sally Petersen, something we both raised in the campaign is customer service. I want to sit down and work with her on what we can do together on that."
Warpehoski said he's hopeful council members can work together to solve problems, instead of taking a "you're in that camp and I'm in this camp" approach.
Armentrout said she'll wait and see if that holds true.
"He's going to have show that a lot of the promises he's made were sincere and I'm going to be watching to see that," she said.
Eaton, who celebrated Kailasapathy's victory at Conor O'Neill's on election night, said he thinks Kailasapathy and Petersen will be valuable additions to council.
Kailasapathy said she'll do her best. She called it "a new era" for the City Council — with a new emphasis on independent thinking.
"The main message that I got from Ward 1 residents is they want an independent person to get into council to look at things from an objective point of view, not predetermined, and not bloc vote, and that's my promise to them," she said. "I think the process itself is going to become more open, more transparent."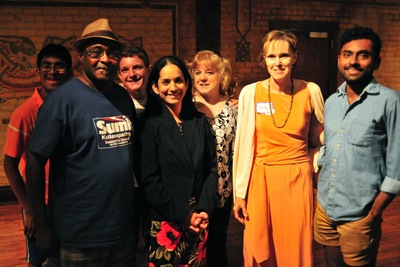 Ryan J. Stanton | AnnArbor.com
Kailasapathy acknowledged she still has serious concerns about the AATA's countywide expansion plans, but that doesn't mean she's anti-transit.
"I think just giving away our perpetual millage over to a countywide board is problematic for me because I look at it as a disenfranchisement of the Ann Arbor voters," she said. "We voted ourselves for this tax so that we have good transportation within Ann Arbor, and here we are just giving that away."
Teall, who has been on council since 2002, said the fact that she won with only 50.5 percent of the vote tells her that her opponent's message must have resonated with 4th Ward voters.
"I think the people who did come out and vote are clearly not happy — I would say that voters were expressing some displeasure," she said.
She said she takes that seriously. She also said she looks forward to working with all three incoming council members, even those with different viewpoints.
"I think that the council members who were elected are reasonable and will certainly be open to learn more about the mayor's vision and what direction he wants to take," she said.
"I'm not worried about the future of Fuller Road Station," she added. "I think that things are on track. Again, if the newcomers on council look really closely at the issue, they'll learn a lot about why things are going the direction they are right now."
Petersen, who celebrated her victory at The Last Word, said she doesn't have her mind made up yet on a new train station or countywide transit — just some concerns.
"We're going to take each of those questions one by one and break them down," she said. "On Fuller Road, there doesn't seem to be a known pipeline of funding for that, so that's the first question that needs to be answered. And the second question is: Is it legal to build on parkland?"
Petersen said she looks forward to more diversity of thought and debate on council,.
"Sumi has an accounting background. I have a business background. We'll bring a different sort of analysis to the questions we're debating," she said. "And we're not always going to agree with each other."
Ryan J. Stanton covers government and politics for AnnArbor.com. Reach him at ryanstanton@annarbor.com or 734-623-2529. You also can follow him on Twitter or subscribe to AnnArbor.com's email newsletters.