Egos aside: Willow Run, Ypsilanti to take on 'painstaking' task of planning possible merger
Posted on Tue, Apr 17, 2012 : 5:57 a.m.
Danielle Arndt I AnnArbor.com

Heartfelt and emotional comments, then questions about timeline, process, leadership, curriculum and more surfaced at the joint Willow Run and Ypsilanti public schools meeting Monday.

The two boards of education convened to set the direction on a possible merger.

The boards voted 12-2 in favor of moving forward with a consolidation ballot proposal, allowing residents to decide whether the neighboring schools should combine to form a single district.

The question of consolidation would be brought before voters "only after there has been established a clear and detailed plan for the development and implementation of a unified education system," according to the resolution.

Willow Run trustee Dorothy Stewart moved to amend the resolution to specify that the two boards, in collaboration with the two communities, would develop the plan.

Willow Run trustees Brenda Meadows and Bobby Stevens opposed the resolution. Meadows declined to comment on her opposition. For Stevens, it was a matter of too many unanswered questions, he said.

"I've lived in the district since 1953. I'm a 1970 grad. … I just don't know we thought enough about it," he said of the merger. "I'm not saying I might not vote for (the consolidation). I'm just saying I had to vote my conscience tonight, and tonight I guess my conscience is too uncertain."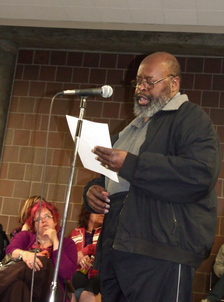 Danielle Arndt I AnnArbor.com
Board presidents reminded the nearly 120 audience members that the resolution does not authorize consolidation, it only allows the planning to begin.
The districts will start by recruiting volunteers to lead subcommittees of internal and external stakeholders to divide and conquer the intricate details of the potential merger, said Ypsilanti Superintendent Dedrick Martin.
Willow Run Superintendent Laura Lisiscki said the tasks before them will be "painstaking." It will require working backward from where the districts hope to be, to where they are now. And it will call for "long, endless hours," she said.
"But we are going to do it because we know what's best for our students."
E. L. Weathers, a resident and 1958 graduate of Ypsilanti High School, said what several audience members later echoed: trustees serving more than 10 years on either school board should consider stepping down.
"Both systems didn't get in this condition overnight," Weathers said, referring to Ypsilanti and Willow Run's individual financial deficits. "If both boards drove the bus into the ditch, I don't think once they've put their glasses on … they gonna be able to drive it out."
Laveda Weathers, his wife, added the only way to wipe the slate clean is to have new leaders on the board.
Ypsilanti board president David Bates said if the merger occurs, by law, the Washtenaw Intermediate School District must appoint a seven-member board to serve the newly formed district until an election can take place.
Discipline, truancy and reputation concerns also were brought up repeatedly during the public comment portion, in which about 15 people spoke. No one expressed adamant opposition to the idea of consolidating. About half expressed interest in it. However, nearly all who spoke had at least one question or caution.
The boards did not address any questions during the meeting. WISD Superintendent Scott Menzel said a frequently asked question list with responses will be compiled as soon as possible for both districts' websites.
Christine Gelletly said she personally has watched children "hemorrhage" out of Ypsilanti Public Schools. Of the classmates her child attended kindergarten with, about 70 percent of them no longer attend the district, she said.
"What I would really like to see as part of the plan is what is the vision to keep families in the district? What is it that we're offering? How are we marketing ourselves so that the perception of our district becomes much more positive and competitive to the schools around us?"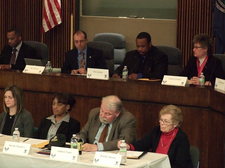 Danielle Arndt I AnnArbor.com
Richard McCray
said the reason children leave Willow Run and Ypsilanti schools as they advance into the higher grades is because of disciplinary problems.
"It'll be worse, I believe, when you consolidate and you say you got all these bad kids together," he said. "Until we get the discipline under control, you can consolidate all you want; it won't matter."
The public has expressed concerns in the past about increased fighting and animosity at the schools, should the merger take place, especially considering there is a perceived rivalry between Willow Run and Ypsilanti.
Willow Run board president Don Garrett, a 1990 alumnus of the district, said: "If anybody knows me, I wasn't a Ypsi fan. I wouldn't wear purple and gold because I was red and white.
"But when I got on this board … and you get in the position we're in and you look down and see the bigger picture, that ego will leave."
He told AnnArbor.com after the meeting, the older generations are worse about the rivalry than kids today. He said he has spoken with a number of students about merging and the children "don't seem to care."
Stevens said he expects, if the consolidation passes, for there to be some additional animosity at the high school level at first.
"But think about the kids coming up behind them," he said. "They're all just going to be students. So I think it'll work itself out."
Additionally, McCray asked who would end up owning the property in the individual districts after the merger. He said this concerns him because taxpayers in Willow Run and Ypsilanti have been paying for upgrades and improvements on these properties for years as the districts have passed various millages.
One audience member suggested the first step the boards should take would be to better define who the stakeholders are in the merger. He said because when teens skip school, they often get in trouble with the law; so Ypsilanti Township officials, the city, the Washtenaw County Sheriff's Department and the police department should be consulted throughout the planning process as well.
Ypsilanti Trustee Linda Snedacar-Horne reassured meeting attendees that the community's voice is crucial to the process. She said the merger would be an opportunity to create a world-class school district.
Rep. David Rutledge, D-Superior Township, also attended the meeting. He praised school leaders for their efforts and bravery and promised his help if the time came to consolidate.
Watch a video of Monday's meeting here, courtesy of YTownCan blog.
Staff reporter Danielle Arndt covers K-12 education for AnnArbor.com. Follow her on Twitter @DanielleArndt or email her at daniellearndt@annarbor.com.