Posted on
Fri, Jan 25, 2013 : 5:58 a.m.
Amazed by generosity: Cafe Marie raises more than $9,500 for longtime cook with leukemia
By Danielle Arndt
Ann Arbor's Cafe Marie has more than quadrupled its donations for longtime cook Percy Pryor.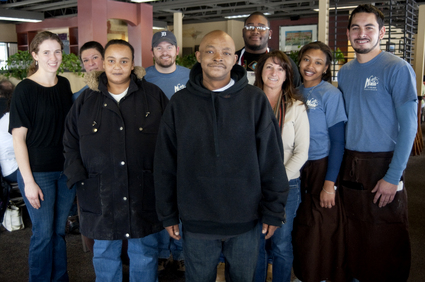 Joseph Tobianski | AnnArbor.com file photo
Pryor manned the griddle at Cafe Marie for 12 years and rarely missed a day of work. When Pryor unexpectedly was diagnosed with
acute leukemia
in November, his co-workers and Cafe Marie owner
Jeanne Loveland
rallied to help.
As of Sunday, the cafe is more than three-fourths of the way to its goal of raising $12,000.
The restaurant began asking for donations for Pryor starting in mid-December. The cook is undergoing chemotherapy but likely will need a bone marrow transplant in the future.
Pryor, his life companion Rachal Potter and their three children fell on hard times even before Pryor's leukemia diagnosis. They lost their housing and were forced to stay with relatives in Ypsilanti and in a hotel for period of time.
Loveland said being homeless could cause Pryor to be ineligible for a bone marrow transplant, as stable housing is a requirement. So, it became the Cafe Marie staff's ambition to raise about $12,000 to cover rent and other basic living expenses for Pryor's family for up to 18 months.
Since news broke in early January of Pryor's condition and the cafe's fundraising efforts, the restaurant has raised upward of $7,600. Added to the approximately $1,900 that the cafe collected in December, Cafe Marie has increased its total to more than $9,500.
"I am amazed by the continued generosity of people in the Ann Arbor community and our Cafe Marie customers," Loveland said.
She said dozens of people have come by the restaurant to donate to Pryor's fund. Many leave notes of encouragement or notes indicating they are contributing in memory of their own family member or loved one who also battled leukemia.
Loveland said she was most surprised by how many people went directly to the
Ann Arbor State Bank
to donate to "The Percy Pryor Fund" that has been established. She said it has been the most heart-warming experience.
The cafe also is organizing an event at the restaurant on Feb. 23. It will be called "Laugh It Out! Comedy Against Cancer" and feature local comedians to help secure additional funds to make sure all of Pryor's needs are covered, Loveland said.
The show will take place at 8 p.m. with appetizers and drinks an hour earlier. Tickets are $15. There also will be raffle tickets sold for $1 to win various prizes. For information or tickets, call (734) 662-2272.
Pryor continues to do well, Loveland said. He was back at the University of Michigan hospital from Jan. 15 through Sunday for a second set of more intense chemotherapy.
Loveland said Pryor will need to go through six additional week-long hospital visits where his doctors rotate through a "group A" and "group B" set of chemo drugs. There will be approximately four weeks in between these treatments, she said.
"The bone marrow transplant would be after these treatments. So the chemo is lasting longer than we originally understood," Loveland said. "But Percy is staying strong and taking it one step at a time. We have an agreement that no matter how long it takes, he has a cooking spot waiting for him here at Cafe Marie when he's through it."
A donation box is set up at Cafe Marie, at 1759 Plymouth Road. Money also can be given via YouCaring.com.
Danielle Arndt covers K-12 education for AnnArbor.com. Follow her on Twitter @DanielleArndt or email her at daniellearndt@annarbor.com.