Posted on
Tue, May 1, 2012 : 10:42 a.m.
American Cancer Society plans unique fundraiser for dog owners; Ann Arbor songwriter gives free ukulele concert
By AnnArbor.com Staff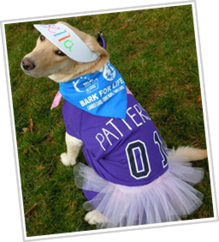 American Cancer Society publicity photo
From a fund-raising walk for dog owners with proceeds benefiting the American Cancer Society to an Ann Arbor songwriter performing at a ukulele festival, here's a roundup of some of the stories posted on AnnArbor.com's Community Wall this week:
By: Julie Lubeck-Hofer: Ann Arbor Hosts Bark For Life
At the Ann Arbor event, participants have their choice of a non-competitive Fido 5K Fun Run (with or without their dog) and noncompetitive short walk. The event is planned for May 5 at Hudson Mills Metropark.
By: Greg_G: Local Songwriter Returns to Mighty Uke Day
Recorded and mastered in Ann Arbor, Ukulele Jam features nine Hilo Greg originals on a wide variety of subjects.
By: Janet Hawkins: Registration Extended For WCC Late Starting Classes
By: drivetime: Local Chimney Sweep wins Angie's List Superior Service Awards
By: Dawn Farm Education Series: Teens Using Drugs: What To Know/What To Do
By: Food Gatherers: Alex Bloom Named Volunteer of the Year
By: Melvin: U-M Student Missing: Brice Moss
By: Ying Cai: Runway for Relief Charity Fashion Show
By: Barbara Read: Dexter Tornado Donation Center Rummage Sale -- Public Welcome -- May 5
Arbor.com's Community Wall is a spot for local people to post local stories, news and announcements. To post a story, sign in to AnnArbor.com, then go to www.annarbor.com/community and use the Got News? Tell Us function at the top to submit your news. If you have a photo to add, e-mail it to us at community@annarbor.com, and we'll insert it into your story.