community wall links:

American Cancer Society plans unique fundraiser for dog owners; Ann Arbor songwriter gives free ukulele concert

Posted on Tue, May 1, 2012 : 10:42 a.m.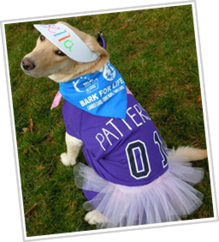 American Cancer Society publicity photo
From a fund-raising walk for dog owners with proceeds benefiting the American Cancer Society to an Ann Arbor songwriter performing at a ukulele festival, here's a roundup of some of the stories posted on AnnArbor.com's Community Wall this week:
By: Julie Lubeck-Hofer: Ann Arbor Hosts Bark For Life
At the Ann Arbor event, participants have their choice of a non-competitive Fido 5K Fun Run (with or without their dog) and noncompetitive short walk. The event is planned for May 5 at Hudson Mills Metropark.
By: Greg_G: Local Songwriter Returns to Mighty Uke Day
Recorded and mastered in Ann Arbor, Ukulele Jam features nine Hilo Greg originals on a wide variety of subjects.