Posted on
Thu, Oct 18, 2012 : 1:51 p.m.
Amidst decade of challenges, University of Michigan remains supportive of affirmative action
By Kellie Woodhouse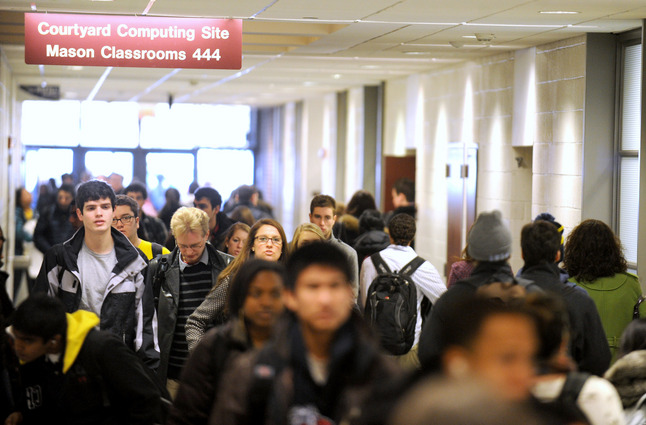 AnnArbor.com file photo
University of Michigan
has long been an advocate of considering race in admissions.
The practice, officials say, promotes diversity on campus, and thus trickles down into the workforce, creating an increasingly diverse proletariat. It also enriches the education experience by providing a wider array of perspectives, they say.
Last month at a National Press Club forum in Washington, D.C., U-M President Mary Sue Coleman said she is a "huge believer in affirmative action" and called it a "complete falsehood that it's a depriving qualified people of an education."
When Proposal 2, a state ballot initiative passed in 2006, banned any consideration of race in admissions by Michigan's 15 public universities, Coleman vowed to fight for affirmative action. And leading up to the Supreme Court oral arguments concerning the University of Texas' admissions policy, which considers an applicant's race, Coleman's staff filed a friend-of-the-court brief supporting affirmative action polices.
On Thursday the school's
National Center for Institutional Diversity
held a symposium championing diversity in higher education and featuring speakers in support of affirmative action.
"Without deliberate attention to race we cannot go forward," said Nancy Cantor, the event's keynote speaker, an outspoken affirmative action advocate and the chancellor of Syracuse University.
AP Photo
In the past decade there have been many occasions for U-M to defend affirmative action polices.
Prior to Proposal 2, U-M lawyers defended the affirmative action practices used by its admissions officials before the highest court in America.
The U.S. Supreme Court ruled in 2003 that race could be a factor in admissions, but could not be weighed too heavily and could not be attached to quotas. That decision set a national precent that still stands today, but that may be superseded by the Fisher v. Texas decision.
Yet Proposal 2 passed three years later, banning the consideration of race in admissions and thwarting the effect of the high court ruling for Michigan's public schools. A lawsuit over the legality of that initiative has been brewing in the federal court system for years in and is now U.S. 6th Circuit Court of Appeals.
The amicus brief filed by U-M for the Fisher v. Texas case implores the court to continue using the standard set by the 2003 case, Grutter v. Bollinger.
During the Thursday event, Cantor said weighing race in admissions is crucial in overcoming a "divisive, zero-sum world that pits us" apart.
Forum attendee Rashid Echols, who is black, graduated from U-M in May 2012 and is now working at his alma mater. He said opponents of affirmative action and statutes like Proposal 2 "delay the whole moving forward process."
"It's a good thing," he said of affirmative action. "It gives the [black] community a shot."
By promoting diversity the practice also enriches the learning environment, he said. "As a black person, I have so much to learn from [other races] and [they] have so much to learn from me. We have different cultures and different experiences."
Yet despite U-M's clear support for affirmative action policies, there remains a strong nucleus of Americans who oppose the practice. Like Abigail Fisher, the plaintiff in the Texas case, many opponents say the practice itself constitutes discrimination, giving an unfair advantage to applicants of color and promoting admissions practices where race risks overriding merit.
In 2011, 33 percent of U-M freshmen said they supported affirmative action policies. That same year, 42 percent of college freshmen throughout the nation supported weighted admissions policies, according to an annual freshman survey conducted jointly by the University of California's Cooperative Institutional Research Program and U-M.
in 2011, underrepresented minorities constituted 10.5 percent of U-M's freshman class, down slightly from the previous year. In 2011, approximately 5 percent of U-M's student body was Hispanic, 6 percent black and slightly more than 1 percent was Native American.
During oral arguments in Washington, D.C., last week, Supreme Court Justice Sonia Sotomayor said "the bottom line" of the Texas case is to determine "at what point [the federal government] stop[s] deferring to the university's judgement that race is still necessary."
Though that question will remain unanswered until the Supreme Court issues a ruling on the Texas case sometime next year, it is clear that U-M — and many other colleges — still consider affirmative action policies central in creating a diverse campus.
In fact Coleman recently told the Michigan Daily that she could not foresee a time when affirmative action policies were not necessary.