Posted on
Sun, Feb 17, 2013 : 5:59 a.m.
An outdoor skating rink in downtown Ann Arbor? While group pushes idea, mayor pushes back
By Ryan J. Stanton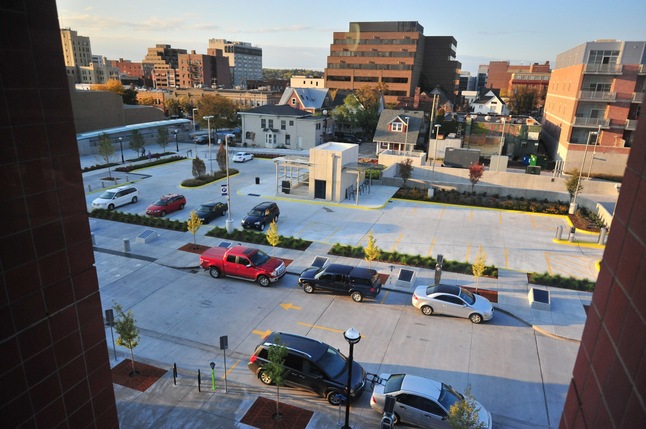 Ryan J. Stanton | AnnArbor.com
If it's going to be a while before any kind of development happens on the
Library Lot
in downtown
Ann Arbor
, why not test its potential as a community gathering space in the interim?
More specifically, what about an outdoor ice skating rink? What about a Spring Party in March? What about an Earth Day festival in April? What about another block party in July?
Those are all ideas longtime community activist Alan Haber is asking members of the Ann Arbor City Council and the Downtown Development Authority to consider.
In collaboration with other members of a grass-roots group called the Library Green Conservancy, Haber plans to deliver a proposal for an outdoor skating rink to the DDA in the coming days.
"We're very close to putting the proposal in their hand," he said.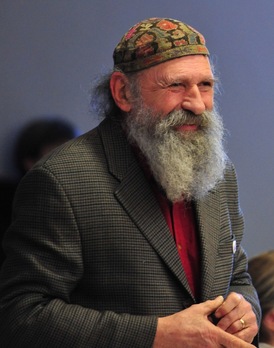 Ryan J. Stanton | AnnArbor.com
Supporters of the idea have privately raised about $25,000 in pledges, Haber said, and they're hoping the DDA will agree to chip in a matching contribution of $25,000 to make a
synthetic ice rink
on the Library Lot (the surface parking lot above the city's new underground parking garage on Fifth Avenue) a reality yet this winter. He said it would be between 2,000 and 3,000 square feet.
An overall budget of about $50,000 would cover all costs, including at least one staff person at all open times, along with volunteers, and liability insurance to protect the city, Haber said.
"This would be open skating in downtown Ann Arbor on artificial ice," Haber said. "A place where people could bring their ideas about ultimately what they would like to see on this property."
DDA Chairwoman Leah Gunn said she hasn't yet seen a formal funding request from Haber's group, so she didn't feel comfortable commenting.
Gunn said the DDA was directed by the City Council to make the top of the underground parking garage a surface parking lot, and so that's what it did last year.
"We're doing what council has told us to do," Gunn said, suggesting doing anything different with the site likely would require council approval.
Gunn recalled when Ann Arbor-based Dahlmann Apartments Ltd. in 2009 offered to give the city at least $2.5 million to develop a town square/urban park on the Library Lot, including an outdoor ice skating rink, and the city turned down the offer, saying it didn't meet the city's goal of seeing a positive financial return from the site. City officials also cited concerns about ongoing maintenance costs.
Mayor John Hieftje said the idea of a skating rink on the Library Lot sounds nice in concept, but it would be expensive and couldn't happen without an extensive planning process.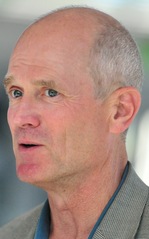 "It doesn't seem like a good use of resources," he said. "I wouldn't vote for that."
Haber said the rink — comprised of interlocking plastic panels on a level platform — could be assembled within two weeks and would take up only a portion of the 33-space lot, which is nestled between Earthen Jar and the Ann Arbor District Library on Fifth Avenue.
He said it could operate through the winter, and because there's no need to worry about ice melting, it could continue into the spring and summer if it's working out and people like it.
"After the winter changes to spring and summer, maybe this would be a neat thing and people would want to keep it, or we could take the ice off and it could be a dance floor, or the whole thing could be disassembled and we could maybe plant grass," Haber said.
The DDA recently completed a roughly $100,000 planning process called Connecting William Street that resulted in recommendations for private development on five city-owned properties downtown, including high-density, mixed-use development with a lodging or office focus on the Library Lot.
Haber said it looks as though in the short-term there will be no sale or request for proposals for development, so he doesn't see why it can't be used as a public gathering space for now.
The Library Green Conservancy, which Haber is working with, has pressed city officials to consider transforming the Library Lot into a downtown central park complete with grass and trees.
Hieftje and DDA officials have pressed back, saying they're not certain that's the best use of the site, though they say a public plaza likely will be developed on the southwest corner.
"But if we want a larger 'green' park downtown, there is a better place than the roof of the parking garage," Hieftje said. "Why not a site where trees aren't set in pots so they can actually grow tall and where there can be more than a few inches of soil?"
He suggested transforming the parking lot at the corner of Main and William into a green space with outdoor seating, and having the Palio restaurant open up to it.
Hieftje said it seems unrealistic to think that if the Library Lot was made into a temporary park that it ever would be possible to do anything else with the site after that.
Haber agreed with the mayor.
"Once you let people onto it, they won't want to go off," he said.
Hieftje thinks there are plenty of green spaces on the State Street end of downtown, such as the University of Michigan's Ingalls Mall where the Ann Arbor Summer Festival is held, another park on Washington Street next to North Quad and the Central Campus Diag.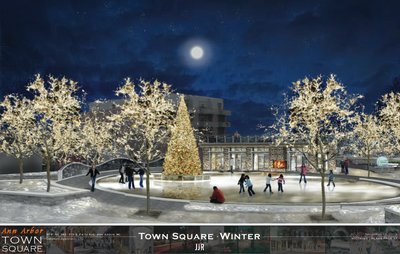 He agreed Ann Arbor needs more parks/plazas in the Fifth Avenue and Main Street areas of downtown. And in a more perfect world — without financial constraints and no need to prioritize — the city could move forward on making that happen right away, he said. "But of course there are financial constraints on our parks," Hieftje said, suggesting the city's general fund dollars are needed elsewhere.
Hieftje said the city's parks system has been steadily expanding for years, and the city now has 156 parks covering about 2,200 acres.
"The feedback I have been getting from many residents is we need to take care of the parks we have now," Hieftje said.
"That said, there are already a couple of other new parks in the pipeline ahead of a big new park downtown. There are three in the Allen Creek Greenway right along the edge of downtown. We are finally seeing some progress on the greenway and now is not the time to step back."
The city hopes to develop its first major greenway park at 721 N. Main, and it's planning on applying this year for grant funding from the Michigan Natural Resources Trust Fund. Other greenway parks are planned for 415 W. Washington and the corner of First and William.
Given the city's experience with Liberty Plaza, a mostly concrete park at the corner of Liberty and Division that regularly attracts drug users and homeless people, a new large downtown park is something the city needs to make sure it gets right, Hieftje said.
Appropriately, he said, the city's Park Advisory Commission is now in the process of examining the issue of where to put more parks/plazas downtown.
"The parks commission is studying this issue and they have a subcommittee assigned, and it think we need to let them do their work," Hieftje said, cautioning against creating another public space downtown before it's fully planned out. "We can't afford another Liberty Plaza."
Hieftje proposed this instead: "I wonder if Mr. Haber and friends would be willing to work with parks and the DDA to take on Liberty Plaza for a year or two and see what they can do to make it vibrant and inviting beyond the Sonic Lunch days when a couple of hundred people are there. The plans they have to make a parking lot function as a vibrant park should work even better in an actual park."
Haber's response: "I only have so much energy. And I think what we need is to create a community space, and Liberty Plaza is not really large enough."
If Haber can get approval from the city, he wants to hold a Spring Party for all Ann Arborites March 21-24 on the Library Lot, followed by an Earth Day festival April 20-22. He also proposes rerouting the Fourth of July parade to end at the Library Lot for a community gathering and picnic.
"Take the cars off and let the people on and see what will happen," Haber said. "Until you do it, you can only imagine. I imagine it would be really beautiful."
Ryan J. Stanton covers government and politics for AnnArbor.com. Reach him at ryanstanton@annarbor.com or 734-623-2529. You also can follow him on Twitter or subscribe to AnnArbor.com's email newsletters.