Posted on
Sun, Sep 9, 2012 : 5:58 a.m.
Breaking down the AATA's proposed countywide transit tax and the $7.7M it could raise
By Ryan J. Stanton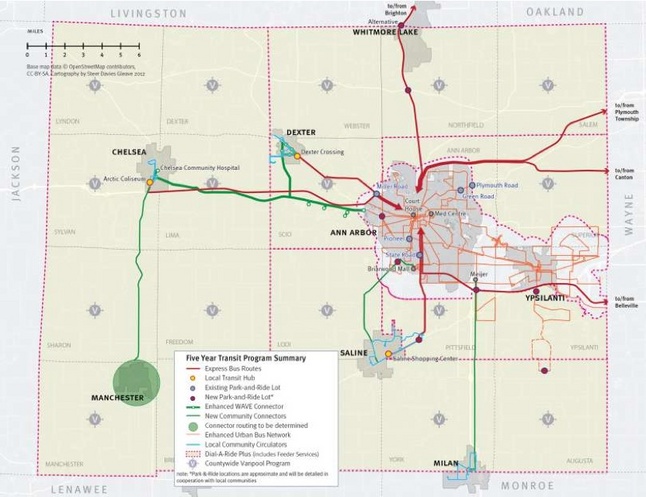 Courtesy of AATA
Ann Arbor Transportation Authority
officials expect a
0.584-mill countywide transit tax
to raise about $7.7 million from
Washtenaw County
taxpayers in the first year.
According to an AnnArbor.com analysis, property owners in Ann Arbor could end up paying about a third of that — an extra $2.6 million per year — if the new tax is approved.
That would come on top of the more than $9.1 million Ann Arbor taxpayers already pay annually to fund the AATA under the city's 2.056-mill transit tax.
The city's existing millage would remain in place to help fund a new countywide transit authority called the Washtenaw Ride, which would replace the AATA.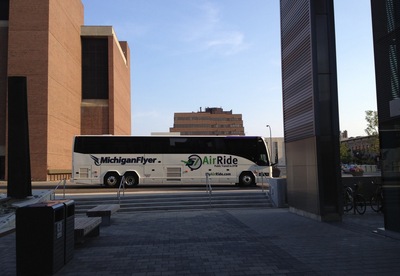 Ryan J. Stanton | AnnArbor.com
AATA officials estimate the countywide assessment would cost the owner of a $200,000 home an additional $58 per year, which they argue is about the same as a tank of gas.
The overall revenue projections are calculated by taking the taxable value for all real property in the county — without counting personal property — and multiplying by 0.000584.
The county's taxable value is a little more than $13 billion right now, and AATA officials are assuming a figure of $13.3 billion for 2013 when the tax would be levied for the first time.
But that's assuming all municipalities in the county participate. Each one will be given a chance to opt out of the new countywide system before the tax is put up to a vote — possibly as soon as May.
Six townships — Bridgewater, Northfield, Salem, Saline, Sharon and Sylvan — already have chosen not to participate in discussions. If those six townships aren't included in the countywide system, that's a loss of more than $580,000 in revenue based on the current taxable values.
AATA CEO Michael Ford noted last month Superior Township also has inquired about opting out of the countywide millage and instead continuing to purchase transit services via contract. Superior's fixed-route bus service would increase by about 200 percent under the countywide plan.
Ford said one of the significant policy issues yet to be decided is how to deal with purchase-of-service agreements with communities that choose to opt out of the new authority.
AATA spokeswoman Mary Stasiak said the intention from the beginning has been to create a plan that responds to the mobility needs of the entire county. She said AATA officials realize certain areas of the county are more ready than others to recognize and respond to those needs.
"The five-year transit program is fully scalable depending on who wants to join and start getting service on the street for the people who need it," she said. "Obviously, for those communities who do not join at the time of incorporation, they will not be contributing local dollars to the system."
In addition, Stasiak said, those that chose not to participate will not receive the services, which will reduce the cost of program implementation.
The AATA's newly released countywide transit plan includes projected operating and capital expenses that total nearly $223 million over a five-year period. The five-year expenditures would be offset by an estimated $184.2 million in revenue, resulting in a gap of $38.8 million.
A millage raising a little more than $7.7 million a year could fill that gap, and the AATA is counting on county voters to approve it. They're also considering bus fare increases.
Like residents in Ann Arbor, Ypsilanti voters would be asked to pay an additional tax on top of their current transit levy, kicking in about an extra $160,000 a year.
A nearly 1-mill transit tax that Ypsilanti voters approved in 2010 would continue to fund the new countywide authority. The tax brings in a little less than $300,000 a year.
Ypsilanti Mayor Paul Schreiber told AnnArbor.com in June he's confident voters in his city will support a countywide transit tax.
Based on current taxable values, Pittsfield Township property owners would pay nearly $900,000 under the proposed tax, Scio Township property owners would pay nearly $700,000 and Ypsilanti Township property owners would pay more than $600,000.
Saline property owners would pay nearly $200,000, Chelsea property owners would pay nearly $120,000, and Milan property owners (those in the county) would pay nearly $40,000.
Stasiak said it's for Milan officials to decide whether they want to give their citizens in Monroe County the opportunity to vote on expanding public transit. She noted Milan passed a resolution recently promising to bring south Milan into the authority if the rest of Milan chooses to participate.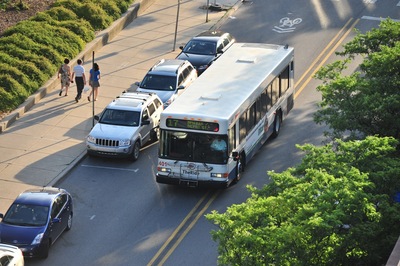 Ryan J. Stanton | AnnArbor.com
Counting the existing revenue from the Ann Arbor and Ypsilanti transit millages, and excluding the six townships that aren't participating now, somewhere around $16.5 million a year in local tax revenue could end up going to fund a countywide transit system in 2013 — and more than two-thirds of that would come from Ann Arbor.
Broken down further, about two-thirds of the money from Ann Arbor taxpayers would come from residential properties, while the rest would come from businesses.
Ann Arbor resident Vivienne Armentrout, a local blogger who has been skeptical of AATA's plans, said she hasn't had time to fully digest all 200-plus pages of the five-year plan report that came out earlier this week.
"I did look at it and one thing I noticed is that it contains no commuter rail or connector components," she said. "The map seems not to look at those. If that is correct, then it sounds as if they are following, to some extent, the recommendations of the financial task force, which said the commuter rail and the connector study should be outside of this."
Armentrout said it's an overstatement to say she's opposed to the plan, but she still has a lot of questions, including about the governance model. The way it's proposed now, there would be a 15-member board and Ann Arbor would have seven seats at the table.
"I really have to look at this new plan," Armentrout said. "I'm not against transit. I have concerns. The governance issue is one of my concerns and I want to see how the finances pan out."
In addition to the new tax, the AATA's five-year plan assumes the adoption of a new fare structure that increases fare revenues by 12 percent.
The plan recommends creating four fare zones. Zone A would cover Ann Arbor and Ypsilanti, including the existing urban fixed-route service area. Zone B extends just outside of the core urban area. Zone C covers most of western Washtenaw County, as well as the northernmost and southernmost portions of the county. Zone D includes Livingston and Wayne counties.
Trips within A or B would go up from $1.50 to $2, with evening tickets costing $3, weekly tickets costing $18 and 30-day flex passes going up from $58 to $65.
Trips from A to B or B to C would go up from $2 to $2.50, with evening tickets costing $3, weekly tickets costing $21 and 30-day flex passes costing $75. The same prices apply for trips within C.
Trips from A to C would cost $3, with evening tickets costing $3, weekly tickets costing $24 and 30-day flex passes costing $85.
Prices for express bus services are even higher, ranging from $5 within the core urban area to $7.50 for trips outside the county.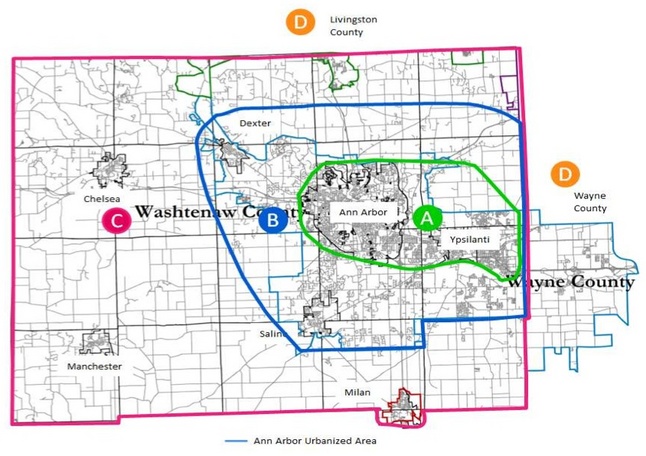 Courtesy of AATA
Ryan J. Stanton covers government and politics for AnnArbor.com. Reach him at ryanstanton@annarbor.com or 734-623-2529. You also can follow him on Twitter or subscribe to AnnArbor.com's email newsletters.