Posted on
Mon, Nov 8, 2010 : 2:46 p.m.
Andrew Shirvell fired from job at Michigan Attorney General's Office
By David Jesse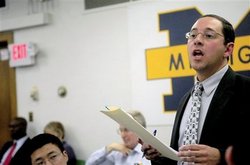 Andrew Shirvell has been fired from his job as a Michigan assistant state attorney general, his attorney said this afternoon.
Shirvell was fired for using state resources for his campaign against University of Michigan student body President Chris Armstrong and for lying to investigators during his disciplinary hearing, Attorney General Mike Cox said in a statement.
Shirvell was called before the attorney general's staff at 1:30 p.m. today, said Philip Thomas, Shirvell's attorney.
"The only reason they gave was the fact that they felt his actions had made it impossible for him to continue in his role," Thomas said.
Shirvell has been under fire for weeks for comments he made about Armstrong, who is openly gay. Shirvell has shown up at public events to condemn Armstrong's "radical homosexual agenda."
In a written statement, Cox said Shirvell was fired for "conduct unbecoming a state employee, especially that of an assistant attorney general."
"To be clear, I refuse to fire anyone for exercising their First Amendment rights, regardless of how popular or unpopular their positions might be," Cox said in the statement. "However, Mr. Shirvell repeatedly violated office policies, engaged in borderline stalking behavior, and inappropriately used state resources, our investigation showed. Cox's investigation into Shirvell showed he:
Showed up at Armstrong's home three separate times, including once at 1:30 a.m. "That incident is especially telling because it clearly was about harassing Mr. Armstrong, not engaging in free speech," the statement said.
"Engaged in behavior that, while not perhaps sufficient to charge criminal stalking, was harassing, uninvited and showed a pattern that was in the everyday sense, stalking."
Harassed Armstrong's friends as they were socializing in Ann Arbor.
Called Speaker Nancy Pelosi's office, Armstrong's employer, in an attempt to "slander Armstrong and ultimately attempting to cause Pelosi to fire Armstrong.
Attempted to "out" Armstrong's friends as homosexual — several of whom aren't gay.
The investigation found Shirvell engaged in his campaign on company time, Cox said. Shirvell called Pelosi's office while at work, during working hours, and sometimes posted online attacks about Armstrong while at work, the statement said.
In addition, Cox's statement said, Shirvell lied to investigating assistant attorneys general on several occasions during his disciplinary hearing.
"The cumulative effects of his use of state resources, harassing conduct that is not protected by the First Amendment, and his lies during the disciplinary conference all demonstrate adequate evidence of conduct unbecoming a state employee," the statement said. "Ultimately, Mr. Shirvell's conduct has brought his termination from state service."
Shirvell met for four hours on Friday with a panel made up of officials from the Attorney General's Office. Shirvell has claimed his actions were both protected by Constitutional rights of free speech and were conducted away from his work on off-hours.
"I think it's most unfortunate," Thomas said. "This whole thing has a political aroma to me. I think my client is a victim of the liberal media piling on. In the first stories about this, (Attorney General Mike Cox) was quoted as saying that my client was doing this on his own time. What's changed since then?"
The panel that conducted the hearing gave a summary to Cox, who decided to fire Shirvell, Cox's spokesman, John Sellek, said in an e-mail.
"I think it's great that he was finally fired," said U-M third-year student Martell Lyons. "He really was abusing his position and I think he was stalking (Armstrong). I wish this would have happened sooner."
After Friday's hearing, Thomas said he and Shirvell were expecting to come back before the panel on Tuesday or Wednesday. However, Thomas said he had a message on his office's answering machine on Saturday, moving the time of the hearing up to today.
"I'm not sure what happened between Friday afternoon and Saturday," Thomas said, adding he'll be consulting with his client on the next steps.
Shirvell has successfully appealed a University of Michigan order that barred him from any U-M owned property. The U-M Department of Public Safety modified the order last week.
But Shirvell stills faces complaints before the Michigan Attorney Grievance Commission. Armstrong and his attorney, Deborah Gordon, have asked the commission to disbar Shirvell.
Gordon issued a statement today praising the firing. She also said she and Armstrong are pushing forward with their request to have Shirvell disbarred on the basis that he is not fit to be licensed to practice law, and said they continue to consider additional legal options.
"This clearly is the correct decision by the Attorney General's Office," Gordon said in her statement. "The next step must be a complete retraction of all the malicious lies and fabrications by Mr. Shirvell, and a public apology to Chris Armstrong, his family and the others Mr. Shirvell has slandered.
"It is past time for Shirvell to realize that there are consequences for his reckless, outrageous statements and actions and that he is solely responsible for those consequences."
David Jesse covers higher education for AnnnArbor.com. He can be reached at davidjesse@annarbor.com or at 734-623-2534.