Posted on
Fri, Oct 29, 2010 : 5:33 p.m.
U-M's Chris Armstrong files request to have assistant state attorney general Andrew Shirvell disbarred
By David Jesse
Chris Armstrong wants to have Michigan Assistant Attorney General Andrew Shirvell disbarred.
Armstrong, the University of Michigan's student body president, filed a request today for an investigation into Shirvell's conduct toward him, Armstrong's attorney, Deborah Gordon of Bloomfield Hills, said in a press release.
"I felt I could not stand by and let Mr. Shirvell continue his reckless, bullying behavior," Armstrong said in the press release.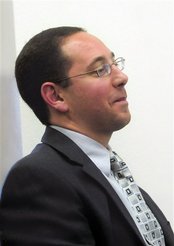 Marissa McClain | The Michigan Daily
The move caps an eventful week in the ongoing controversy surrounding the two. 
On Monday, Armstrong dropped a request for a personal protection order against Shirvell, who has been writing an anti-Armstrong blog and showing up in public to picket him. On Tuesday, Washtenaw County prosecutors declined the U-M Department of Public Safety's request for stalking charges against Shirvell. 
This afternoon, Shirvell met with campus police officials to appeal a trespass order that bars him from any U-M owned-property.
The Michigan Attorney Grievance Commission said today that all administrators were busy and would respond to press inquiries on Monday.
Shirvell was admitted to the bar in May 2007.
"I'm wondering about the timing," said Shirvell's attorney, Philip Thomas, who ran the Attorney Grievance Commission from 1990 for about eight years. "There's been nothing new. There's been no adverse contact. What this smacks of to me is this just media mongering. Why the press release? Why didn't they send copies of the grievance to me? I don't have copies of the grievance here, but I can tell if you look at the press release is what is missing from there is any threats of any kind (from Shirvell to Armstrong). I don't understand where this is going."
Armstrong, the first openly gay student body president at U-M, has come under intense protests from Shirvell. Shirvell claims those protests are protected by his constitutional right to free speech.
In his filing today, Armstrong asked for an investigation and disbarring of Shirvell on "the grounds that he has repeatedly violated the Michigan Rules of Professional Conduct by making obviously false, disgusting and utterly outlandish allegations about Armstrong's lifestyle and personal behavior and by trying to get Armstrong ousted from a summer internship on Capitol Hill," the press release said.
Sam Wolson | The Michigan Daily
Armstrong's request cites Michigan Rules of Professional Conduct, Rule 8.4, which says: "it is professional; misconduct for a lawyer to … engage in conduct involving dishonesty, fraud, deceit, misrepresentation or violation of the criminal law, where such conduct reflects adversely on the lawyer's honesty, trustworthiness or fitness as a lawyer," the release said.
In addition to Armstrong's complaint, Gordon filed a complaint of her own against Shirvell, citing Rule of Professional Conduct 8.3, which "obligates lawyers to report instances of professional misconduct that come to their attention," the release said
"It has come to my attention that Mr. Shirvell has engaged in a pattern of conduct that is untrustworthy, dishonest, tortious, possibly criminal and calculated to bring disrepute to the Bar of the state of Michigan," Gordon wrote in her letter to the attorney grievance commission. "He has apparently lied about and defamed Mr. Armstrong solely because he is openly gay. It is impossible to imagine how someone so willing to lie and distort, and has done so relentlessly, can operate as an officer of the court and a licensed attorney."
Gordon also wrote a cease and desist letter to Thomas, alleging Shirvell has "continually demeaned and lied about Chris Armstrong."
"Mr. Shirvell is plainly out of control and has been obsessed wit Mr. Armstrong," the letter said. "As an attorney licensed in the state of Michigan and assistant attorney general for the state, he is regularly engaging in hate speech, smears, defamation and outright lies. It is incomprehensible that some who purports to be a mature adult, an attorney and a member of the Attorney Generals' office would conduct himself in such manner."
The letter goes to demand Shirvell issue retractions to every statement he's made about Armstrong, stop "any stalking behavior and harassing conduct directed at Armstrong," and preserve all evidence that relates to his conduct with Armstrong.
Thomas said he and Shirvell became aware of the complaint following the 30- to 45-minute meeting they had with U-M Deputy Police Chief Joe Piersante appealing the trespass ban. Thomas said he couldn't comment on the specifics of the meeting or his impression of it, but said he expects to hear a ruling on Monday.
Also next week, Shirvell is expected to appear in front of the state Civil Service Commission. Shirvell is on a personal leave from his job.
According to Shirvell's personnel file, obtained by AnnArbor.com through a Freedom of Information Act request, Shirvell has been in trouble with his office in the recent past.
According to the file, Shirvell was suspended for 2.5 days — from 1 p.m. Aug. 31 to 5 p.m. Thursday, Sept. 2 — for "conduct unbecoming a State employee, specifically your conduct with regard to an incident which occurred on Tuesday, August 24, 2010 during which you displayed unacceptable conduct," Douglas J. Bramble, director of the Attorney General's Office of Human Resources, wrote in a letter to Shirvell. Specifics were not included.
In addition, Shirvell received a written reprimand for not reporting media contact from WXYZ, Channel 7 on Aug. 18. Shirvell did an interview then about his blog with the Detroit television station. The Attorney General's Office reprimanded him because Shirvell was asked several questions about his professional conduct and didn't report those contacts to the media office in the department.
David Jesse covers higher education for AnnArbor.com. He can be reached at davidjesse@annarbor.com or at 734-623-2534.