Posted on
Thu, Jul 14, 2011 : 12:39 p.m.
Anglin and Elyakin offer different views on Fuller Road Station project, DDA issues
By Ryan J. Stanton
Ann Arbor City Council Member Mike Anglin is a lot less sure than his political opponent, Neal Elyakin, that a multimillion-dollar transit center project is the right move for the city.
"There are promises, there are hopes, but the money isn't there, so I would recommend that we move cautiously," Anglin said during a candidate debate hosted Wednesday night by the League of Women Voters of the Ann Arbor Area.
Anglin, D-5th Ward, is defending his seat in the Aug. 2 primary against Democratic challenger Elyakin, special education supervisor for the Washtenaw Intermediate School District and a member of the city's Human Rights Commission.
Elyakin, a 5th Ward resident for the last 26 years, spoke confidently of the proposed plan to build a new Amtrak train station on city-owned park land in front of the University of Michigan hospital on Fuller Road. A much-debated first phase of the project calls for the city to partner with U-M on building a five-level, 977-space parking structure.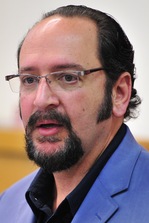 "I truly believe in mass transit and public transportation," Elyakin said. "I believe the city of Ann Arbor will only be enhanced by an enhanced transportation system, a regional transportation system that includes transportation hubs throughout the city."
Elyakin said the proposed Fuller Road Station could be a great resource in terms of transporting people to and from Ann Arbor without needing to use their personal vehicles.
Anglin, who has doubted the Fuller Road project perhaps more than any other council member, traced the issue back several years.
"Back as early as 2006, the city was starting to take appraisals on that property, so this has been around for some time," Anglin said.
At this point, he said, there isn't enough data available to make informed decisions about such a major undertaking. He questions where funding will come from.
"I like to explain it as we have a four-page document in front of us," Anglin said. "The first two deal with the university's parking structure. Those are full. That means, they're written. The next two pages are the transit center. They're blank. On Page 4, you're asked for your signature."
Anglin also noted train service to Chicago already is available with the current Amtrak station on Depot Street, and improvements to the existing rail system are on the way.
"I would put my money more on AATA as we expand," he said, referring to the Ann Arbor Transportation Authority, which is planning to expand transit services countywide.
Anglin recently admitted he voted on a $1.2 million contract related to the Fuller Road Station project without fully realizing what he was voting on. Elyakin vaguely referenced that when he offered this comment during the debate: "I believe I can be very well prepared when sitting at the council table to make decisions that are thoughtful."
Wednesday's debate lasted about 30 minutes and included seven questions that touched on issues including the role of the Downtown Development Authority, issues unique to the 5th Ward, city parks, communication with residents and the city's new design review process.
Anglin, a former school teacher from Brooklyn, trumpeted his background as a business owner, saying he knows well the obstacles businesses face in Ann Arbor. He and his wife have operated a bed and breakfast, the First Street Garden Inn, on Ann Arbor's Old West Side for years. An electrician, he also has a background in construction.
Anglin, who came to Ann Arbor in 1992, acknowledged he's been a minority voice on council at times, but he thinks he brings a strong, rational position that many in the community agree with. He and Elyakin offered different perspectives on the role of the DDA.
"I do believe that it serves an enormous function in the city in looking at how we develop our city," Elyakin said. "The fact that the DDA operates the parking lots or the parking structures is a small part of what they do. And I believe sometimes we get caught up in a little controversy without looking at the larger issue."
Elyakin added that the DDA helps ensure the "reasonable, intentional, measured, future-oriented growth of the city."
"We can do that without losing the small town sense of what Ann Arbor is, but we have to work together," he said.
Anglin agreed the DDA's mission is to promote business and economic development in downtown Ann Arbor, but he used his response time to talk about its financing and the fact that its governing body is unelected. The authority captures new tax revenues that result from improvements in the downtown, and that income has grown substantially since 2002 due to new developments. It's nearly $4 million annually, up from less than $2.9 million in 2002.
"What the public needs to know is that all new building that takes place in the DDA area is subject to a TIF, tax-increment financing," Anglin said. "So the amount of money that is collected in the DDA area for additional taxes stays with the DDA for future projects they have. And the TIF is actually taking from education, Washtenaw Community College — things we support as a community. So in turn, while we develop our downtown, we're also developing a base of a different type of government, a non-elected government."
Elyakin said in his opening remarks he believes in reasonable growth, regional leadership, mass transit, bringing business into the city, and keeping the city safe.
"I believe in Ann Arbor and I have a passion and I care very deeply about the future of this city," he said. "I care about our collective future."
Elyakin said the city's parks are treasures.
"We should protect our parks. We should keep them for as long as we possibly can keep them," he said. "I understand that everything needs to be on the table in tough economic times, but I would love to be able to protect all of our parks in perpetuity if we can."
Anglin noted city voters passed a charter amendment in recent years that requires the sale of city park land to go to a vote of the people. Now the city is talking about repurposing a portion of Fuller Park to make way for the Fuller Road Station project without voter approval.
"Part of that agreement we made with the public was not to sell park land, but also 'reuse' I think might have been implied in that vote," he said. "So I am not one for wanting to repurpose the parks for other reasons. I think if it is done, that has to go to a vote of the people."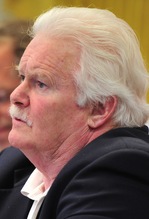 Both candidates spoke in favor of the city's new design review process that requires developers who want to build in the downtown go through a Design Review Board hearing.
Anglin said he's been heavily involved in issues of all kinds during his last four years on council. He said he enjoys taking phone calls from residents, no matter how small the issue.
"We get phone calls about barking dogs," he said. "We get phone calls about serious things like flooding conditions. We get phone calls about police protection. I think some of the most satisfying parts of my service on the City Council is working with the residents."
Anglin said the strength of the 5th Ward is its citizens, and one of his top goals is to work to keep Ann Arbor an affordable city.
"You can expect progress but it comes at a price, and the price will be people who can't afford it and may have to leave," he said. "That may not be something that we, as a city, want to encourage. This is a small midwestern town with a big university with it, and that's how I view our area and the 5th Ward."
Elyakin threw in a jab at Anglin.
"A few naysayers, while I applaud every person's right to speak up and speak out, should not hold the city hostage — whether they are in the audience or sitting on council," he said.
Elyakin spoke of preserving the charm of the Old West Side and working to improve traffic flow in the Maple/Jackson area. Street repairs and crosswalks also are important issues, he said.
Asked why he's running against Anglin, Elyakin shared his vision for Ann Arbor, which includes dense downtown development and a future economy that supports job creation.
"I'm running now because I believe my skills in thinking creatively about the future, my skills in understanding and working with a diverse set of people, will be crucial on the City Council as we move ahead in these uncertain economic times," he said.
Related stories:
2ND WARD DEBATE: Rapundalo and Hull share different thoughts on cuts to public safety in Ann Arbor
3RD WARD DEBATE: Ault goes on attack against Kunselman, while second challenger praises incumbent
Ryan J. Stanton covers government and politics for AnnArbor.com. Reach him at ryanstanton@annarbor.com or 734-623-2529. You also can follow him on Twitter or subscribe to AnnArbor.com's e-mail newsletters.