Posted on
Wed, Jul 6, 2011 : 5:59 a.m.
Ann Arbor adopts medical marijuana non-disclosure policy to protect personal information
By Ryan J. Stanton
The Ann Arbor City Council took action Tuesday night to adopt a policy aimed at making sure certain information about medical marijuana patients and caregivers is exempt from public disclosure, including protection against Freedom of Information Act requests.
The policy was brought forward by Council Member Sabra Briere, D-1st Ward. It passed by a 6-3 vote with Stephen Rapundalo, Marcia Higgins and Tony Derezinski opposing it.
Council Members Sandi Smith and Margie Teall were absent.
"Members of the public remain concerned we will be compiling a list, looking at information we shouldn't be looking at, and making that information about who's applied for a zoning permit public," Briere said, explaining the reason for the policy, which follows last month's approval of new zoning and licensing ordinances regulating medical marijuana in Ann Arbor.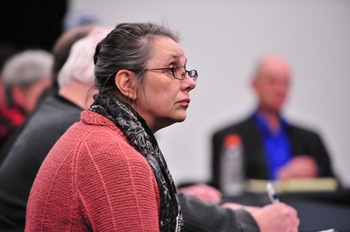 Ryan J. Stanton | AnnArbor.com
Briere said she believes the city's FOIA procedures and the state's language about privacy and medical marijuana information already are enough to ensure city staff won't release information about medical marijuana patients and caregivers publicly.
"But I also believe in belts and suspenders, and that's what this resolution accomplishes," she said, noting it's the same resolution she proposed back in March and later withdrew.
"It does not provide anything that we don't think the staff would already do, but it reassures people that this is indeed the policy," she said.
The non-disclosure resolution notes that the Michigan Medical Marihuana Act makes clear that the following information is protected against disclosure, subject to exceptions for disclosure of certain information to law enforcement personnel:
Applications to the Michigan Department of Community Health for medical marijuana registry identification cards and supporting information submitted by patients, including: the name, address and date of birth of the patient; the name, address and date of birth of the patient's primary caregiver; the name, address and phone number of the patient's physician; and any designation as to whether the patient or caregiver will be allowed under state law to possess marijuana plants for the patient's medical use.

Individual names and other identifying information on the state's list of the persons to whom the department has issued registry identification cards.
Briere's resolution makes clear that the city desires to protect the same information from disclosure if it is received in any form by the city as part of the zoning or licensing processes for medical marijuana caregivers, dispensaries or other providers.
Multiple medical marijuana advocates spoke at Tuesday's meeting encouraging adoption of the non-disclosure policy.
Matthew Abel, a Detroit-based attorney representing a prospective medical marijuana dispensary owner in Ann Arbor, also called for changes to the licensing ordinance.
The city has had a moratorium prohibiting new dispensaries from opening in Ann Arbor since last August, but city officials estimate there still are about 15 to 18 operating.
Under the licensing regulations, dispensaries that were open prior to the moratorium have up to 60 days after the new ordinance takes effect to submit an application for a license. No other applications are going to be accepted until 75 days after the ordinance takes effect.
The ordinance caps the licenses to be issued at a number 10 percent higher than the licenses applied for in the first 60 days, but not more than 20. That essentially means no more than one or two additional licenses would be available to new dispensaries.
Rhory Gould, who plans to open a dispensary called Arborside Health and Wellness at 3150 Packard Road, has had his associates take turns camping outside of city hall since June 20 in order to ensure he's first in line to get one of those licenses.
"We have a lot of time and money invested in this, and I have to advise my client to stay in line unless there's some change to this ordinance," Abel told council members on Tuesday, speaking on behalf of Gould and Arborside.
"It seems that the current ordinance rewards the cowboys who opened prior to the moratorium and it penalizes those who waited for approval," Abel added.
Abel said ideally he'd like the city to issue Arborside a number acknowledging it was first in line, and also change the licensing ordinance to stipulate that up to 20 licenses will be given out in the first year — dropping the 10 percent calculation.
Abel didn't get a response from city officials Tuesday night.
Ryan J. Stanton covers government and politics for AnnArbor.com. Reach him at ryanstanton@annarbor.com or 734-623-2529. You also can follow him on Twitter or subscribe to AnnArbor.com's e-mail newsletters.