Posted on
Thu, Nov 12, 2009 : 3:02 p.m.
Ann Arbor listed among 15 cities for people who hate driving and long commutes
By Amalie Nash
Ann Arbor: An ideal city for people who hate driving and long commutes?
That's what U.S. News & World Report says in a list published Wednesday that offers advice for "where to go if you don't want to spend a lot of time behind the wheel."
The average travel time for a car commute is a little over 24 minutes, the article says. For public transportation, it's more than 48 minutes.
According to the article, the average commute time in Ann Arbor is 18.4 minutes, and non-car commuters make up 27.5 percent of all commuters.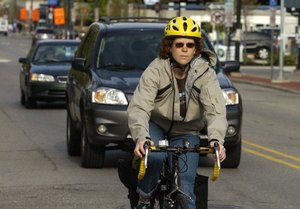 File photo
The article says, "The list is heavy on college towns, for a few good reasons: Such places are good fits for nondrivers because they are often compact and dense, and they often have liberal populations that demand more investment in public transportation."
The article says of Ann Arbor:
Since it is one of the best-known college towns in America, it shouldn't be surprising that Ann Arbor is not car-heavy. Many of the city's major employers, such as the academic journal service JSTOR, the weather service Weather Underground, and the headquarters for Google's AdWords service are based downtown. That centralized location and Ann Arbor's compact nature make commuting easy for walkers, bikers, and bus riders.
Other cities that made the list (as well as their average commuting times):
Cambridge, Mass. (24 minutes)
Pittsburgh (23.1 minutes)
Boulder, Colo. (18.4 minutes)
Davis, Calif. (20.3 minutes)
New Haven, Conn. (21.6 minutes)
Chapel Hill, N.C. (20.1 minutes)
Minneapolis (21.9 minutes)
Portland, Ore. (24.1 minutes)
Ames, Iowa (15.3 minutes)
Madison, Wis. (18.7 minutes)
Honolulu (23 minutes)
Provo, Utah (16.2 minutes)
Eugene, Ore. (16.9 minutes)
Syracuse, N.Y. (16.3 minutes)


U.S. News said the cities were chosen using the following guidelines: First, cities with populations of more than 50,000 were included. Second, they considered the average commuting time in metropolitan areas throughout the country—24.4 minutes in 2009, according to the Census—and narrowed the list to cities with even shorter average commuting times. Finally, data from the Census Bureau's American Community Survey was used to calculate the percentage of a city's workers over age 16 that gets to work without driving or carpooling (those who work from home were excluded).
Earlier this week, the Ann Arbor metro area made another list: The the least dangerous for pedestrians, compared to 14 other metro areas in the state.