Posted on
Tue, Sep 13, 2011 : 5:58 a.m.
Ann Arbor and Washtenaw County officials hope to merge dispatch operations by February
By Ryan J. Stanton
New details of a proposal to consolidate the city of Ann Arbor and Washtenaw County 911 dispatch services surfaced Monday night.
The merger would mean the loss of five full-time dispatch positions, but 10 part-time "call-taker" positions would be created, Police Chief Barnett Jones told members of the Ann Arbor City Council during a special work session.
Transition costs haven't been determined, but the first-year savings to the city is estimated at $400,000, climbing to $550,000 in the second year.
"I've been reducing staff for nearly five and a half years," Jones said, billing the merger as a way to save money and maintain patrol officers on the city's streets. "That was the reason why I had to sit down and start thinking about ideas outside of the box."
Under the plan laid out Monday night, the city would contract with the Washtenaw County Sheriff's Office for a period of five to 10 years, starting at $759,089 a year.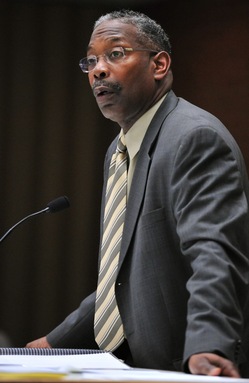 File photo | AnnArbor.com
City dispatchers have been unhappy since the proposed merger was
first announced in June
. Jones said he'd have to cut even more positions if nothing changed, so he sees sending city dispatchers over to the county as the better option.
"Even though they're working for the sheriff's department, another organization, this was going to keep them employed," he said.
Council members gave no indication of where they stand on the proposal during Monday night's work session, though they had several questions.
Mostly, they wanted assurances that dispatchers under the direction of the county would have the knowledge and expertise to safely and effectively handle dispatching calls in Ann Arbor.
"My answer to you is yes," said Sheriff Jerry Clayton, promising to meet national standards for dispatch performance. "I think the sheriff's office has a proven track record."
The merger needs to be voted on by both the City Council and the Washtenaw County Board of Commissioners. It's uncertain exactly when that might happen, but Jones said the plan is to have the county assume city dispatch responsibilities starting in February.
After a six-month transition period, full integration would be complete next August.
The city and the county already co-located dispatch staff into one center in June 2010 as a cost-savings strategy that allowed the two organizations to leverage required radio system technology improvements and share overhead costs.
Going one step further to completely consolidate dispatch operations, officials say, would help to address common dispatch challenges such as determining the appropriate response jurisdiction based on a caller's description of whereabouts.
Currently, Ann Arbor's dispatch operation includes one lieutenant who acts as manager, one sergeant who acts as supervisor and 18 full-time dispatchers. The county's dispatch operation includes one supervisor and 17 full-time dispatchers.
Under the proposed merger, there still would be one manager and two supervisors, but the number of full-time dispatchers between the two operations would drop from 35 to 30, while 10 new part-time call-taker positions would be created.
To make sure the transition period goes smoothly, Clayton said the county is willing to guarantee there's an Ann Arbor dispatcher on the county's dispatch desk at all times for the first six months. During that time, the county intends to cross-train both the city and county dispatchers to understand the whole county, including Ann Arbor.
Clayton noted the county went through the same situation after the city of Ypsilanti took the step of contracting with the county for dispatch services in January 2010. He said all the feedback the county has received from Ypsilanti has been positive.
Council Member Mike Anglin, D-5th Ward, raised questions about call volumes during Monday's work session.
Deputy Police Chief Greg Bazick provided data showing 911 calls handled by the city totaled 39,852 in calendar year 2010, while non-emergency calls totaled 138,974. In all, 67,470 incidents were dispatched — a figure that's down 28.6 percent since 2007.
Meanwhile, the county handled 129,081 emergency 911 calls last year and 139,800 non-emergency calls, with 86,553 incidents dispatched — a figure that's up 24.3 percent. Bazick attributed the increased statistic to the merging of Ypsilanti and county dispatch services.
The sheriff's office has operated Central Dispatch since 1990, providing services to Northfield Township, Michigan State Police, the Huron-Clinton Metropolitan Authority and other jurisdictions under contract. Jones noted both the University of Michigan and Eastern Michigan University still have their own dispatch operations. He said he hopes in the future they both would join in the consolidated Washtenaw Metro Dispatch operation.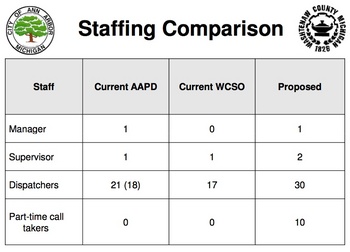 According to information presented Monday night, the current minimum staffing level for both the city and county dispatch operations combined is nine people. That would go down to seven under the consolidated plan laid out by Jones and Clayton.
A large part of the savings is expected to come from the elimination of a Law Enforcement Information Network operator in the minimum staffing plan.
The county and city each have a LEIN operator on their dispatch desks at any given time, but only one would be needed going forward. Jones said a LEIN operator is person trained to respond to interagency matters and manage warrants and other sensitive information.
Jones told council members it was in March 2011 when he and the sheriff first began serious discussions about identifying additional efficiencies in dispatch services.
At that time, Jones said he was looking at the city's budget and realizing the police department faced significant reductions in force over the coming years absent cuts elsewhere.
"I was looking at significant reductions in force that would quite possibly have me looking into further layoffs in dispatch and further layoffs in patrol," he said.
The sheriff's dispatch operation, at that same time, was looking to find a way to increase its staff, but it didn't have the budget to do so, Jones said.
The benefit to the county from merging with the city, Jones said, is that it would increase the county's dispatch staff and allow it to realize greater efficiencies. According to Clayton, the merger could end up being cost-neutral for the county, though.
According to information presented at Monday's meeting, the current cost per 911 call for the county is $16.18, while the same cost for the Ann Arbor Police Department is $39.63. Under the consolidated operation, the cost is estimated to be $17.37 per call.
"This is economies of scale," Jones said.
Jones said two new coordinator positions that the sheriff would have from combining the staff would have additional responsibilities that include both quality improvement and training.
Ryan J. Stanton covers government and politics for AnnArbor.com. Reach him at ryanstanton@annarbor.com or 734-623-2529. You also can follow him on Twitter or subscribe to AnnArbor.com's e-mail newsletters.