Posted on
Thu, Jun 9, 2011 : 5:56 a.m.
Ann Arbor officials say consolidation of emergency dispatch services could save jobs of police officers
By Ryan J. Stanton
Ann Arbor and Washtenaw County officials have announced a breakthrough in talks they hope will lead to further cooperation on local dispatch services — and a good faith demonstration to the state they're taking the governor's call for consolidation seriously.
After nearly two decades and countless attempts by previous administrations, city and county officials said in a joint press release that discussions have begun anew to consolidate the city's dispatch function with the Washtenaw County Sheriff's Office.
Consolidating dispatch staff would require the city to contract with the Sheriff's Office for dispatch service. That would take both City Council and county board approval.
The move could save the city about $400,000 a year, according to Tom Crawford, the city's CFO and interim city administrator.
Crawford said the savings theoretically are enough to save the jobs of four police officers in next year's budget talks, though it wouldn't come soon enough to stop cuts taking effect July 1. He said it's too early to say if or how many dispatch employees might lose their jobs as part of the consolidation if it's approved.
"We're looking into this and investigating. This is not something where everything's sorted out yet," he said. "This will obviously take some time to work out."
Crawford said such arrangements have been done in other communities and it seems to make sense — especially given the fact that Gov. Rick Snyder is calling on communities to demonstrate they're moving toward consolidation of services in order to receive state aid.
"I do think this would qualify under the legislation I've seen as an example of what the state was looking for when they set up the incentive plan," Crawford said, noting that the city and county both have a long track record of working toward collaboration and consolidation.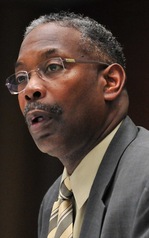 Police Chief
Barnett Jones
said the consolidation could help police achieve their service and financial goals and keep police officers on the street, patrolling downtown and city neighborhoods.
The city's budget for the fiscal year starting July 1 includes cutting 13 positions in police, including six officer positions. The current plan for the following fiscal year includes cutting another 12 positions in police, including two sergeants, a lieutenant and nine patrol officers.
Sheriff Jerry Clayton told AnnArbor.com in an email that, as it stands right now, the county continues to evaluate the financials, but it appears the change would be cost-neutral for the county.
"Our overall benefit comes from having a fully staffed center that yields greater efficiency while maintaining the highest levels of service," he said, adding that the county realized significant savings during a dispatch co-location effort last year.
In June 2010, the city and the county co-located dispatch staff into one center as a cost-savings strategy that allowed the two organizations to leverage required radio system technology improvements and share overhead costs.
Going one step further to completely consolidate dispatch operations, officials say, would help to address common dispatch challenges such as determining the appropriate response jurisdiction based on a caller's description of whereabouts.
"Broader situational awareness of police calls for service would be achieved because dispatchers would be more aware of calls for service countywide as opposed to single jurisdictions," the city's press release says. "Technology and infrastructure economies of scale and enhancements would continue to be achieved."
The operational change also would eliminate the need to transfer calls within the room from a county dispatcher to a city dispatcher and vice versa.
Officials say that would greatly lessen the possibility of a call being misrouted and minimize or eliminate any portion of hold times caused by a call transfer.
"The successful co-location of dispatch center staff allowed us to explore other municipal shared-service models and really focus on collaboration opportunities that would benefit our community," Clayton said. "Executing a contract with Ann Arbor would allow us to follow in the steps of other counties such as Livingston and Genesee that have saved costs while maintaining service delivery to citizens."
Ryan J. Stanton covers government and politics for AnnArbor.com. Reach him at ryanstanton@annarbor.com or 734-623-2529. You also can follow him on Twitter or subscribe to AnnArbor.com's e-mail newsletters.