Posted on
Wed, Jun 1, 2011 : 5:59 a.m.
Police and fire departments lose a total of 20 positions as Ann Arbor City Council passes revised budget
By Ryan J. Stanton
(This story has been updated to clarify that the fiscal year 2011-12 budget includes cutting 13 positions in police and seven positions in fire, while the overall two-year budget plan includes cutting another 12 positions in police and five positions in fire in 2012-13.)
The Ann Arbor City Council took action Tuesday night to save funding for parks, public art and nonprofit human services agencies but didn't stop deep cuts to public safety.
The council also finalized a parking agreement with the Downtown Development Authority that calls for a transfer of 17 percent of downtown parking revenues to the city for the next 11 years, with a renewal option to carry the contract through June 2033.
Council members deliberated for nearly five hours before unanimously approving the 2011-12 budget just minutes before a midnight deadline.
For the fiscal year beginning July 1, the city plans to spend roughly $79 million from its general fund, digging a little more than $1 million into its cash reserves.
None of the positions in the police and fire departments proposed for elimination under the city administrator's budget from April were spared by the council. That includes 13 positions in police and seven positions in fire that will be cut effective July 1.
The two-year budget plan calls for eliminating a total of 25 positions in the police department and 12 positions in the fire department, but that's subject to change over the next year.
A few public safety workers who were facing layoff July 1 may be able to stay on the job due to retirements or vacancies, city officials said.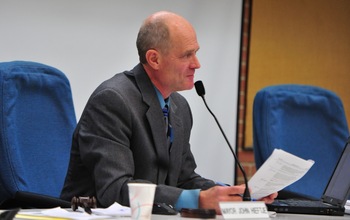 Ryan J. Stanton | AnnArbor.com
"We did our work pretty much along the lines of the administrator's budget — there weren't very many changes," Mayor
John Hieftje
said, adding it'll be up to the police and fire unions to come to the negotiating table and agree to health care concessions to save more jobs.
The number of city employees in Ann Arbor is slated to drop from 736 to 706 by July 1, with another 18 positions to be cut the year after. Despite the proposed cuts, Hieftje said he hopes to find a way to avoid going through layoffs again next year.
Matt Schroeder, president of the Ann Arbor firefighters union, and other members of the fire department watched from the audience Tuesday night.
"Obviously, I'm disappointed because I don't think they considered the safety of the citizens or the students of the University of Michigan," Schroeder said after the council's vote. "It doesn't look as though they tried to save any positions in fire or police."
Several residents in attendance lobbied to save the jobs of firefighters by holding up signs reading: "We (heart) Ann Arbor Firefighters!"
Council members voted on a series of amendments to the budget, but none of them proposed saving the jobs of firefighters. One amendment that proposed a three-month delay in laying off four police officers was defeated by the council in a 6-5 vote.
Hieftje announced in mid-May that city officials were working on a plan to reduce the number of layoffs in police and fire. He called Police Chief Barnett Jones to the podium Tuesday night to explain the city's plan to spare one officer and two firefighters from layoff.
The administrator's budget from April included eliminating seven firefighter positions starting July 1, five of which were expected to require layoffs.
Jones, who doubles as the fire chief, said two firefighters have announced their intention to retire, meaning only three layoffs may be necessary. City officials note the firefighters union could save two of the three from layoff by agreeing to health care concessions.
On the police side, 13 positions still are to be eliminated effective July 1, including two vacant dispatch positions, one vacant telecommunicator position, one vacant police professional assistant position and one vacant officer position. Five officers, two dispatchers and one police service specialist also were to be laid off, but Jones said Tuesday night that one of those five officers likely will be able to avoid layoff due to another vacancy.
City officials note the police union could save the jobs of all four officers facing layoff by agreeing to health care concessions. But even if those positions are cut, Jones said he'll move officers away from desk jobs and back onto patrol.
Jones also said he believes the city can put an end to the practice of periodically closing fire stations — something it started doing in February to cut costs — through better management of fire department overtime and how fire trucks are deployed.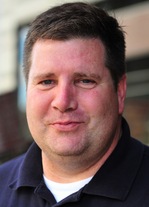 Schroeder said it doesn't add up.
"I would like to see the plan of how we're going to continue to staff with these cutbacks," he said. "We're still going to have a cut in service, and there's no way around that."
Council Member Marcia Higgins, D-4th Ward, offered an amendment to use $110,000 from general fund reserves to preserve the jobs of the four police officers facing layoffs for three extra months. The only four council members to support Higgins were Sabra Briere, Stephen Kunselman, Margie Teall and Mike Anglin.
Higgins suggested funding the positions for three additional months would demonstrate to the police officers union that the city is interested in keeping the officers on the job, but it would take concessions on health care to keep them employed in the long run.
Hieftje and Council Member Stephen Rapundalo, D-2nd Ward, said they thought that might just lead on officers who could otherwise start looking for other jobs now.
Hieftje expressed hope that the state House will pass a bill requiring public employees in Michigan to pay at least 20 percent of the cost of their health insurance premiums. The bill already passed in the Senate, and it could move through the House this month.
Asked after Tuesday's meeting if the firefighters union is willing to consider the city's call for health care concessions, Schroeder said everything is on the table.
"We're open to those things, but there are a lot of other things that need to be discussed as well," he said. "Our safety is one thing, and so is the citizens' safety."
Three council members — Briere, Higgins and Teall — joined forces Tuesday night to propose an amendment to restore a majority of the money — about $85,600 — that was to be taken away from nonprofit human services agencies. The council voted 6-5 in favor of a one-time use of fund balance with Kunselman, Anglin and Hieftje supporting the measure. In all, $1.24 million in city funding will go to nonprofits that provide human services next year.
The council also voted 6-5 in favor of a one-time use of fund balance to restore $90,804 to be used for mowing or maintenance of city parks. The amendment was sponsored by Anglin and Taylor and picked up support from Rapundalo, Hieftje, Briere and Kunselman.
Higgins offered another amendment that resurrected a long-standing debate over the city's Percent For Art Program.
Under an ordinance approved by the City Council, 1 percent of the money spent on capital projects in the city is set aside for public art. Higgins wanted to reduce that to 0.5 percent, which drew concerns from other council members who argued public art is an important economic development tool and contributes to the quality of life in Ann Arbor.
Ultimately, the council voted 7-4 in favor of preserving public art funding, with only Kunselman, Briere and Sandi Smith joining Higgins in pushing for the $158,813 cut.
Hieftje pointed out the public art money Higgins identified comes from the streets and parks millages, as well as the water, sewer, stormwater and solid waste funds. He said that money could not be used to pay for salaries in the general fund.
The council unanimously approved the new parking agreement with the DDA. For the city, 17 percent of downtown parking revenues works out to be nearly $2.7 million next year.
As part of the contract, the city has agreed to act as a financial backstop for the DDA if the authority's fund balance falls below $1 million in the next five years. The council also voted to forgive the $711,767 in excess tax revenues that the DDA recently found out it owed the city.
Ryan J. Stanton covers government and politics for AnnArbor.com. Reach him at ryanstanton@annarbor.com or 734-623-2529. You also can follow him on Twitter or subscribe to AnnArbor.com's e-mail newsletters.