Posted on
Thu, Dec 13, 2012 : 5:57 a.m.
Ann Arbor-area man finishing cross-country bike ride after father's death
By Cindy Heflin
When Dan Cornell rides his bike into Key West, Fla., Friday, about two dozen of his friends and family members will be waiting to celebrate the end of a journey of more than 5,500 miles. It's one that was started more than a year ago, not by Cornell, but by his father.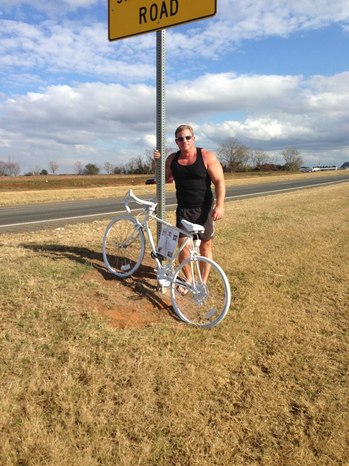 Photo from Facebook
Cornell's father,
Pete Cornell
, a former University of Michigan wrestler and an Ann Arbor real estate professional, died July 26 when a
semi truck struck him
on his bike in Dawson, Ga.
Pete Cornell, 64, was riding to Key West on the last leg of a journey from one end of the continent to another that began in 2011 in Prudhoe Bay, Alaska. Cornell, who took up biking in retirement, and his two riding companions had broken the journey into two parts. They rode from Alaska to Calgary, Alberta in 2011 and were riding from Calgary to Key West last summer when tragedy struck.
The truck struck Cornell and riding companions Thomas Clark, 62, of Munith, Mich., and Joseph Muscato, 60, of Grass Lake, who were headed east on Highway 520 near Dawson, Ga., just before daybreak when the truck struck them. Cornell was killed and Clark and Muscato were injured.
After the accident, Dan Cornell, 41, a former Ann Arbor resident who now lives in South Lyon, vowed to finish the ride in his father's stead. Friday, he and Muscato started out to do just that. They started in Dawson, staying in the same hotel Pete Cornell had stayed in the night before the accident.
In Dawson, Cornell and Muscato stayed in a room right next to the one his father and his companions stayed in. The hotel operator remembered his father, Dan Cornell said. He talked about getting up at 5 a.m. to put the coffee on and chatting with Pete Cornell before he started out that day.
"The first day was the worst," Cornell said. "We were at the scene of the accident." Police gave them an escort for the first part of the journey on the highway where the accident occurred and four members of a bike club in the area joined in.
By Wednesday night, they had only about 150 miles of the journey left to go.
Cornell spent most of his life in Ann Arbor before moving to Port Charlotte, Fla., in his retirement. He was a three-time All American at the University of Michigan and captain of the wrestling team in 1968 and 1969.
Though Dan Cornell is determined to finish the journey his father started, he said parts of it have been difficult, including Wednesday's ride.
The wind has been blowing in their faces much of the way, he said and Wednesday they rode through a 46-mile stretch with pretty much nowhere to stop for water.
And, Cornell said, bike riding is not his forte. "Your butt hurts and my knees hurt. … I'm a weight lifter. I might throw my bike in the ocean at the end."
Friends and family members have been following along on a Facebook page he set up and is updating regularly.
Cornell said he felt like finishing the ride was something he had to do for his dad, who he said was a "list completer," and for himself. Cornell is carrying a small urn with some of his father's ashes on the ride, so in a way, Pete Cornell is completing it after all.
"Hopefully it's going to make me feel better," Dan Cornell said. … I can't control him not being here, but I can finish the ride. Hopefully, it will help me get on with my life. It's kind of been on pause."

View Prudhoe to Key West in a larger map