Posted on
Mon, Jun 25, 2012 : 6:12 p.m.
Ann Arbor attorney celebrates Supreme Court decision on juvenile life sentences
By John Counts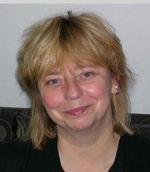 Courtesy of Wayne State University
Related story: Attorney: Supreme Court ruling 'provides hope' to Michigan's 358 juvenile lifers
Monday was a hallmark day for Ann Arbor attorney Deborah LaBelle.
The U.S. Supreme Court ruled Monday that sentencing juveniles to life terms in prison is unconstitutional. It's something LaBelle has been working on for years.
"The Supreme Court has vindicated our complaint," she told AnnArbor.com late Monday afternoon.
LaBelle has had her law practice in Ann Arbor for 15 years. She did her undergraduate work at Barnard College in New York City and went to law school at Wayne State University, where she occasionally lectures.
LaBelle represents many of the 358 juvenile lifers in Michigan on behalf of the American Civil Liberties Union.
In the past, she was co-counsel in a class action suit where she represented former female inmates who sued the Michigan Department of Corrections. It resulted in a $100 million settlement.
The case most on her mind now, though, may be the suit filed in Judge John Corbett O'Meara's courtroom in the United States District Court, Eastern District that essentially addresses the juvenile lifer issue in Michigan.
"That's been sort of trudging along," she said.
LaBelle hopes the Supreme Court's ruling will influence that case now.
Here's more from LaBelle on MLive.com:
"It's a great opinion, and it recognizes what the courts have been realizing and coming to for a while," said Deb Labelle ...
"It provides hope to over 300 people serving life without parole in Michigan's system that finally their age at the time they commited the offense will have to be taken into consideration and the hope that their maturity and rehabilitation will be recognized and they'll be able to go home."
Read about more statewide impact from the Supreme Court ruling.
Previous story about a Washtenaw County case: Teen killers Christopher Machacek and Steven Stamper still serving life sentences for 1987 shooting