Posted on
Tue, Dec 4, 2012 : 5:59 a.m.
Ann Arbor beefs up ordinance to keep abandoned and inoperable vehicles off city streets
By Ryan J. Stanton
No longer can inoperable vehicles clutter up neighborhood streets after the Ann Arbor City Council gave the city's abandoned vehicle ordinance a tuneup Monday night.
The council voted unanimously in favor of new language that allows the city to tow inoperable vehicles from public property, something it struggled to enforce under the previous ordinance.
"I think this will go a long way in helping our neighborhoods address these kinds of concerns," said Council Member Stephen Kunselman, one of the sponsors of the ordinance change.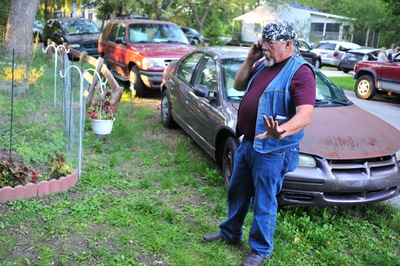 Ryan J. Stanton | AnnArbor.com
Kunselman said a
situation earlier this year on Shady Lane
prompted the need for more teeth in the ordinance that deems vehicles abandoned if they haven't moved for 48 hours.
The city used the 48-hour rule to tow and impound more than 100 vehicles deemed abandoned in the last two years, but one family on Shady Lane evaded the city's enforcement officers by making sure to move their cars in the street at least once every other day to comply with the law.
Neighbors complained they saw the family moving a single working battery from one vehicle to another, driving the vehicles in a circle, and then parking them again to avoid being towed.
Senior Assistant City Attorney Bob West acknowledged the city has had cases where, when vehicles were re-checked after 48 hours, they had moved a few feet, but their appearance gave the impression they were simply being pushed, rather than driven, those few feet.
The new ordinance language states that if a vehicle appears to be inoperable based on outward appearance or otherwise appears to not have been driven after a 48-hour notice has been affixed, the city can demand the registered owner demonstrate the vehicle is operable. Failure or refusal to demonstrate the vehicle is operable will be considered proof the vehicle is inoperable.
The council changed the title of the ordinance section about "Abandoned Vehicles" to "Storage of Vehicles" as part of the revisions.
Kunselman noted it still will be a complaint-driven process, meaning it's up to residents to call the city and complain if there are concerns about vehicles left on the streets in their neighborhoods.
In regard to private property, the ordinance still states: "No person shall park, store, leave, or allow to be left upon private property controlled by him or her, any motor vehicle in a rusted, wrecked, junk, or partially dismantled or inoperative condition, whether attended or not, unless in connection with an auto maintenance or repair business or unless the vehicle is completely enclosed within a garage."
The ordinance does make an exception to allow one such vehicle to be maintained in the rear yard for up to 30 days after notice to remove the vehicle is served by the city, so long as the vehicle is not within 20 feet of an adjacent residential lot.
Ryan J. Stanton covers government and politics for AnnArbor.com. Reach him at ryanstanton@annarbor.com or 734-623-2529. You also can follow him on Twitter or subscribe to AnnArbor.com's email newsletters.