Posted on
Tue, Sep 11, 2012 : 5:58 a.m.
Neighbors want city to force family to move 4 'rusty vehicles' from front of Ann Arbor house
By Ryan J. Stanton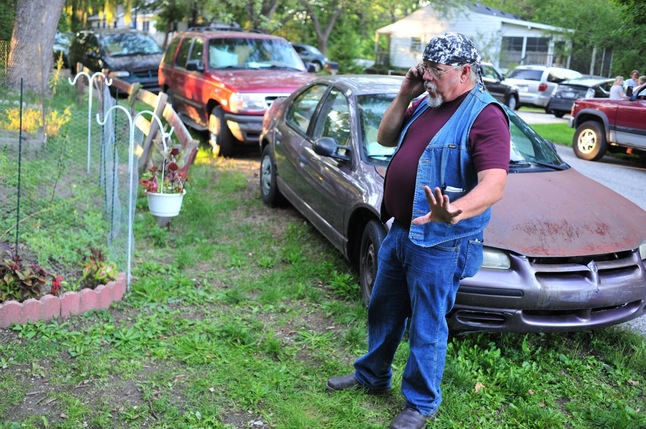 Ryan J. Stanton | AnnArbor.com
A family's collection of vehicles left parked on the street in front of their home on
Ann Arbor's
southeast side has sparked a feud between neighbors.
Linda and David DeVee, who live on Shady Lane, acknowledge they don't have the most attractive vehicles on the block, but they argue they don't have any other place to put them.
"Basically they don't like us," Linda DeVee said of her neighbors. "We're not a Stepford family, we never will be. They do not like my rusty vehicles, I am so sorry."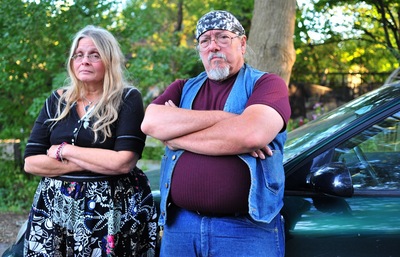 Ryan J. Stanton | AnnArbor.com
The DeVees said they used to have a two-car driveway made of gravel, but the stones have sunk beneath a layer of dirt and grass, and they can't park there until they can afford new stones.
Their neighbors argue the family's vehicles — packed with boxes of food and other items — have been sitting on the street far too long and are an eyesore and a public nuisance.
They're asking the city to step in and do something about the situation, and they now have City Council Member Stephen Kunselman, D-3rd Ward, fighting on their behalf.
But they're finding out the city's ordinance pertaining to abandoned vehicles — the same one used to tow a resident's Lexus from in front of his home last month — apparently lacks teeth.
"We have to be responsive, and if we have to change the ordinance then we will," Kunselman said. "If we need to pressure the city administration to take some action and some risk and write a ticket, just write the ticket and then see what happens. If we end up in court and the judge says, 'I'm going to throw that ticket out,' then we'll put that on the judge."
The city has an ordinance that deems vehicles abandoned if they're not moved within 48 hours, and the city tows if they're not moved. The city used that ordinance to tow and impound more than 100 vehicles in the last two years, but the DeVees have mostly escaped the city on this one.
They know their vehicles can't sit stationary for more than 48 hours, they said, and so they make sure to move them at least once every other day to comply with the law.
"Oh, my god, it's every year," Linda DeVee told AnnArbor.com on Monday when asked how often she's dealt with city police on the issue of their vehicles in the street.
"Does it make me want to move any vehicles and get rid of any vehicles? No," she said, adding they've only been ticketed and towed once before.
When AnnArbor.com visited on Monday, four vehicles belonging to the DeVees were parked on the street in front of their home: a two-toned Dodge Grand Caravan with a smashed-in rear, a Dodge Stratus with a rusty hood, a Ford Explorer and a Ford Taurus.
They also had a fifth vehicle, a beat-up Pontiac Bonneville, on part of their property but not on the street. They said they've agreed to get rid of that vehicle to avoid a legal hassle with the city.
The city's community standards officers have been out to check on the vehicles at least once since Kunselman called to complain last week on behalf of the neighbors.
Kunselman said he assumed they'd be dealt with by the end of last week, and so he was disappointed when he saw them still there on Monday.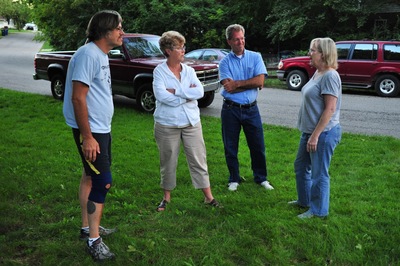 Ryan J. Stanton | AnnArbor.com
He said the response he got back from the city's staff was that, because the cars look like they've been moved slightly, police didn't feel like they could have them towed.
"It's just mind-boggling," he said. "Why are we being so lenient on somebody who's flouting the intent of the law just to store a bunch of boxes in vehicles on the street?"
Kunselman said he plans to bring up the issue at the City Council's next meeting Monday night and he's hoping his colleagues will share his concerns.
"We are dealing with a blight situation on Shady Lane and the neighbors are extremely patient given what we've been having to deal with," he said. "We have vehicles that have been using the street for long-term storage, and there's plenty of pictures to identify this is the case."
Council Member Christopher Taylor, D-3rd Ward, said he's written to city staff inquiring about the issue and he knows the police chief is looking into it.
"We need to do everything we can, consistent with a property owner's rights, to ensure that blighted properties do not degrade neighborhoods and harm our community," he said. "It's a serious issue."
Neighbors said they've seen the DeVees moving a single working battery from one vehicle to another, driving the vehicles in a circle, and then parking them right back where they were before.
Aside from the vehicles on the street, neighbors have complained the DeVees' possessions fill the house and spill into their yard, which they said gets mistaken for a garage sale.
"I don't believe in telling people how to live unless they cross lines, and these guys are crossing the lines," said Patrick O'Harris, who lives directly across the street.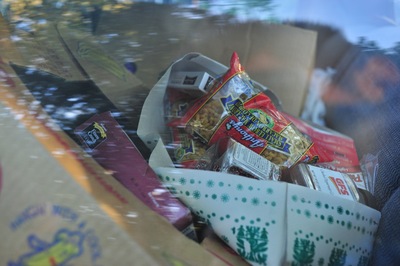 Ryan J. Stanton | AnnArbor.com
O'Harris recently sent letters to a handful of his neighbors, asking them to commit to making one phone call per week to the city to complain until something is done about the vehicles.
Linda DeVee said she and her husband have been at odds with their neighbors since they moved in 25 years ago.
She said she's disappointed none of her neighbors seem to care about the family's financial situation. She said she lost her job four years ago, and the family now is living off Social Security disability after her husband suffered a lower back injury.
"Now we do crafting," she said. "I do food gathering. I have a bunch of food that I am taking up to Michigan Renaissance Festival for the renaissance people."
She said that's why the vehicles are packed with so much food. She said she and her husband, as well as their son and daughter, are working at the festival in Holly on weekends through September and they've been bringing lots of food up to give to those who need it.
"That's going to go for the families that can't afford a lot," she said of the items piled up in her vehicles. "We're bringing all kinds of stuff. I have the sealed milk you don't have to refrigerate until you open it up. I have cans of stew. I've collected goodies like you would not believe. There's macaroni and cheese and whole wheat spaghetti noodles and pastas."
The DeVees said they need all four vehicles that are parked on the street because there are four members in the family. They said the Dodge Stratus belongs to their daughter, and their son, who is 14, eventually wants the Ford Explorer when he gets his license.
"We haven't done anything to any of our neighbors to warrant any kind of crap that they're trying to give us," David DeVee said. "If any of our neighbors would come directly to us and say, 'Hey, listen, we've got a problem with this,' we could work something out."
The DeVees said they feel like they're being scrutinized unfairly.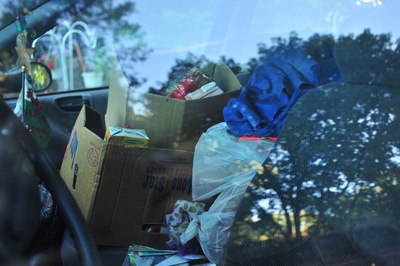 Ryan J. Stanton | AnnArbor.com
They argue all of their vehicles are registered and operational, so there shouldn't be a problem as long as they comply with the city's ordinance and move them at least every 48 hours.
"They move, and we are only required to move them every couple days," Linda DeVee said. "Every weekend we have to be up at festival, so we have to drive back and forth because if these aren't moved in 48 hours, we could come back and they could be gone."
Neighbors think the DeVees are gaming the system, and Kunselman tends to agree. He showed AnnArbor.com a photo he took of boxes sitting in the driver's seat of one of the vehicles.
"Our public streets are not meant for long-term storage," he said, suggesting the vehicles sitting on the street could be hurting other people's property values.
"It's unfortunate because all of the good people of the neighborhood are working really hard to maintain their properties and keep property values up," he said. "And here we have an example of where a property owner or family clearly has no care in the world about what happens to their neighbors in terms of property values, and you have a city that's not very responsive."
Ryan J. Stanton covers government and politics for AnnArbor.com. Reach him at ryanstanton@annarbor.com or 734-623-2529. You also can follow him on Twitter or subscribe to AnnArbor.com's email newsletters.