Posted on
Fri, Aug 9, 2013 : 2:59 p.m.
Ann Arbor breaks ground on world-class skatepark at Vets Park
By Ryan J. Stanton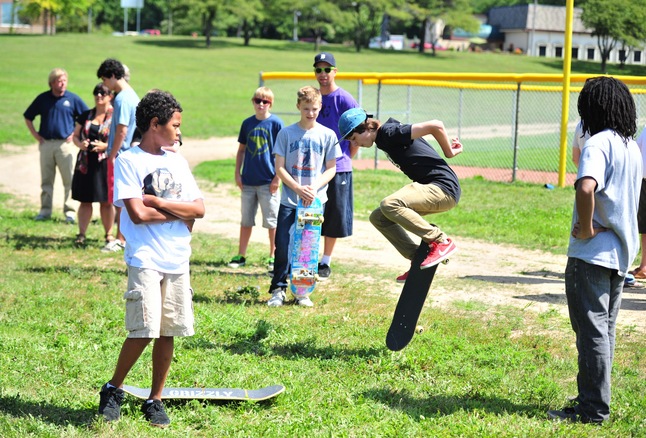 Ryan J. Stanton | AnnArbor.com
Officials and members of the nonprofit
Friends of the Ann Arbor Skatepark
gathered Friday to ceremonially break ground on a new
concrete haven for skaters
on the city's west side.
By next year, Veterans Memorial Park will be the home of a 30,000-square-foot, world-class skatepark designed by California-based designer Wally Hollyday.
"I can't wait until next year when we actually have the grand opening and there's going to be people skating on it," said Colin Smith, the city's parks and recreation manager. "It's going to be really exciting. It's going to bring more people into Ann Arbor to Vets Park."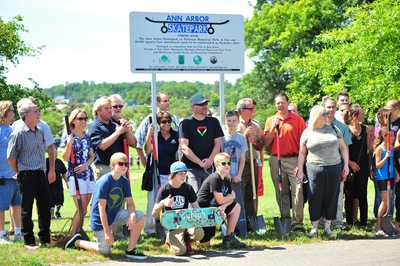 Ryan J. Stanton | AnnArbor.com
Construction is expected to begin quickly with the goal of completing all concrete work by this fall and some landscaping and other finishing touches wrapping up next spring.
Smith said the city hopes to have the grand opening in June. The skatepark, which will be free and open to the public, has been designed for all skill levels.
"I think when this started six years ago, it was very hard for people to believe or fathom that something like this could come to fruition," he said. "It's very nice to see it all coming together now, and it shows when you stick to something, how it can come to be. Rome wasn't built in a day."
For local skateboarders who've spent years looking over their shoulders while they've practiced their sport in a town with anti-skateboarding ordinances, it's a long-awaited relief.
While doing stunts off a concrete slab serving as a makeshift bank on a vacant downtown property recently, 18-year-olds Bradley Smith and Jacob Davison recalled they were in seventh grade when they first heard about the plans for a skatepark in Ann Arbor.
"We've known about it since the beginning, so we've been looking forward to it for years. I remember they had meetings at the library," Davison said.
Davison just graduated from Community High and is starting classes at Washtenaw Community College this fall. Smith just graduated from Pioneer High and is going to Eastern Michigan.
While they had hoped to see the skatepark come to fruition before graduating high school, they're just as excited it's finally happening.
"It's going to be awesome," Bradley Smith said. "It's going to attract people from everywhere. When you go to a skatepark in any other city, you meet everyone from all kinds of cities."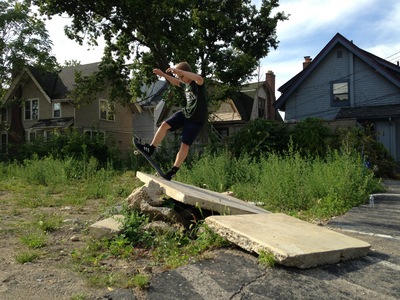 Ryan J. Stanton | AnnArbor.com
Both teens attested that it's been hard over the years to find a good spot to practice their sport in Ann Arbor.
"If I get caught here, I'll get a ticket," Bradley Smith said. "I've gotten several warnings. I've had friends who've gotten their boards taken away and stuff just for like skating through the Diag."
They've traveled to other cities like Westland to visit skateparks and a tennis court designated for skateboarding in Ypsilanti's Prospect Park.
Keith Zeisloft, Ann Arbor's 15th District Court administrator, said there have been 131 tickets written for skateboarding in Ann Arbor over the past seven years, though the overwhelming majority of those have been on the University of Michigan campus. He said the fine is $100.
Trevor Staples, leader of the Friends of the Ann Arbor Skatepark, spoke Friday afternoon about the multi-year effort to get to the point of breaking ground. Supporters of the campaign — young and old alike — spent years raising funds from both public and private sources.
"I'm really excited and everyone who's here helped with this in some way," Staples said while standing at the future site of the skatepark at the northwest corner of Vets Park.
Stephen Kunselman, who called himself "the only skateboarder on City Council," said it was the community's passion that built the momentum that got government officials on board. He believes Ann Arbor is going to have the best skatepark in the state of Michigan.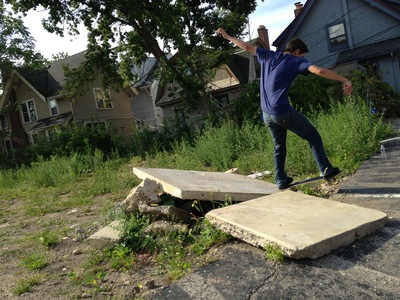 Ryan J. Stanton | AnnArbor.com
"We know it's going to be the best because Trevor and the skaters demanded the best to have it designed by a world-class skate company," he said.
The City Council voted unanimously last month to approve a roughly $1 million contract for the construction of the skatepark. The contract was awarded to the Ann Arbor-based Krull Construction Co., and the city agreed to contribute up to $424,312.
The total budget is $1,224,312, with $400,000 coming from the county and $300,000 from the state, and more than $100,000 from privately raised funds.
Julie Grand, chairwoman of the city's Park Advisory Commission, said the project is a great example of collaboration between multiple levels of government and private citizens in the community. She said she expects the skatepark will become a regional attraction.
"The goal is to mimic some of the street terrain that skaters like," Staples said. "There's always going to be skaters who like to skate the 'natural' terrain, but what's going to be best about this is it's a place for all of the skaters to congregate and socialize and just have fun together."
Watch a video of Staples' speech from the groundbreaking:
Ryan J. Stanton covers government and politics for AnnArbor.com. Reach him at ryanstanton@annarbor.com or 734-623-2529. You also can follow him on Twitter or subscribe to AnnArbor.com's email newsletters.