Posted on
Tue, May 14, 2013 : 5:59 a.m.
Ann Arbor City Council approves 14-story high-rise at Huron and Division
By Ryan J. Stanton
The fear of losing an eight-figure lawsuit ultimately kept the Ann Arbor City Council from rejecting a 14-story high-rise development Monday night.
Immediately after the council voted 6-5 to approve the controversial 413 E. Huron St. apartment project, dozens of residents stormed out of city hall.
Shouts of "Disgusting!" and "Shame on you!" could be heard as the pews inside the council chambers emptied.
Earlier as the council deliberated, audience members jeered and literally hissed at council members as they stated they were going to be voting for the project.
The six who voted for the project: Sally Hart Petersen, Christopher Taylor, Margie Teall, Marcia Higgins, Chuck Warpehoski and Mayor John Hieftje.
The five who voted against it: Sumi Kailasapathy, Sabra Briere, Jane Lumm, Stephen Kunselman and Mike Anglin.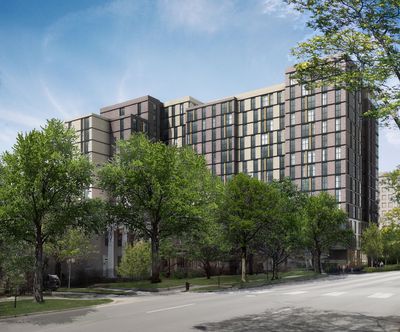 Humphreys & Partners Architects
The approval came after about two hours of discussion Monday night. The project has been at the center of an intense community debate for months, spanning multiple council meetings where attorneys for the developer and property owner have made legal threats.
Council members remarked it was one of the toughest decisions they've had to make, and the risk of losing a lawsuit if the project wasn't approved factored into their decision.
Much like they did with the controversial City Place development a couple of years ago, council members begrudgingly approved a project they were less than thrilled about because they felt the developer substantially met the legal requirements and would be able to win in court.
"I don't like a lot about this building, but I'm not willing to in good conscience risk the taxpayers' money," said Teall, D-4th Ward.
"Even if that lawsuit is winnable, it's nonetheless a lawsuit that's going to cost a lot of money for the city," said Petersen, D-2nd Ward.
"I worry that if we deny this, we are going to leave a legacy of ill will amongst developers," she added, suggesting it could stunt Ann Arbor's future economic growth.
Warpehoski, D-5th Ward, said he was casting a "very reluctant" vote for the project because he feared the city could potentially pay tens of millions of dollars in damages if there was a lawsuit.
"Someone suggested that we should stand up to developers — that we should take courageous action," said Taylor, D-3rd Ward.
"I don't fear lawsuits," he added. "I fear losing eight-figure lawsuits."
Hieftje took a moment before the vote to compliment the many residents who have lobbied council in recent months and have opposed the project.
"I've been talking with them and actually meeting with them for a long time," he said. "There have been statements in the community, 'Oh, this is a NIMBY response.' I don't think it's that at all. I think it's a response by number of people who really care deeply about what happens in their city."
Conor McNally, chief development officer with Georgia-based Carter, spoke on behalf of the development team Monday night. He said the building is designed to attract mostly University of Michigan graduate students and young urban professionals.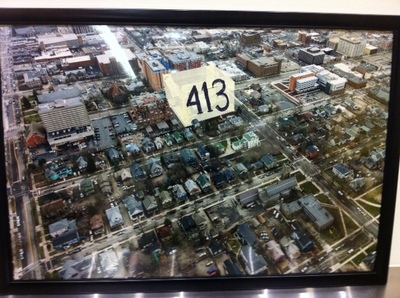 Courtesy photo
"That's absolutely reflected in the unit configurations," he said. "Almost 60 percent of the units are 1 and 2 bedrooms. There's nothing bigger than a 4-bedroom."
Even though the project has been scaled back slightly, many residents who've spoken out against it still believe it's out of character with the historic neighborhood to the north.
The proposed building measures 263,504 square feet, containing a total of 208 apartments and 513 bedrooms.
"The welfare of many people will be affected by this," said Anglin, D-5th Ward, before casting his vote against the project. "The land values in adjacent areas will probably not be what they once were. The historic district most definitely will be affected."
Lumm, an Independent who represents the 2nd Ward, said she doesn't think the developer did enough to listen to the community.
"Yes, development should occur at this site. No one argues otherwise," she said. "But not development of this size and scale."
Some council members expressed hope that the developer might still consider coming back with revisions to the site plan to make the project more popular with residents. But in terms of further substantive reductions in density, McNally said that's unlikely to happen.
Multiple council members suggested the city's A2D2 rezoning process resulted in the wrong zoning designation for the property in 2009.
The city's customized D1 zoning for the 400 block of East Huron limits new development to 150 feet, but some think D2 step-down zoning with a 60-foot cap would be a better fit.
Hieftje said he appreciated the developer making some changes to improve the proposal, but he agreed with opponents of the project that it still falls short.
"This has always been a problematic site," he added. "For the last several decades leading up to 2009, a massive, tall building could have been put on this site. The 2009 rezoning did not make this a more appealing site to build on. It actually imposed a height limit that wasn't there before."
Higgins, D-4th Ward, said the community consensus from the A2D2 rezoning process was that density belongs in the downtown.
"The place where you have the most friction in urban planning is wherever you have a downtown that rubs up against a residential area, and you will always have friction there, and you will never be able to satisfy every party," she said. "It just doesn't happen."
Hieftje said if he were a developer, he would have stopped investing in student apartment buildings in Ann Arbor "about three buildings ago." But he said some of them do have one- and two-bedroom units, and it's his hope that young professionals and other non-students will rent them.
Briere, D-1st Ward, asked what will be done to encourage recycling and composting at 413 E. Huron. While there will be recycling on every floor, McNally said, there aren't plans for composting yet.
"I am expecting you to come up with solutions for composting since the city does food composting now — raw food — and expects to move toward plate scrapings, including meats and fats, in the next year," Briere said. "I'm really expecting your project to have full composting capacity for its tenants."
McNally said that's something that could be looked at.
Briere raised additional concerns about the potential impact on traffic near Huron and Division, including on Ann Street and Fifth Avenue. She said the developer has failed to provide adequate assurances that the construction will not create a serious nuisance due to poorly designed traffic flow and poorly designed service access for deliveries and trash pickup.
Ryan J. Stanton covers government and politics for AnnArbor.com. Reach him at ryanstanton@annarbor.com or 734-623-2529. You also can follow him on Twitter or subscribe to AnnArbor.com's email newsletters.