Posted on
Tue, May 21, 2013 : 5:59 a.m.
Ann Arbor City Council approves 2013-14 budget without increase in police staffing
By Ryan J. Stanton
Mayor John Hieftje and his colleagues on the Ann Arbor City Council blocked an attempt early Tuesday morning to add three police officer positions to the city's budget.
The outcome of the 6-5 split vote — which came toward the end of a nearly seven-hour meeting — left Council Member Jane Lumm, who sponsored the proposal, disappointed.
A little while later, the council voted 10-1 to give final approval to the city's 2013-14 budget for the fiscal year starting July 1. Lumm cast the lone dissenting vote.
Lumm reminded her peers on council they listed public safety as a top priority heading into this year's budget process. She said she didn't see that reflected in the budget.
"The (police) chief has identified the path forward — proactive rather than reactive policing," Lumm told her colleagues. "But that needs funding and staffing that we consciously decided tonight not to provide for. Because of that, I'm sorry, I can't support this budget."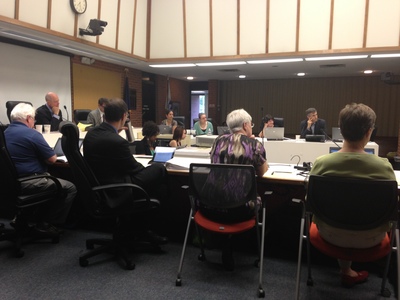 Ryan J. Stanton | AnnArbor.com
Lumm wanted to increase staffing in the Ann Arbor Police Department from 146 to 149 full-time employees, a $270,000 expense that she proposed funding by an equal reduction in the 15th District Court budget. Court Administrator
Keith Zeisloft
testified before council that a hit that large to his budget could result in laying off three of six probation officers.
Hieftje said he wished the city had room in the $83 million general fund budget for more police officers, but potentially laying off probation officers concerned him.
Five council members sided with Hieftje and decided not to support Lumm's amendment: Sabra Briere, Sally Hart Petersen, Christopher Taylor, Margie Teall and Chuck Warpehoski.
Four council members sided with Lumm and pushed for higher prioritization of public safety: Sumi Kailasapathy, Stephen Kunselman, Marcia Higgins and Mike Anglin.
"I think it's important that we do get more officers out on the beat," said Kunselman, D-3rd Ward, adding crime might be down in Ann Arbor but neighborhoods don't feel any safer.
Hieftje brought Police Chief John Seto to the podium to help make the case that crime is going down in Ann Arbor and the city remains one of the safest communities around.
Hieftje said he meets regularly with the police chief to talk about crime trends and he's impressed with the work the department is doing. When there was an uptick in breaking and enterings last year, he said, the department did a spectacular job of making arrests.
"I learn about the great work that is done by the department every day, and I think that's very, very important to acknowledge," he said, adding there's "good momentum" around safety services in Ann Arbor with increased collaboration with surrounding jurisdictions.
Instead of adding officer positions using general fund dollars, Hieftje said he's going to try to get the Downtown Development Authority to help fund downtown beat cops using DDA resources.
He said there have been talks of adding two downtown beat cops and another community standards officer that would be responsible for patrolling parks in the downtown, including Liberty Plaza.
"I'm willing to take this back to the DDA," he said.
Petersen said she voted down Lumm's amendment for new police because she heard the mayor say the DDA has funding for three officers in its discretionary budget.
The council found itself divided on another proposal from Lumm to restore fall leaf pickup and holiday tree pickup services.
The 7-4 vote against Lumm's amendment to restore those services came after more than an hour of debate. Lumm had support from Kailasapathy, Anglin and Petersen for the proposal, which involved a one-time cost of $395,000 and recurring annual expenses of $311,000.
As of a few years ago, the city no longer does bulk pickup of loose leaves that are raked into the street. Ann Arborites are encouraged to mulch their leaves, set paper bags and compost carts with leaves at the curb for weekly pickup, or take advantage of bulk leaf drop-off locations.
Hieftje said he has no desire of going back to the old system. He said the city would find leaves frozen in the street late in the year, and scraping them proved hard on the city's equipment and on the streets. Additionally, he said, it clogged storm drains, blocked bike lanes and was costly.
Lumm argued fall leaf pickup is a basic service that should be provided to taxpayers, particularly given that they pay more than $11 million annually through the city's solid waste millage.
The council voted 7-4 to approve another budget amendment that eliminates $326,464 in public art expenditures. That's all of the anticipated funding for public art with the exception of $14,000 in investment income that still needs to be budgeted.
The four council members who voted against the removal of public art dollars were Hieftje, Taylor, Teall and Warpehoski.
Late in the meeting, the council voted 9-2 against an amendment supported by Kailasapathy and Lumm to direct the city administrator to plan on reducing the city attorney's office staff by one position when Senior Assistant City Attorney Bob West retires in the next year.
Kailasapathy and Lumm wanted to use part of the savings to increase the police department's budget by $90,000, but a majority of council members questioned leaving West's position unfilled.
City Attorney Stephen Postema said it's going to be hard to replace West, who prosecutes civil infractions and misdemeanors for the city, helps train and counsel police officers, and represents the city in major litigation, including defense of police officers.
The council unanimously supported a number of other budget amendments, including one to spend $75,000 on a study of sidewalk gaps, another to restore $46,899 in human services funding (back to $1,244,629), another to put $10,000 toward the Washtenaw Health Initiative for the second year, and another to put $4,500 toward a food program at Miller Manor, a public housing site.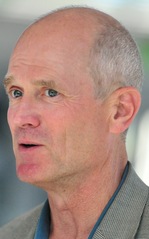 The council also voted 10-1 in favor of a one-time use of general fund cash reserves to make a $100,000 allocation for affordable housing. Lumm voted against it.
The city's finance staff was still calculating the final budget numbers early Tuesday morning following changes made by council, but it's still a roughly $83 million general fund budget. Counting all of the various funds the city manages, the total city budget amounts to more than $346 million.
The council didn't take any action to increase funding for alternative transportation as requested by the Washtenaw Bicycling and Walking Coalition prior to the meeting.
The council did have a healthy debate about the DDA's budget, though. The DDA's budget is one component of the larger city budget.
Council members were divided over what to do with more than $500,000 in additional DDA tax revenues that weren't projected earlier this year. Kunselman, Lumm and Kailasapathy proposed putting all of it into the DDA's housing fund to support affordable housing.
Hieftje and Teall proposed putting $100,000 into the DDA's housing fund and using the rest to help pay for new street light poles on Main Street and some economic development activities, including studies in collaboration with Ann Arbor SPARK.
After more than an hour of debate, Hieftje and Teall, whose proposal aligned with the DDA's intent for the funds, accused others on council of trying to micromanage the DDA.
Just before midnight, Hieftje proposed a compromise to provide guidance to the DDA to use $300,000 for affordable housing and also come up with $300,000 for new light poles on Main Street.
He said that might leave as much as $200,000 coming from another source — possibly the city's general fund — to pay for the remainder of the cost of the light poles. The compromise Hieftje put forward passed in a 10-1 vote with Taylor voting against it.
The council gave tentative approval to new utility rates that will provide revenue increases of 3.55 percent in water, 4.25 percent in sewer and 4 percent in stormwater.
The impact on the average single-family customer is estimated at $20.66 per year, a net increase of 3.6 percent if consumption is unchanged from last year.
That's expected to increase revenues in the water, sewer and stormwater funds by $739,244, $955,531 and $233,811, respectively.
The increases await final approval June 3.
Kunselman pushed through changes Monday night to get the permit fee for bonfires in the city reduced from $150 to $50, and the permit fee for residential prescription burns reduced from $180 to $50. He argued the fees were too high and prohibited citizens from taking out permits.
With the fees reduced starting July 1, he's hoping more citizens will actually take out permits from now on so the fire department knows about any bonfires or burns happening.
"Politics is the art of compromise and we saw a lot of compromise tonight," Kunselman said, summing up his thoughts toward the end of the meeting. "We saw a lot of debate. We saw a lot of effort on everyone's part to bring things forward that were important to them.
"I agree we need more efforts and resources toward public safety," he added, but I do see that we have a 4-FTE increase in our fire services. I do see that we're not talking about closing our fire stations. … We're not cutting. We're not going down. We're slowly going up."
Ryan J. Stanton covers government and politics for AnnArbor.com. Reach him at ryanstanton@annarbor.com or 734-623-2529. You also can follow him on Twitter or subscribe to AnnArbor.com's email newsletters.