Posted on
Fri, Aug 6, 2010 : 2:45 p.m.
Ann Arbor City Council approves 14-story Zaragon Place 2 apartment project
By Tom Perkins
The Ann Arbor City Council unanimously approved a 14-story apartment project at the corner of East William and Thompson streets on Thursday night, praising the plans for conforming to existing zoning and drawing no opposition from residents.
The 96,685-square-foot mixed-use building, called Zaragon Place 2, is billed as a sister tower to Zaragon Place 1, a student housing building on East University Street.
The 173-foot-tall tower will hold 99 living units, 2,000 square feet of retail space and 40 off-street parking spaces. Construction could begin as soon as permits are pulled.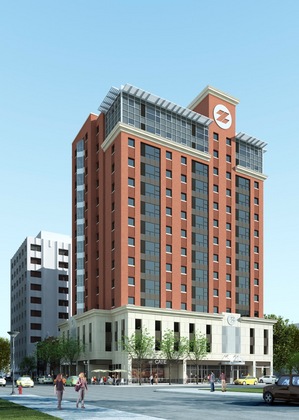 Several council members noted the plans received no complaints from residents, which is a departure from other recent projects in the city.
"We've all experienced a lot of drama here for developments, so I want to note that there is no drama associated with this development, and that's because it exactly fits the D1 zoning," said Council Member Sabra Briere, D-1st Ward. "We're eager to approve this development and other developments like it."
As part of the A2D2 Zoning Initiative, the property at 500 E. William St. is now zoned D1, which is the Downtown Core District. It also is in the new State Street Character Overlay District.
Planners have indicated rent will stay in line with the market value - around $1,000 for a one-bedroom. Floors four through 14 will each house one 4-bedroom, six 2-bedroom and two 1-bedroom apartments.
The building's commercial space will occupy the first floor - along with the lobby, mail room and exercise room. The second and third stories will contain 40 parking spaces and 40 bike spaces.
Planners declined to discuss the project's cost or financing.
Fire Marshal Kathleen Chamberlain recommended to council that the tower have a different name than its sister building. She said in the event of a fire, alarms and sprinklers will go off, and emergency response teams will automatically be provided with the location.
But in the event of a medical or some other type of emergency where alarms aren't triggered, she said callers could confuse the two buildings. In those situations, seconds and minutes matter, she said.
Chamberlain said restaurants or stores with the same name are different from an apartment building because they don't have people sleeping or living in them.
Council Member Stephen Rapundalo, D-2nd Ward, asked the petitioners if they were married to the name.
Scott Betzoldt, a civil engineer for the project with Midwestern Consulting, said they are. He said the first project was successful, and they've developed brand awareness with the name.
"We understand the concern, but we think people have been able to negotiate those concerns successfully over the years, and we really prefer to use our name that we used in the past," he said. "We respectfully request to use the name that we've identified with the brand."
Discussion over the name ended there.
Roger Hewitt, owner of the Red Hawk Bar and Grill located near where the tower will be built, said he fully supports the project. He said downtown needs people living there in significant numbers if its businesses are to compete with the convenience and variety of strip malls built around the edge of town.
"This project is the perfect example of what's needed," he said. "I wish these projects would have come along 10 years ago because we've lost a lot of our independent businesses in the last 10 years."
Tom Perkins is a freelance reporter for AnnArbor.com. Reach the news desk at news@annarbor.com or 734-623-2530.