Posted on
Wed, Jun 16, 2010 : 6:01 a.m.
Downtown Ann Arbor apartment project Zaragon Place 2 wins approval at Planning Commission
By Ryan J. Stanton
Chicago-based developer Richard Perlman left Ann Arbor's city hall Tuesday night without the same frustration other developers have experienced recently.
In only an hour's time, Perlman's 14-story apartment project received unanimous approval from the Ann Arbor Planning Commission during a praise-filled meeting.
The project, known as Zaragon Place 2, now awaits final approval by the Ann Arbor City Council. And it appears to have strong support from a number of council members.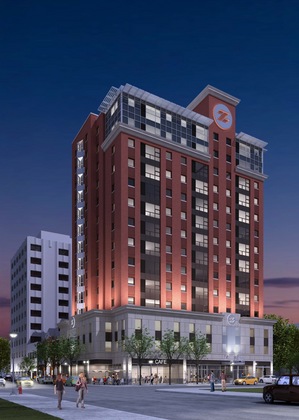 Image courtesy of Neumann/Smith Architecture
Perlman, whose company is called the Zaragon Co., proposes constructing a 96,685-square-foot, mixed-use building at the southeast corner of East William and Thompson streets in Ann Arbor's newly zoned downtown core.
The project includes 99 dwelling units, ground-floor retail space and 40 off-street parking spaces. It aims to repeat the success of Zaragon Place 1, a 10-story student housing structure Perlman built at 619 E. University Ave. in 2008.
Perlman, a Detroit native who graduated from the University of Michigan in 1971 with a degree in psychology before going on to law school in Cleveland, said he's excited about potentially starting his second project near his alma mater later this fall.
"My wife is also a Michigan graduate. In fact, we met in Ann Arbor," said Perlman, who also has a son who graduated from U-M two years ago. "We love Ann Arbor. We think this is the right type of student housing, and we couldn't be more excited to be doing another project in Ann Arbor."
Unlike other multi-story apartment developments that have been mired in controversy and have moved slowly through the city's approval process, Zaragon Place 2 appears to have enough support to pass. In fact, it even has received praises from some of the same residents who have fought tirelessly to oppose nearby projects like the Moravian and Heritage Row.
Support for this particular project is mostly due to its location: in Ann Arbor's downtown core, where most agree dense development belongs. And unlike projects such as the Moravian and Heritage Row, Zaragon Place 2 doesn't ask for a deviation from existing zoning regulations, nor does it encroach on a near-downtown neighborhood.
"The neighborhood is perfect for this project with high-rise Tower Plaza and Maynard House nearby," said Ray Detter, chairman of the Downtown Area Citizens Advisory Council.
Detter said his group has been actively involved for more than five years in efforts to increase downtown residential density, and Zaragon Place 2 fits that vision.
"It meets the community expectations for higher density in that area," he said, noting that — at 173 feet tall — it's still 7 feet short of the 180 feet allowed.
Sketches provided by Neumann/Smith Architecture show the new building rising high above the existing adjacent Cottage Inn Pizza restaurant at 512 E. William St.
About 2,000 square feet of the first floor has been designated for commercial space — potentially a cafe with outdoor seating. The remainder of the first floor would include a lobby, mail room, exercise room and manager's office.
The second and third floors are proposed to contain 40 off-street parking spaces and 40 bicycle parking spaces. Floors four through 14 would contain nine apartments each — one 4-bedroom unit, six 2-bedroom units, and two 1-bedroom units.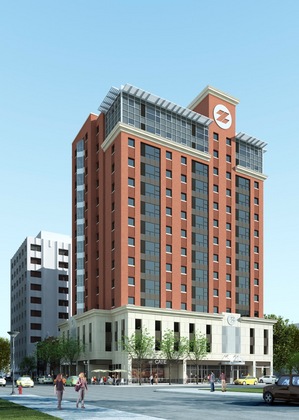 Image courtesy of Neumann/Smith Architecture
The proposed materials and architectural design are similar to that of Zaragon Place 1, except the shape of the building is somewhat different, and clear glass with integrated awnings are proposed for the windows of the first-floor retail space.
Perlman said the market will drive the rental rates at Zaragon Place 2 when it opens, likely in 2012, but he expects it will be north of $900 a month per bed.
Even with monthly rental rates of more than $1,000 per bed, Zaragon Place 1 — targeted to U-M students — has proven successful at attracting occupants.

Tom Heywood, executive director of the State Street Area Association, said his association's board has unanimously endorsed Zaragon Place 2.
"The vast majority of our neighborhood is overjoyed, to say the least, that this property is going to be developed in the way that this developer has proposed," he said. "It is a beautiful building. It will be a beautiful addition to the neighborhood, and the 200-plus residents will be an incredible economic boost to the neighborhood."
Roger Hewitt, a Downtown Development Authority board member who has operated businesses in the State Street area for more than two decades, also voiced support for the project. He said it's what he and others have been working toward for years.
"When I first started working in that area, there was a wonderful mix of various retail and food service operations," he said. "And then as strip malls proliferated around the outskirts of Ann Arbor, we lost a lot of our retail mix. About 10 years or so ago, we felt it was clear that the only way we were going to continue to be a strong, viable downtown attraction was to get dense housing, to have our customers living right among us, and we have been pushing that."
The city's planning staff notes Zaragon Place 2 is the first development proposed in the downtown core since the new A2D2 zoning changes took effect in December.
As part of the A2D2 Zoning Initiative, the property at 500 E. William St. is now zoned D1, which is the Downtown Core District. It also is in the new State Street Character Overlay District.
Project designer Scott Bonney of Southfield-based Neumann/Smith Architecture said Zaragon Place 2 will meet all of the A2D2 zoning requirements and draft design guidelines.
"We need to comply with the State Street Overlay District, which talks about a mixture of entertainment and retail uses, with a strong connection to the campus, with traditional commercial storefronts," he said. "And I think you can really see we've really addressed that storefront idea that really ties this to the activity and the retail nature of State Street."
Perlman declined to reveal the worth of his investment in Zaragon Place 2 on Tuesday, saying only that it will be several million dollars. His project team members said they hope to begin a construction period lasting 18 to 24 months later this fall.
Scott Betzoldt, site civil engineer for the project from Midwestern Consulting, noted the project is within the Allen Creek watershed. He said the developer plans to install a stormwater management system that would incorporate underground storage. He also said extensive streetscaping features would be included in the project.
Planning Commissioner Jean Carlberg brought up the fact that several tenants had complaints about noisy neighbors after Zaragon Place 1 opened. The project's architect said retrofit measures were taken to alleviate those concerns, and those same state-of-the-art solutions will be deployed up front in Zaragon Place 2.
Planning Commissioner Wendy Woods relayed concerns raised by the fire department that having two high-rise structures with the same name could potentially lead to confusion about which Zaragon Place to respond to in case of an emergency.
Betzoldt agreed it could be confusing but said it wouldn't be any different than having a dozen McDonald's restaurants in the same city — 911 callers just have to give the right address.
"The brand identity in this particular case is very important to this project," he said. "It's designed to look consistent with the first building, it's a sister product of the first building, and so it's just an issue that's going to have to be carefully resolved if there's a call for help."
Until it was demolished in 2007, the site of the proposed Zaragon Place 2 project contained a one-story bank since the 1970s.
Heywood said when he first came here 15 years ago, there were three sites of concern where redevelopment was going to be vital to the future success of the State Street area.
"Olga's was abandoned on the corner of Washington and State, the old McDonald's was abandoned on Maynard, and the bank had just left the site that we're talking about tonight," he said. "In that 15 years, we've been able to develop two buildings. This would be the third."
Ryan J. Stanton covers government for AnnArbor.com. Reach him at ryanstanton@annarbor.com or 734-623-2529.

View a map of recent downtown apartment projects and add your own details:
View Downtown Ann Arbor apartment projects in a larger map