Posted on
Tue, Jun 4, 2013 : 5:59 a.m.
Ann Arbor City Council asks DDA to help fund downtown beat cops
By Ryan J. Stanton
The Ann Arbor City Council went on record Monday night asking the Downtown Development Authority to fund three new downtown police officers.
The council is asking the DDA's governing board to consider the request at its next meeting, which is this Wednesday at noon.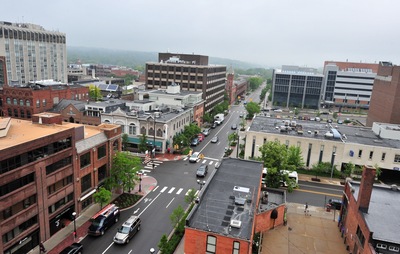 Ryan J. Stanton | AnnArbor.com
If the request is approved by the DDA, City Administrator
Steve Powers
is directed to increase the police budget accordingly and commence the hiring process.
The resolution — sponsored by Council Members Jane Lumm, Sally Hart Petersen and Sumi Kailasapathy — was approved by council in an 8-2 vote with opposition from Christopher Taylor and Margie Teall.
Chuck Warpehoski was absent.
The sponsors brought forward the resolution as a follow-up to remarks made by Mayor John Hieftje last month.
In last month's city budget deliberations, Hieftje and five other council members blocked an attempt to add three police officer positions to the city's budget. Hieftje said at the time he would instead try to get the DDA to help fund downtown beat cops.
He said there had been talks of adding two downtown beat cops and another community standards officer that would be responsible for patrolling parks downtown, including Liberty Plaza.
"I'm happy to continue discussions at the DDA," Hieftje said again Monday night. "I can't predict how the DDA, though, in light of everything that has gone on, is going to look at this."
Hieftje was referencing the ongoing debate over the DDA's tax revenues and efforts by some council members to slow the growth of those revenues. Taylor said it might not be unreasonable for the DDA to be "gun shy" at this point.
"I think we need to rebuild a relationship of trust and respect with the DDA," he said. "I understand it is useful and good for us to communicate to them, and for them to communicate to us. However, I think this takes place in a larger context."
Lumm, an Independent from the 2nd Ward, noted council members identified public safety as one of five top budget priorities at a retreat in December.
She also noted Police Chief John Seto has indicated the city's police force is largely reactive and expanding proactive policing efforts could go a long way toward improving service.
"For years, the DDA and downtown businesses have identified a need for downtown beat cops," she added, calling a safe downtown an essentially element of a vibrant, growing downtown.
Lumm reminded her colleagues they already set a precedent of advising the DDA how to spend its money when they passed a budget amendment last month encouraging the DDA to allocate hundreds of thousands of dollars toward affordable housing and new light poles on Main Street.
"While we don't control how the DDA spends its money, we can suggest items we believe are priorities and ask the DDA to consider funding them," she said.
Lumm said the DDA budgets for the next two years include grant expenditures of roughly $1.6 million each year, and $400,000 in both years is unassigned and could serve as the funding source for additional officers. The cost of an additional officer is about $90,000 annually.
Council Member Sabra Briere, D-1st Ward, cautioned simply adding numbers to the police department's ranks doesn't necessarily assure the quality of police work.
She said quality is what she's most concerned about, and she hopes the council can move the discussion beyond numbers and into policy.
Seto said there aren't any city police officers specifically assigned to the DDA area right now, but the city does generally have about 12 to 14 officers over two shifts assigned to patrol the larger downtown area, which he described as being bound by Huron, Main, Stadium and Packard.
"It's well known Ann Arbor is one of the safer cities in the nation, and I think the downtown is equally a safe place," Hieftje said, suggesting more police officers won't necessarily reduce crime.
"My interest in having more presence downtown is more of the nuisance things that I think people are aware of," he said. "We don't have a lot of crime there, certainly for a city our size."
Hieftje said DDA board members have talked for years about the idea of having downtown ambassadors. He described them as "friendly faces" who could provide directions, assist people with various needs, report things like trash violations, and have direct links to police officers.
"I'm either walking or cycling downtown almost every day, and we do have a police presence down there," Hieftje added.
Petersen, D-2nd Ward, said there has been an increasing number of break-ins in her ward, which extends up to the city's northeast side from downtown.
"I would say that perception of public safety is probably high for someone until they've had a problem, and I think having the presence of beat cops downtown does dissuade problems from happening in the first place," she said.
Ryan J. Stanton covers government and politics for AnnArbor.com. Reach him at ryanstanton@annarbor.com or 734-623-2529. You also can follow him on Twitter or subscribe to AnnArbor.com's email newsletters.