Posted on
Tue, Oct 19, 2010 : 6:01 a.m.
Ann Arbor City Council condemns Andrew Shirvell's attacks on Chris Armstrong
By Ryan J. Stanton
Ann Arbor Mayor John Hieftje stood side-by-side with University of Michigan student body president Chris Armstrong at the start of Monday's City Council meeting, as its members celebrated a long history of gay rights advocacy in the city.
Armstrong, the university's first openly gay student body president, has been the subject of anti-gay attacks by Assistant State Attorney General Andrew Shirvell in recent months, attracting national media attention. Armstrong was treated more like a celebrity inside city hall Monday night as the City Council condemned Shirvell's attacks.
A large crowd of lesbian, gay, bisexual and transgender advocates watched proudly from the sidelines as Hieftje stood next to Armstrong and read a proclamation into the record, officially establishing October as LGBT History Month in Ann Arbor.
Several minutes later, the crowd cheered when the City Council also voted 10-0 in support of a resolution against hatred and intolerance. Council Member Stephen Rapundalo, D-2nd Ward, was absent.
The resolution was sponsored by openly gay Council Member Sandi Smith, D-1st Ward, and specifically condemns Shirvell's actions against Armstrong.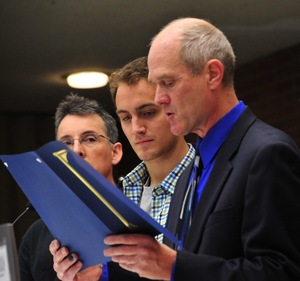 Ryan J. Stanton | AnnArbor.com
"In some ways I'm happy to bring this forward, in other ways, I'm sad to bring this forward," Smith said of her resolution, wishing it were under different circumstances.
"I don't want this to be a punitive moment, although this resolution really is and it needs to be punitive," she said. "No one deserves to be bullied or harassed for any reason — gender expression or identity or sexual orientation included."
Smith read aloud a list of names of gay teenagers throughout the nation who have been killed or pushed to commit suicide in recent years because of bullying or harassment by peers.
"It's inexcusable that this happens," she said. "And I'm proud to have gotten an opportunity to meet Mr. Armstrong as the president of the Michigan Student Assembly, and he is a strong leader and I'm not fearing for his safety because he's got the whole community supporting him."
Armstrong filed a request for a personal protection order against Shirvell in September after months of being targeted by Shirvell, who is a U-M alumnus. Shirvell launched a blog attacking Armstrong and showed up at numerous events criticizing him for his "radical homosexual agenda," which includes pushing for gender-neutral housing on campus.
Shirvell's blog has included pictures of Armstrong with slurs printed across his face and a rainbow flag featuring a swastika, calling him "Satan's representative" and a "privileged pervert."
"The actions of Assistant Attorney General Shirvell, including bullying, stalking and harassment, are not consistent with the Ann Arbor Human Rights Ordinance," reads the resolution approved by the City Council Monday night.
The resolution calls on Attorney General Mike Cox to join with the Michigan Sheriffs Association, the Michigan Association of Chiefs of Police, the Michigan State Police and the Prosecuting Attorneys Association of Michigan in support of new hate crime legislation.
The Michigan Civil Rights Commission and the Ann Arbor Human Rights Commission unanimously passed resolutions last week condemning Shirvell's attacks on Armstrong. Members of the Human Rights Commission spoke at Monday's council meeting.
Chairwoman Leslie Stambaugh said Shirvell's actions are intolerable for anyone, let alone a public official serving in the state attorney general's office. Stambaugh urged the City Council to "make a statement" to counter the "damaging message" Cox left after his interview on national television on CNN "that passivity was the best we could do in Michigan."
"The resolution calls on the attorney general to make it clear that his office represents the interests of every Michigan resident, to make sure that no taxpayer funds and resources were used in this harassment, and ultimately, to show that there's no room on his staff for an attorney who's unwilling to represent the interests of every Michigan resident," she said.
Andre Wilson, another member of the Human Rights Commission who is transgender, said the attacks against Armstrong go beyond personal.
"He has been targeted precisely because he is a leader, and an out gay leader," Wilson said. "When Chris is targeted, we're all targeted."
Hieftje called upon citizens and civic organizations to learn more about the contributions of the LGBT community and to celebrate the leadership of Ann Arbor residents over the years in "shaping a world free from discrimination on the basis of gender identity and sexual orientation."
The proclamation he read during Monday's meeting provided a brief rundown of some of Ann Arbor's history of advocating for the civil and human rights of the LGBT community.
In January 1970, gay men and lesbians in Ann Arbor came together to form the Ann Arbor Gay Liberation Front, one of the first such organizations in the United States.
In September 1971, the University of Michigan instituted on its Ann Arbor campus the first staff office for sexual orientation concerns at any institution of higher learning in the United States, an office that continues to function today as the U-M Spectrum Center.
In June 1972, the Ann Arbor City Council proclaimed "Gay Pride Week," the first such action by a municipal governing body in the United States. And in July 1972, Ann Arbor became the first municipality in the nation to extend broad protections for "sexual orientation" in employment, housing and public accommodations through its local Human Rights Ordinance.
In April 1974, Ann Arbor became the first jurisdiction in the United States to elect an openly lesbian or gay person to any public office, with the election of Kathy Kozachenko, of the Human Rights Party, to the Ann Arbor City Council.
In 1975, two Ann Arbor labor unions, AFT Local 3550 and the Transportation Employees Union, became the first in the country to negotiate contractual protections for lesbian and gay workers.
Smith issued a public service announcement Monday night in hopes of avoiding another death due to anti-gay harassment or bullying.
"If you see somebody that's struggling around you, please don't hesitate to reach out because you don't know when you can make a difference to somebody," she said. "It's a particularly difficult topic for a lot of people to talk about, so be proactive about it, please."
Ryan J. Stanton covers government and politics for AnnArbor.com. Reach him at ryanstanton@annarbor.com or 734-623-2529.