Posted on
Wed, Oct 6, 2010 : 10:53 p.m.
Chris Armstrong breaks silence on 'hurtful' blog by assistant attorney general
By David Jesse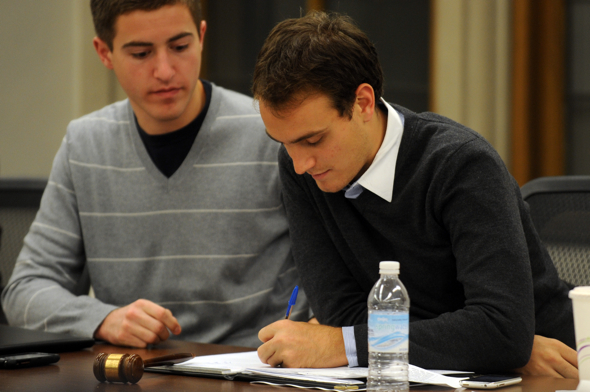 Saying the blog about him was "hurtful" and a "big strain on myself, my friends and my family," University of Michigan student body President Chris Armstrong broke his silence tonight speaking to CNN's Anderson Cooper.
Armstrong, appearing in an interview taped earlier in the day, said he was surprised when a friend pointed him to a blog started by Michigan Assistant Attorney General Andrew Shirvell.
In that blog, Shirvell, a U-M alumnus, attacks Armstrong for his "radical homosexual agenda" and for pushing issues like gender-neutral housing.
Armstrong said tonight he didn't start that issue, but is glad to be able to lend his voice to it.
Shirvell has been writing the blog since the spring and has shown up at a number of public events to criticize and protest Armstrong. But the conflict didn't really explode into national news until Cooper brought attention to it last week.
Armstrong has asked the Washtenaw County Circuit Court for a personal protection order that would ban Shirvell from coming anywhere near him or Armstrong's friends or writing about Armstrong. The court will hold a hearing on that Oct. 25.
Shirvell has taken a leave of absence from his position. His boss, Attorney General Mike Cox, has defended Shirvell's free speech rights, even while trying to distance himself from the content of the remarks. Shirvell faces a disciplinary hearing when he returns to work, Cox's office has said.
Armstrong has turned down interview requests from other media, including AnnArbor.com. He said on the show he's speaking out now because of recent reports of teens who've committed suicide after being outed as being gay or bullied for being gay.
"It's hard not to say something," Armstrong said. "It's important to understand that things get better, that you can reach out to your community, your friends."
Armstrong said he's been working through the controversy with the help of his friends and family. That's why he hasn't been speaking publicly about it.
"It's really been a personal issue in a lot of ways," he said during the interview. "I've dealt with it more specifically with my friends and my family in making sure that they understand and that they know what's going on."
And in the midst of it, Armstrong has been trying to continue with his life as a student.
On Tuesday night, he was seated at the head table at the regular meeting of the Michigan Student Assembly. With his executive board seated next to him, he led the MSA through a 90-minute meeting, calling for votes and recognizing speakers.
During his turn in the meeting to make remarks, he didn't say anything about the controversy.
After the meeting ended, he stood in a group of students, laughing and sharing hugs with a few colleagues.
David Jesse covers higher education for AnnArbor.com. He can be reached at davidjesse@annarbor.com or at 734-623-2534.