Posted on
Tue, Apr 3, 2012 : 5:58 a.m.
Ann Arbor City Council delays vote on Justice Center artwork, citing concerns about public access
By Ryan J. Stanton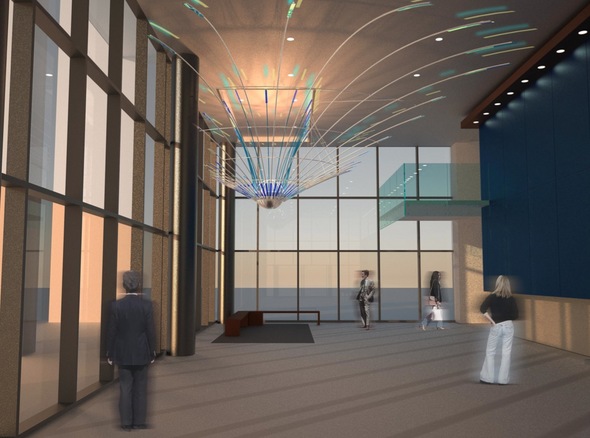 Courtesy image
Are you willing to ditch your cell phone in a locker, empty out your pockets and go through a security checkpoint to get a good look at
Ann Arbor's new public art installation?
City officials are starting to rethink that scenario following complaints that a $150,000 hanging sculpture proposed for the lobby of the Justice Center might not be so public.
The latest public art proposal went before the Ann Arbor City Council for a vote Monday night, but council members decided to postpone consideration until the city can fully explore relocating the security checkpoint that immediately greets visitors inside the lobby.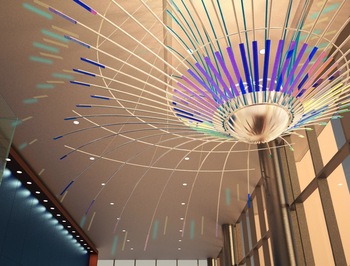 Courtesy image
"It would be so much nicer if we could open up that space to the public and I think we need to investigate that," Mayor
John Hieftje
said. "I know there was a debate about that back at the time that equipment was first placed where it is, but I would like to see it revisited."
The Justice Center is the newer building next to city hall at the corner of Fifth Avenue and Huron Street where the city's police and courts are housed.
City officials said they're still are looking into the costs of moving the security checkpoint further into the building past the main lobby area.
Aaron Seagraves, the city's public art administrator, and Craig Hupy, the city's interim public services administrator, both said there shouldn't be a problem with delaying consideration of the art installation for another month while that option is investigated. Hupy said there have been talks of having the installation completed by December.
The Ann Arbor Public Art Commission selected the piece titled "Radius" to liven up the lobby of the Justice Center back in January. The commission unanimously chose the artwork by Portland artist Ed Carpenter from a pool of three finalists' proposals.
Carpenter's proposed artwork measures 40 feet by 20 feet by 12 feet and is made of dichroic glass, aluminum and stainless steel, with integral LED spot and flood lighting.
"Like ripples from a stone tossed into a pond, 'Radius' emanates outward through the Justice Center lobby, a reminder of the interconnectedness of the public with the agencies serving them, and suggesting a network of cause and effect in the public realm," the proposal states.
Seagraves said one of the reasons Carpenter's proposal was chosen was because it uses more of the lobby space and it will be visible both indoors and outdoors, day and night.
Hieftje and other council members said the problem with public access inside the Justice Center lobby isn't the Art Commission's fault.
"The Art Commission was presented with a particular problem here because the artwork is tied to the building and they have a secure building," Hieftje said. "So where else in the building could you put this? There really isn't any other spot."
Added Hieftje: "It's really the nicest space that we have in a city building and the fact that it is closed unless you're going to court or to see the police is an issue beyond this piece of art."
Council Member Sabra Briere, D-1st Ward, agreed with Hieftje and said the city should find a way to open the Justice Center lobby up to more people.
"It's a beautiful open space that should be something we use for meetings or marriages or parties or receptions or the things that civic space is used for," she said. "And unfortunately because of things that are there to protect our community, we have lost access to that space. I'm hopeful that we can figure out a way to have both — the security and the space."
The city pays for public art through the Percent For Art Program. Under an ordinance approved by the City Council in 2007, 1 percent of the budget for all city capital projects — up to a limit of $250,000 per project — is set aside in a special public art fund.
That equates to $334,660 in this year's budget
Council Member Jane Lumm, an Independent who represents the 2nd Ward, suggested the Art Commission should automatically consider public accessibility with future projects.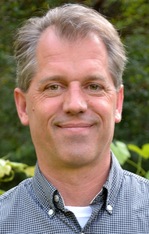 Council Member
Stephen Kunselman
, D-3rd Ward, tried to convince his peers on council to pass a resolution Monday night to require the city attorney to issue a written opinion on the
legality of transferring street millage dollars to the city's public art fund
.
Kunselman argued the ballot language for the street millage approved by Ann Arbor voters back in November did not include a clear statement that funds would be used for public art.
He said it's state law that voters must be given a clear statement of the purpose for a millage and the city attorney never has issued a formal opinion on whether it's been legal for the city to channel hundreds of thousands of dollars in dedicated street millage dollars to the public art fund over the last four years.
"It's a simple question and I think the public deserves that answer," he said.
Kunselman's resolution was voted down 7-3 with only Briere and Mike Anglin, D-5th Ward, joining in support. Marcia Higgins, D-4th Ward, was absent.
A majority of council members argued the city attorney's office already had fully vetted the city's public art program and they were comfortable with it.
Ryan J. Stanton covers government and politics for AnnArbor.com. Reach him at ryanstanton@annarbor.com or 734-623-2529. You also can follow him on Twitter or subscribe to AnnArbor.com's email newsletters.