Posted on
Wed, Jul 13, 2011 : 2:58 p.m.
Ann Arbor City Council leaning toward Steve Powers for administrator job; vote expected Monday
By Ryan J. Stanton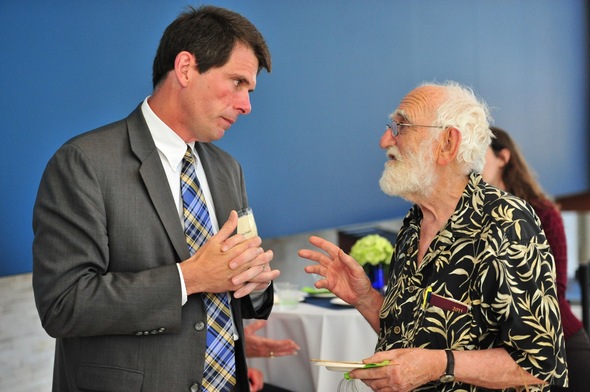 Ryan J. Stanton | AnnArbor.com
Related story:
Ann Arbor officials say issues at city administrator finalist's former job not a concern
A majority of Ann Arbor City Council members present for a special meeting today indicated they're leaning toward Steve Powers in the search for a new city administrator.
However, a number of them say it's still too close to call.
Mayor John Hieftje said there were only narrow differences between the two candidates when he scored them on a rating sheet today.
"It was a close call," he said. "I still have a lot of thinking to do over the weekend."
Powers and Ellen Oppenheim, the two finalists for the position, gave formal presentations to the City Council today inside city hall, a day after undergoing a three-hour interview process with city staff and council members. Each candidate was asked to talk for 10 minutes, explaining what they'd do with their first 90 days on the job.
Both candidates said they'd spend time getting to know the community and talking with council members, city staff and others to better understand their priorities.
"What I would avoid is ready, fire, aim," Powers said. "I've learned coming in guns a blazing, making rapid decisions without understanding the issues, without coming to my own understanding of issues, is not the way to manage."
Oppenheim stressed she'd be active in the community and would attend as many activities and special events as she could. To prove her point, she held up a University of Michigan T-shirt and said she looks forward to attending her first Wolverines football game this fall.
"I'll certainly be seen frequently walking in city parks," she added.
The presentations were followed by a series of questions from council members, who asked the candidates about their communication styles, experiences making presentations to different groups, ability to admit mistakes and background in labor relations.
A resolution to hire a new administrator to replace Roger Fraser, who resigned in April to take a job with the state, is expected to be placed on the City Council's agenda Monday night. There will be a blank space where the name of the candidate can be filled in.
Council members acknowledged they aren't necessarily limited to choosing between Oppenheim and Powers should they decided neither are a good fit.
In the last city administrator search process that brought Fraser to town in April 2002, the City Council went through two pools of candidates before a third group of finalists turned up Fraser, who was hired to come in and clean house and reorganize the city.
Four council members — Margie Teall, Carsten Hohnke, Christopher Taylor and Sandi Smith — were absent from today's meeting for reasons ranging from health issues to family and work-related commitments. Hohnke attended a candidate reception Tuesday night, and all four are expected to watch a recording of today's meeting before Monday's vote.
Scott Reilly, CEO of Affion Public, the search consultant hired by the city, appeared for a debriefing session after today's presentations. He shared insights from city staff on each candidate and acknowledged either candidate would bring change to the city.
Both candidates are seen as competent to fill the role, Reilly noted.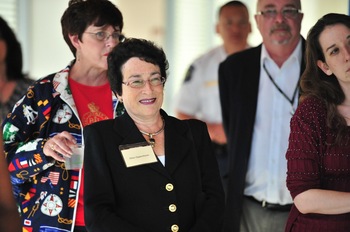 Ryan J. Stanton | AnnArbor.com
Oppenheim, who five months ago
resigned from her job
as president of the Reno-Sparks Convention and Visitors Authority, came across in interviews as a good communicator with a diverse range of experiences working in large organizations, including the cities of Los Angeles, San Diego, and San Jose, as well as the University of Wisconsin and Stanford University.
City officials said she seemed comfortable in a leadership role and came across as more dynamic. She was described as high-energy, results-oriented and "a pistol."
Powers, who has been Marquette County's administrator for the last 15 years, came across less polished, city officials said, but he earned points for giving specific and direct answers to questions during the interview process. City officials said his responses were thoughtful and down to earth, and they also liked his approachable style of communication.
He was described as modest with a good team-building experience. The fact that he has worked in Michigan's economic and political landscape also was seen as a plus.
Council Member Sabra Briere, D-1st Ward, said the two candidates are very different in their styles. She agreed Powers drilled down quickly into specifics when asked questions.
"It's very clear to me that he's not as comfortable giving public presentations," she added. "He's not as polished a public speaker, but I thought his ability to communicate was better one-on-one. I saw that when he relaxed, he really was very knowledgeable and very precise."
Council Member Marcia Higgins, D-4th Ward, agreed Powers' communication skills seem to amp up when he's in a more relaxed setting. However, she said both Oppenheim and Powers are highly qualified candidates and the choice isn't clear just yet.
"For me, it's all boiling down to which fits best with our community and that's a decision we'll be making on Monday night," she said. "For my ratings, they were both very close and I felt that Mr. Powers ranked just a little higher."
Council Member Stephen Rapundalo, D-2nd Ward, said the same.
"I thought that he came to a point much quicker and answered questions more directly," Rapundalo said, adding Powers was knowledgable about a lot of issues and seemed to wear his past experiences on his sleeve. "What you saw is what you got."
Rapundalo said when he scored the two candidates, he gave Powers the nod. He cited Powers' background working in Michigan, which reduces his learning curve, and his experience in labor relations.
"I think what we've lacked in the past is somebody who could really engage out there in the community," he said. "And I think he would bring an asset by his ability to do that."
Council Member Mike Anglin, D-5th Ward, said he was impressed that Powers has managed through situations similar to Ann Arbor where resources are declining.
Council Member Stephen Kunselman, D-3rd Ward, said he was impressed that it seems Powers has maintained the respect of the elected commissioners he works for in Marquette County for the last 15 years, even with turnover on the board.
"That is very telling to me," he said, adding he's looking for an administrator who will stick around Ann Arbor for several years and get a lot accomplished over time.
Powers told council members today he's looking forward to learning how to thrive in a community like Ann Arbor that values public process and transparency.
He said he'd work to see how Ann Arbor can continue the positive momentum it already has going, while confronting challenges many municipalities are facing: declining revenue from the state, stagnant or decreasing property tax revenues, and increasing legacy costs.
"Ann Arbor is not immune from those challenges," he said. "Ann Arbor is one of the few bright spots in Michigan, yet the city has the same challenges that are facing Michigan communities."
Both candidates said they'd make a point to meet with city department heads, council members and community leaders to learn about the issues and challenges as they see them.
"I want to reach out to the university leadership, to the chamber of commerce, to the convention and visitors bureau, to SPARK as your economic development entity, to the transportation agency, to the library district, to the Downtown Development Authority," Oppenheim said, adding she also would talk with the downtown merchant associations.
"I want to get out and see city facilities and meet staff," she added. "And all of this will help me assess kind of the current and emerging issues."
As for issues she'd tackle, Oppenheim cited the challenge of meeting community expectations with limited resources, maintaining aging infrastructure, Fuller Road Station, enhancing sustainability, waste management, park design and transportation.
Powers cited a report from the Brookings Institute that was commissioned by a group called Business Leaders for Michigan. He said the study compared metropolitan areas in Michigan and looked at their economies and potential for growth.
"It does show that Ann Arbor and East Lansing as university cities are better positioned than other cities in Michigan," he said. "However, it also shows some gaps and challenges that cities face. I would begin to use that data to help me better appreciate and understand Ann Arbor."
Ryan J. Stanton covers government and politics for AnnArbor.com. Reach him at ryanstanton@annarbor.com or 734-623-2529. You also can follow him on Twitter or subscribe to AnnArbor.com's e-mail newsletters.