Posted on
Fri, Aug 6, 2010 : 6:10 a.m.
Ann Arbor City Council approves first reading of ban on porch couches
By Tom Perkins
By fall, students may be prohibited from placing upholstered furniture like couches on their porches and decks.
A proposed ordinance, debated for several years, was passed on first reading by the Ann Arbor City Council on Thursday night and will return for final approval in September.
The ordinance would prohibit furniture not intended for outdoor use to be on city porches, decks and patios. It will come back for a second reading following an informational presentation from city fire officials during the council's first September meeting when University of Michigan students - who strongly opposed the ordinance several years ago - are back in town.
The proposed ban surfaced six years ago, but was eventually shelved after months of debate.
It resurfaced several months ago, following an early morning fire that killed 22-year-old Renden LeMasters, who was sleeping in a rental home. Officials say a couch on the porch caused the April blaze to spread more quickly.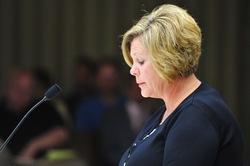 Ryan J. Stanton | AnnArbor.com
The fire was one of four that evening deemed suspicious by investigators. Officials believe the fire started in a trash bin, spread to a nearby couch on the porch, then engulfed the home.
The proposed language says the city would notify any residents who had furniture outside that it needed to be removed within a specified period of time. Failure to comply would result in the furniture's removal, and the violator or property owner would be responsible for the cost of removal and face up to a $1,000 fine.
"The last thing I want to do is regulate people's choice of porch furniture, but there are some other issues that come into this," Mayor John Hieftje said.
Several questions still remain about who would be responsible for costs associated with removing furniture and how the process would work.
Council Member Sandi Smith, D-1st Ward, questioned why the ordinance language says indoor furniture shall not remain "exposed to the weather." City Fire Marshal Kathleen Chamberlain said indoor furniture becomes more flammable when it's exposed to the outside weather and deteriorates.
Chamberlain also noted large pieces of upholstered furniture on porches have more material to burn than regular outdoor furniture and have more oxygen around them. The material on the porch is highly combustible, and no fire alarms are outdoors to alert residents of a fire on the front of the house.
"It's the perfect condition for a very large fire to spread throughout the house or residence that it's adjoining to it," Chamberlain said.
Kimberly LeMasters, Renden LeMasters' mother, urged council members to approve the resolution.
"I fully realize the student population is unlikely to support this, but that likelihood does not absolve us from the responsibly to make the city as safe of a place for those students as we can," she said.
Bob Snyder, president of the South University Neighborhood Association, said his group pushed for the ordinance six years ago. He added LeMasters could possibly still be alive "if political pressure hadn't taken a hold of our elected officials."
Tom Perkins is a freelance writer for AnnArbor.com. Reach the news desk at news@annarbor.com or 734-623-2530.